By G C Mays
The first survey-based estimate of US soybean (NYSEARCA:SOYB) production was higher but largely unchanged from the previous statistical estimate at 103.85 million metric tons, confirming the likelihood of a year of record production. The statistical estimate reported in July was 103.42 million metric tons. That slight increase went straight to ending stocks, as there were no changes in imports, domestic use, or exports. As with corn (NYSEARCA:CORN), the higher soybean supplies have generally led to lower prices.
Also like corn, soybean prices are also beginning to revert to their long-run mean averages after a roughly seven-year run of above-average farm prices. However, soybean prices have been a bit more stubborn. The USDA lowered the expected mid-point average farm price for soybeans to $10.35 per bushel for the 2014/15 marketing year. While this is considerably lower than current year average of $13.00 per bushel, it remains well above the long-run average price of $7.19.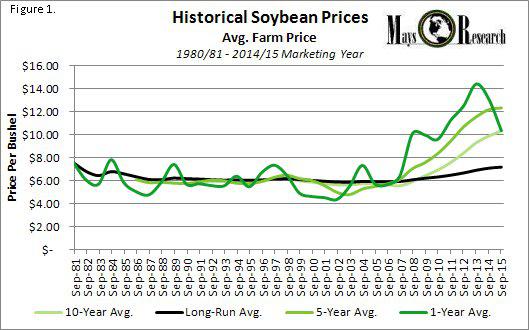 A surge in export demand after the drought of 2012, which limited production in both the US and Brazil has contributed to stubbornly high soybean prices. Driving the jump in demand in part is higher import demand from China. During the 2012/13 marketing year, domestic use in China outpaced production and imports. In my opinion, China allowed its soybean import growth to stall in the 2012/13 marketing year due to the historically high prices and has begun to increase its normal buying pattern as prices declined from the price peak illustrated in figures 1 and 2.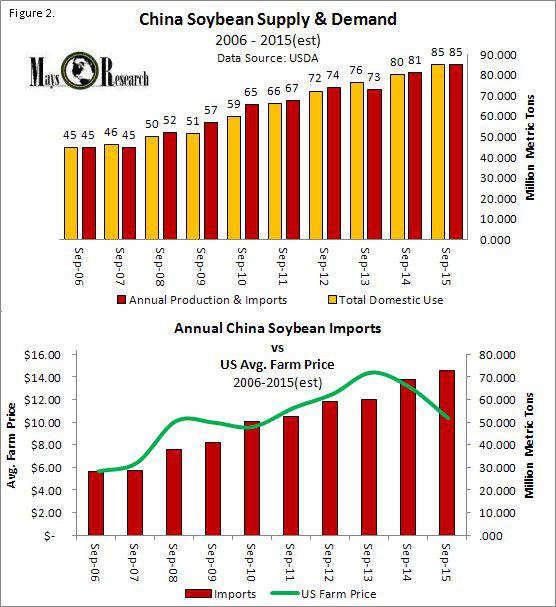 In my opinion, export as well as animal feed demand will continue to strengthen as prices fall. However, higher estimated ending stocks in the both US and Brazil will likely create price competition, which should keep a lid on prices for the foreseeable future. Additionally, the soybean stocks to use ratio in Argentina is in excess of 50 percent for the first time since 2007 largely due to macro-economic problems that have caused the peso to decline. Eventually, producers in Argentina will need to sell these stocks or incur losses.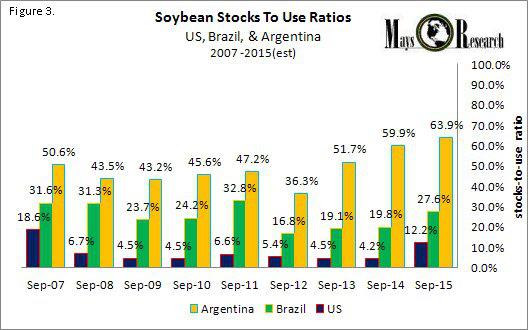 As with all the feed grains, reduced revenues for producers move downstream in the form of lower input costs to companies that must buy these items as inputs into their production process. Livestock producers and processors like Tyson Foods (NYSE:TSN), Pilgrim's Pride (NYSE:PPC), as well as grain processors like Archer Daniels Midland (NYSE:ADM) are all experiencing growth in their operating profit margins because of the price declines. The stocks of all three companies have run up a great deal since August 2012 as a result. While not as significant as corn, soy meal costs also represent a significant cost for livestock producers.
While corn is now within striking distance of its long-run average price, soybean prices remain well above its long run average of $7.19 per bushel. Additionally, based on Friday's closing futures prices, the spread between November soybeans and December corn is 2.79, which is higher than its historical average of 2.52. In my recent report on corn entitled, "Plunging Corn Prices Encourage Livestock Producers To Fatten Up The Flock", I wrote:
Given the volatile nature of grains markets, it is difficult to say when or where the bottom is. However, I have yet to see the capitulation usually associated with a cycle bottom. In my opinion through at least the end of harvest season in the U.S. the higher risk, albeit a smaller one, remains to the downside.
That pretty much says it all.
Disclosure: The author has no positions in any stocks mentioned, and no plans to initiate any positions within the next 72 hours. The author wrote this article themselves, and it expresses their own opinions. The author is not receiving compensation for it (other than from Seeking Alpha). The author has no business relationship with any company whose stock is mentioned in this article.
Additional disclosure: The author has a bear credit spread based on soybean futures contracts.