While the Cimatron share price has rallied post its June quarter update, the historical investment fundamentals still look very supportive.
The company is still trading on an attractive Enterprise Value to Sales ratio of just 1.1 times while its trailing price to earnings ratio at 13.8 times is nothing to be sneezed at. The historical Enterprise Value to EBIT ratio at 8.5 times is similarly supportive.
Investors can now expect an ongoing dividend, with Cimatron's first dividend payment expected in early 2015. Investors have been guided the company's dividend policy is now to pay 50 percent of GAAP reported net profit after tax. This dividend policy conservatively implies a 24 cent dividend or a 3.6% yield factoring in today's profitability.
This 24 cent dividend can grow if the December half 2014 net profit rises when compared to the corresponding period in 2013 and encouragingly there are clear reasons to believe that second of 2014 profitability can in fact climb. For starters the recently released June half saw operating profits climb 25 percent against the corresponding period in 2013, so the trend should be our friend.
We can also take encouragement that Cimatron launched CimatronE (version 12) in August 2014, while an updated GibbsCam software product is expected to be released latter in the second half of 2014. The release of newer versions of software typically drives sales in and around the time of release.
The company was very explicit in its June quarter conference call the December quarter is traditionally their strongest quarter, while September is weaker. This is supported by historical quarterly profit comparisons. The timing of new software releases has the potential to insulate the company during the quiet September quarter while accentuating the highly profitable December quarter.
The company has exhibited strong operating leverage which largely explains how the moderate 7.1% sales growth translated into 25% growth in profit before tax - in the 6 months to 30 June 2014 versus the same period in 2013.
Overall with $1.90 per share sitting in cash, and expectations of growing profitability and regular dividends Cimatron remains a solid little nano-cap investment. I will be adding to my share holding should its share price get sold off in a broader market correction.
The investment metrics highlighted in the below table conservatively support a share price today of around $8 per share in my opinion. Investors will however make real money if the latest version of is software returns the company to top line revenue growth, which can quickly drop through into profitability given the type of operating leverage we have seen in the June half. This can propel the share price towards the higher valuations highlighted in the below table.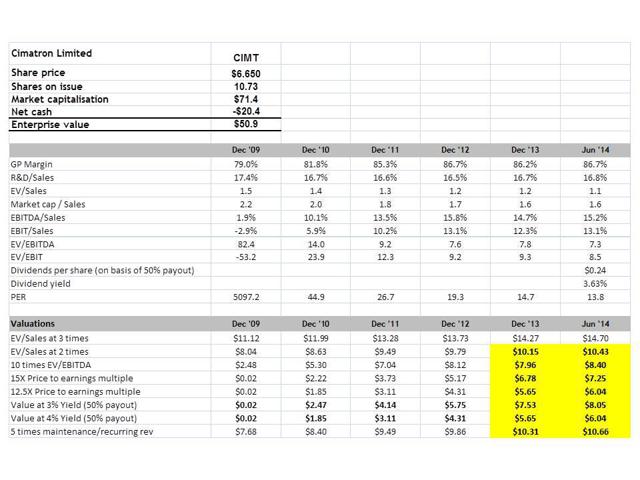 Disclosure: The author is long CIMT. The author wrote this article themselves, and it expresses their own opinions. The author is not receiving compensation for it. The author has no business relationship with any company whose stock is mentioned in this article.