Kayne Anderson Midstream Energy Fund (NYSE:KMF) is one of four closed end funds managed by Kayne Anderson Capital Advisors, a leading private equity firm that has focused on oil and gas since inception in 1984.
KMF was launched in 2010 with a flexible mandate to invest in both MLPs and other midstream companies. One of the largest selling points for these closed end funds is their tax reporting. Where most direct MLP holdings result in K-1s, KMF issues a form 1099 -- simplifying tax reporting but also making it eligible as a holding in IRA accounts.
Portfolio Construction
As of July 31st, KMF was primarily invested in MLPs (39%) and midstream companies (41%), but also had exposure to energy related debt and "other" investments as detailed in this pie chart. The other segment includes holdings like Marathon Petroleum (NYSE:MPC), Seadrill (NYSE:SDRL) and CONSOL Energy (NYSE:CNX).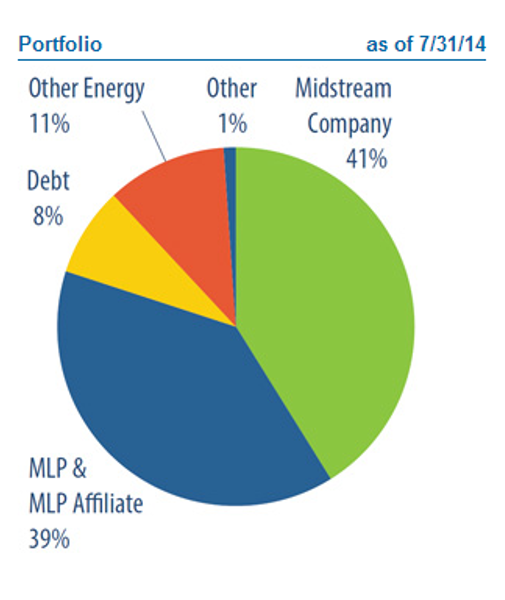 Source: Kayne Anderson
KMF also has a fairly concentrated portfolio with the top 10 positions representing 46% of capital.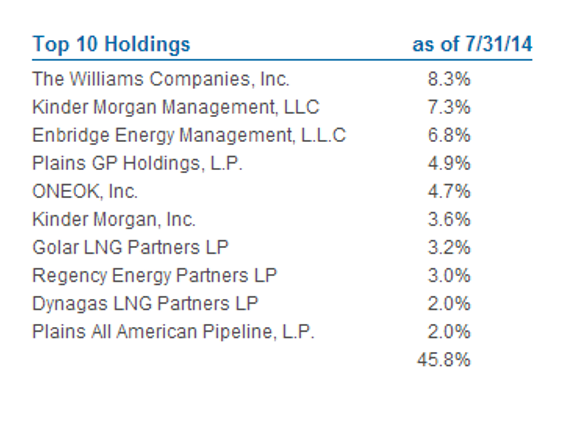 Source: Kayne Anderson
The Opportunity
Under normal conditions I don't find closed end funds to be very exciting for a portfolio, but occasionally you come across a unique setup where the market is mispricing an opportunity. It's not uncommon for closed end funds to trade at a discount to NAV. As profiled here by RiverNorth, the average closed end fund is trading at a 5%.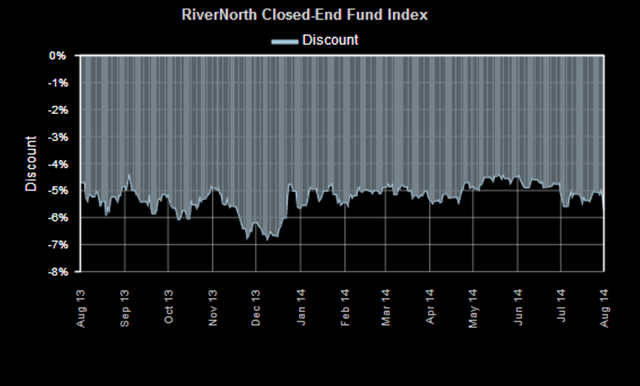 Source: RiverNorth
Now average isn't Seeking Alpha-worthy, KMF is a fatter pitch. Since inception in 2010, KMF has traded at an average discount of 4.5% to NAV. Today, that discount has widened out to 9%.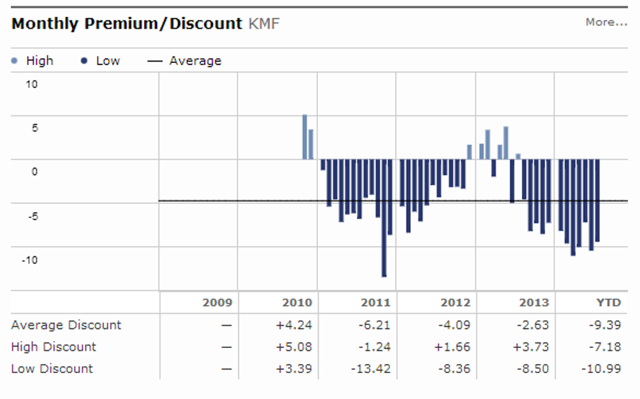 Source: Morningstar
Looking at the chart above, the discount has only been this wide once before at the end of 2011. From that point, shares went from a discount to NAV to a premium to NAV over the next 12 months. I'll admit this is a very short history to evaluate, so let's look at why I think the discount will at least close back to the average and possibly tighter.
#1 - the current yield
KMF trades with a current yield just shy of 5%. So while you're waiting for the discount to close, you get paid a healthy distribution. Also, with a yield well above government bonds or corporate bonds, money should continue to move into the MLP asset class.
#2 - growing distributions
KMF not only has a healthy current yield, but they have increased it every quarter since inception (see below). This distribution growth works out to a 28% increase since March 2011. Over the same time period, the Alerian MLP index has increased distributions by 9%. Based on the high quality holdings in KMF, I expect it to continue to increase distributions faster than other MLP options like the Alerian.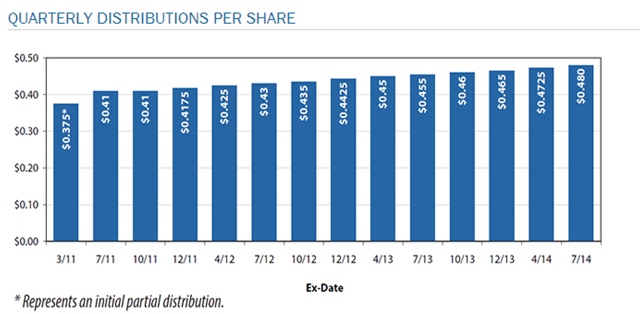 Source: Kayne Anderson
#3 - share repurchase
Finally, Kayne Anderson is not turning a blind eye to the discount. Earlier this year they announced a share repurchase program to buy $20 million (roughly 3% of the market cap). Repurchases at such a large discount will significantly increase NAV per share.
Combined, KMF is setting up for a good total return over the next 12 months. If you take the 5% current yield + the 6% average distribution growth + an assumption that you gain 5% as the discount returns to average, you end up with an expected total return in the mid-teens in a high quality, diversified portfolio. Not the juiciest idea, but risk-adjusted, it's fairly attractive.
Disclosure: The author has no positions in any stocks mentioned, and no plans to initiate any positions within the next 72 hours. The author wrote this article themselves, and it expresses their own opinions. The author is not receiving compensation for it (other than from Seeking Alpha). The author has no business relationship with any company whose stock is mentioned in this article.