Immersion Corporation (NASDAQ:IMMR) has recently been included in Gartner's "Cool Vendor" list in both their "Automotive Electronics, 2014" and "Asia/Pacific, 2014" research reports.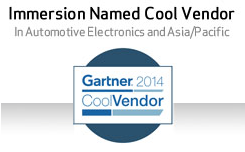 picture from Immersion's news room
Gartner's "Cool Vendors in Asia/Pacific, 2014" report highlights companies that "provide "cool" solutions across a variety of industries and disciplines in the Asia/Pacific region." Gartner's analysts believe that "IT leaders seeking innovation should consider how these vendors may help provide differentiation for their companies."
These news come as no surprise to investors who have followed Immersion throughout the years, and noticed that Asia is probably the market that has historically reacted the best to haptic implementation, in several verticals. We estimate that Samsung, Sony and Xiaomi now represent in excess of 50% of Immersion's total revenues.
If a "neo sensory future" is round the corner, Asian OEMs seem well positioned to lead its implementation. Mobility plays a dominant role in educating consumers about haptics due both to the fact that the sector is very quick at endorsing innovation, and thanks to the very high volumes in smartphone and tablet sales, which translate in reaching hundreds of millions of end users:
It's a "neo-sensory age of computing," experts say, a shape-shifting world of vibrotactile displays and truly immersive experiences. The new ambient touch era draws on a tantalizing array of technical tools from air blasts to laser beams, from advanced polymers and software to good old electromechanical creativity.

ARCchart, a British research group, predicts a four-fold increase in the number of haptic-enabled mobile devices during the next few years. From 2012 to 2018, the global deployment of haptic handsets and tablets will jump from 333 million units to 1.4 billion-and that just scratches the surface.
Haptics implementation in the automotive sector
We've always believed that haptics should be a no brainer in the automotive sector, at least because restoration of mechanical feel may help reduce driver's distraction when interacting with selections on touch panels - here is what James Hines, research director at Gartner and author of "Cool Vendors in Automotive Electronics, 2014" writes in his report:
Some infotainment systems have been criticized for being difficult to use and distracting, due in part to cumbersome input devices.

Haptic technology has been integrated with touchscreens, touch panels, touchpads and other capacitive surfaces throughout the vehicle interior - improving driver confidence while reducing both the time spent looking at the display and the number of secondary glances needed to perform a control function.
Unlike the smartphone sector, the automotive vertical is very slow at implementing innovations like haptics, as its product development process is very lengthy, sometimes requiring longer than four years from research to actual implementation into a newly launched model.
Immersion is working in the vertical both directly with automotive OEMs, and through component suppliers like ALPS Electric Co., Ltd, Methode Electronics, Inc., Visteon (NYSE:VC), SMK Corporation, Tokai Rika Co., Ltd., Panasonic Corp., Daesung, Marquardt, Valeo (OTCPK:VLEEF), Continental, etc.
In addition, and in a similar way to what happened in the mobility sector with chip companies like Imagis that opened to the door to new deals in China, Immersion is also leveraging its microcontroller partners' salesforce to promote haptics, as shown in this presentation taken from Texas Instruments (NYSE:TXN) (notice the Immersion Touchsense mention and logo):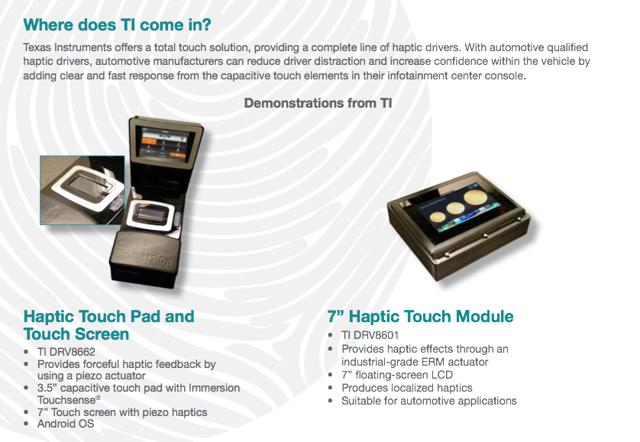 Early adopters of Immersion's technology in the sector were Rolls Royce (OTCPK:RYCEY), BMW (OTCPK:BAMXY) (more on this later on), and Lexus, as well as Volkswagen (OTCPK:VLKAF) and Bentley (OTCQX:VLKAY), through the company's partnership with Continental.
Daesung Electric Co. Ltd., a leading Korean automotive original design manufacturer and major supplier to Hyundai (OTC:HYMLF) and Kia (OTC:KIMTF) was instrumental in the more recent Kia K9 / Hyundai Equus wins.
Other more recent haptic implementations include General Motors (NYSE:GM) Cadillac CUE Infotainment System, launched in 2012, and the European Opel Insignia.
Revenues relatively low right now, as most models implementing haptics are high end - we expect higher volumes models to follow
Here is a quick look at revenues generated by the automotive sector in the last few years: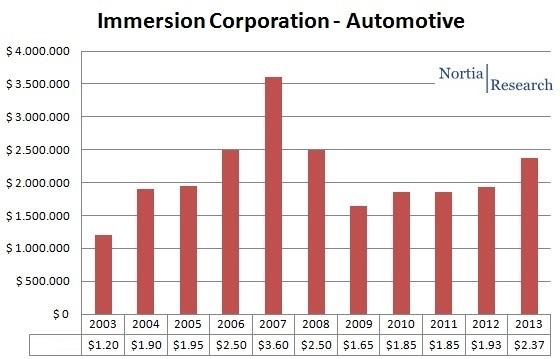 Sales are up 16% in the first half of 2014, compared to 2013.
The 2008 decline in revenues deserves an explanation.
In 2007 BMW decided to remove haptics from its iDrive interface. The move was part of a larger redesign of the UI, as the original iDrive had caused significant controversy among BMW users, mainly for its complexity - about one hour of practice was needed for the driver to adapt to the system, an unfriendly approach which is exactly the opposite of what Apple has taught us in these last few years, i.e. create easy interfaces for end users that hide the complexity of the task.
Haptics were the casualty of a badly designed UI, and Immersion lost its main revenue stream - however, the chart is also telling us that a relatively successful model may translate into a decent revenue stream for the company, as royalties in this sector are in the $1 to $5 range per car, depending on the implementation, complexity, and number of haptic devices used in the cockpit. Interestingly, the automotive sector is the only vertical for Immersion based uniquely on a per unit revenue stream, with no fixed payment deals at the moment. As we expect haptics implementation to grow exponentially in vehicles, revenues will reflect this positive trend.
The addressable market is in the 80 million plus vehicles per year, which means that Immersion only needs to get a one digit share of the market to get a very positive impact on its revenue stream.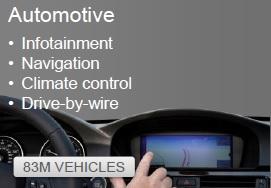 data from the latest company's presentation
While some of the latest wins were mainly obtained in the high end market, and may translate into relatively few cars sold (like the recently announced entry-level luxury crossovers Lexus NX 200t and NX 300h), the last few months have seen an increasing number of models announced from different sources, while several automotive OEMs and ecosystem partners have announced renewing their agreement with Immersion or signing a new deal with the company.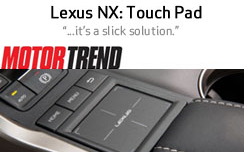 Picture from Immersion's partner news
Given the time required in the vertical to turn an announced partner into the actual launch of a new car model, Immersion investors may still need some patience before revenues take off.
Positively, however, we are now a few years away from the bottom of the automotive sector crisis of 2008, that had a negative impact on R&D worldwide, and car companies may be more inclined to quickly offer an up-to-date touchscreen dashboard, in order not to look technologically obsolete to their customers.
The recently announced Apple (NASDAQ:AAPL) and Google (NASDAQ:GOOG) fight for car dominance (respectively through their CarPlay system and Open Automotive Alliance) may also play a positive role for Immersion, as consumers will expect a similar look as well as a similar feeling when interacting with a known interface - which already includes haptics, at least in the Android ecosystem.
Disclosure: The author is long IMMR. The author wrote this article themselves, and it expresses their own opinions. The author is not receiving compensation for it (other than from Seeking Alpha). The author has no business relationship with any company whose stock is mentioned in this article.