Oasis Petroleum (NYSE:OAS) has 507,000 net acres in the Williston Basin which are prospective for the Bakken, Three Forks, and other potential zones. OAS' acreage is in the heart of the Bakken; and OAS may add to it in the future as it has in the past. 362K net acres are in the West Williston and 145K net acres are in the East Nesson. 94% are operated acres. 82% are HBP (held by production); and OAS has an average 68% working interest in the wells on them. The charts below show some key growth metrics for OAS.

A 65% CAGR for production growth is impressive. A 53% CAGR for net proved reserves growth is also impressive; and OAS seems to be growing the number of available future drilling sites at a high rate too. This sounds like a recipe for success. The chart below shows the distribution of the zones being targeted for FY2014 with OAS's 16 rig drilling program.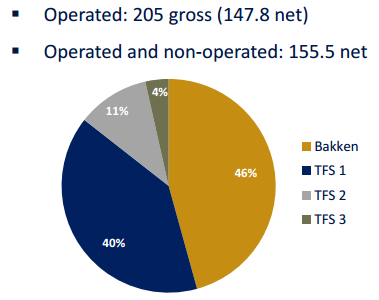 This looks like a low risk drill plan. Most Bakken wells are commercially successful; and that percentage is probably higher for OAS. OAS' Bakken EURs vary from 450 Mboe to 750 Mboe. Well costs tend to correlate with EURs. The IRRs are generally greater than 70%; and it usually takes only about 15 months to pay back the capital invested. The Three Forks 2 and Three Forks 3 wells have also produced great results. OAS also has about 90,000 net acres in Montana (about 50,000 net acres in Hebron). The average cost of each well is about $6.4 million; and the average EUR is about 450Mboe.
OAS has also been trying out new completion techniques. These have been highly successful. The first TFS well using slickwater fracking is producing 37% better than the base design TFS well in Red Bank. The first Montana well using slickwater fracking is producing 35% better than the base design Montana well. Based on the early successes, OAS is planning to complete 70% of wells in 2H2014 with alternative completion techniques such as slickwater fracking. OAS has also been cutting down on drilling expenses through the use of Oasis Well Service.
OAS also has some insurance for its revenues. It has 35,500 Bopd hedged for 2H2014, 32,000 Bopd hedged for 1H2015, and 15,000 Bopd hedged for 2H2015. The table of hedges is below.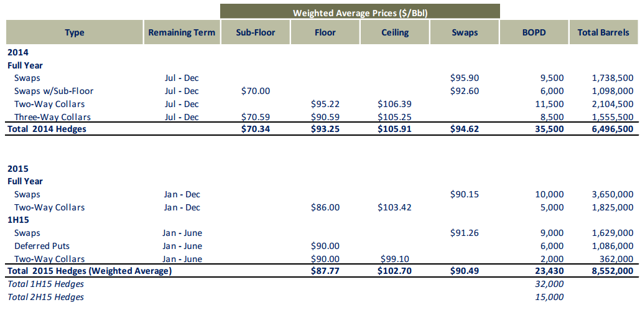 The Q2 2014 results can then be interpreted with the above in mind. The average daily production was 43,668 boepd. This was a 45% increase over Q2 2013 and a 6% sequential quarterly increase, excluding production from Sanish. Adjusted EBITDA grew to $254.7 million, which is up from $185.5 million in Q2 2013. Capital expenditures were $351.8 million in Q2 2014. The following table shows the production growth for the last year broken up by major fields.

The table below shows OAS's operating expenses over the last year period.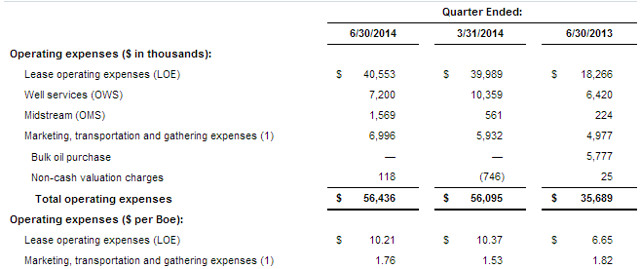 Perhaps the most important of these items is the lease operating expenses in dollars per Boe. These have gone up; but they are being contained. In fact they went down from Q1 2014 to Q2 2014. That is a good sign. Management is working on managing expenses.
In sum, OAS is looking very good. It has prolific acreage. It is attempting to manage expenses. It is implementing technological improvements. Analysts expect EPS growth of 18.60% in FY2014 and 27.50% in FY2015. Further the analysts expect 18.09% per annum EPS growth over the next 5 years. Since OAS has a PE of 12.83 and an FPE of 11.68, it is very much a buy even as a value play.
The two year chart provides some technical direction for a trade.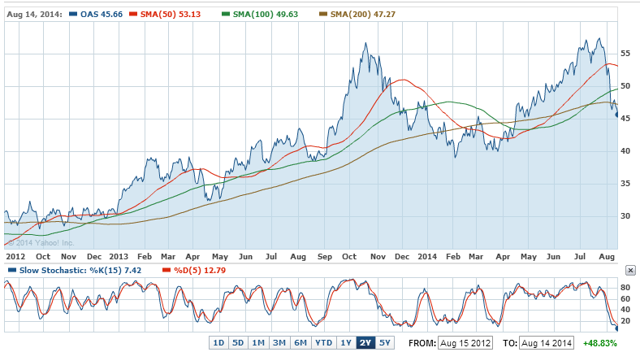 The slow stochastic sub chart shows that OAS is oversold. The main chart shows that OAS has fallen dramatically from its recent highs. It closed at $45.66 on August 14, 2014. This was -20%+ below its July 24, 2014 close of $57.42. OAS may have missed on EPS in Q2 2014; but that was only by -$0.04 (-5.40%). This is not a huge miss by most standards; and OAS's outlook is still great. Further the new completion techniques that OAS will be using on 70% of its wells in 2H 2014 seem likely to make the current production estimates for Q3 of 47,000 to 49,000 Boepd an underestimate. At the least they should make the results come out in the top part of the guidance. One might posit that this will result in a beat. Q4 should also be a great quarter. Hence on a -20%+ dip, OAS is very much a long-term buy.
On top of this the Ukraine situation is heating up again. Russia has amassed more than 40,000 troops near the border. This is making the markets very nervous. It is driving the price of both Brent and WTI oil upward; and this seems likely to continue for at least a few days, especially since Russia produces about 10.5 million barrels a day of oil. This oil and Russia's natural gas delivery to the EU could go off the market if Russia gets into a shooting war; or if it gets into a still greater economic war with the US and the EU. OAS is a buy on fundamentals even without the Ukraine fiasco. It is more of a buy on this large -20%+ dip, when oil prices are rising.
NOTE: Some of the fundamental fiscal data above is from Yahoo Finance.
Good Luck Trading.
Disclosure: The author has no positions in any stocks mentioned, but may initiate a long position in OAS over the next 72 hours. The author wrote this article themselves, and it expresses their own opinions. The author is not receiving compensation for it (other than from Seeking Alpha). The author has no business relationship with any company whose stock is mentioned in this article.