Technical divergence in long-dated bonds signals short-term outperformance.
The "cash stockpiles on corporate balance sheets" argument is getting old; it's not as much a case for equities as bonds.
On the heels of my High Yield vs. Investment Grade parsing last night, I can't help but celebrate the development in our bar-belled, two-pronged yield curve pair trade: Long the front and back ends, short the intermediate. (Between my baseball career and this latter finance career, I've developed nagging superstitious tendencies, one of which is to never tout my open trades for fear of jinx. This is my diary, however.) Looking particularly at long-dated bond issues, I find further evidence of an accelerating decoupling from the intermediate series in the short-term.
Starting with corporates, note the divergence between the MACD and the underlying price action in the long dated index TLT (NYSEARCA:TLT):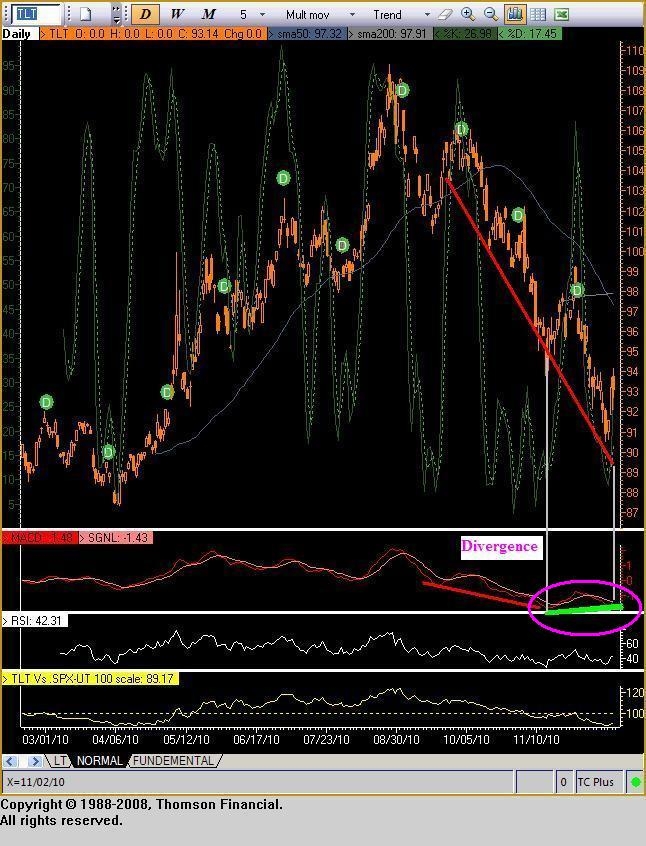 TLT daily chart-bullish divergence
Compare that to the sharp bearish trend in intermediate Treasury index IEF (NYSEARCA:IEF):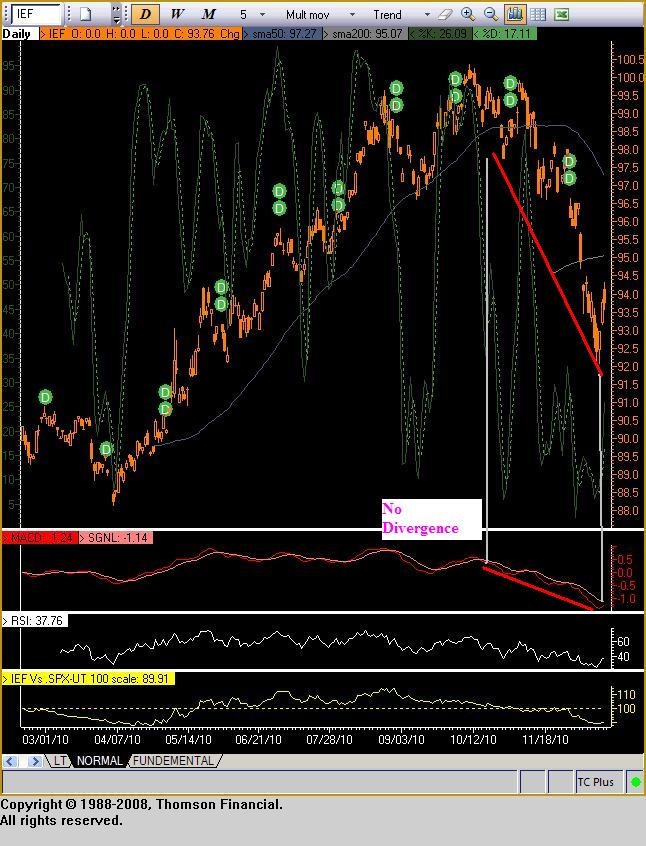 IEF daily chart-bearish trend
By the laws of the natural world, the sharp rally in the 7-10 year Treasury space logically explains a portion of this sharp correction. I found it interesting that corporate bonds show the same divergence pattern in longer-dated issues too. Note the difference between the intermediate (~5 year) U.S. Corporate index (NYSEARCA:CIU) and the 10+ year US Corporate index (NYSEARCA:CLY):
Click to enlarge
CIU v CLY daily charts
You'll also notice the same divergence in the shortest dated paper, manifest in SHV, for example ... which provides continuing support for our barbelled attack on the yield curve. While even longer-term (weekly) charts support the relative outperformance of the yield curve's back-end, I have yet to see the bullish turnaround in CLY and TLT to make this anything more than a short-term trade.
The Barron's 2011 Outlook moved me to post on the subject of corporate bonds this morning. I hear a lot of equity bulls citing the "cash stockpiles" on corporate balance sheets. I much agree that such cash substantiates the health of the American corporation, particularly in comparison to the American sovereign state, which has assumed the risk from corporate underlings. That cash heightened the prospect of dividend hikes, buyouts and buybacks. In the same vein, that cash helped us enjoy unprecedented returns in the value/equity income and MLP spaces over the past 18 months. My problem with the utilization of that "cash stash" justification for 2011+ growth (as opposed to mere equity return) is that the cash surplus exists for want of investment opportunities. The facts, from Barron's via The Reformed Broker:
... The rundown of corporate cash statistics from Merrill Lynch's David Bianco and Goldman Sachs's David Kostin ...

Non-financial companies sitting on record cash stashes, which make up 7.4% of corporate assets, the highest figure in five decades.
Even after raising dividends to $30 a share in 2011 from $25 this year, and increasing expenditures by 10% to a projected $540 billion next year, S&P 500 companies will still be left with $480 billion in surplus free cash flow.
Buybacks to increase 25% to more than $340 billion in 2011.
Dividends to grow 11% to $270 billion.
Companies to plow $240 billion in cash into mergers.
This cash has been accumulated because there exist no better investment bastions beyond the ~0.18% average weighted interest from corporate cash management accounts. To me, if you're going to use the "cash stash" bull argument, it's more of a plus for corporate debt (due to solvency ratios) than corporate equity issues ... at least looking forward to 2011. Idle cash does nothing for shareholder value: with $172 in cash per share as of Q3 2010, why is Goldman Sachs (NYSE:GS) a public company?
I suppose that would all support a longer-term play in overweighting long-dated bonds. But I, however, don't subscribe to that "cash stash" argument, so I'll wait to convert this short-term trade into a long-term investment.
Disclosure: I am long TLT, SHY.
Additional disclosure: Short IEF.