Comcast Corporation (NASDAQ:CMCSA) has strong upside potential, deal or no deal. Regulatory uncertainty relating to net neutrality, and potentially latent regulatory barriers to a combined Comcast-Time Warner Cable (TWC), have checked bullish momentum in recent months, and created opportunity on the long side. In late April, Comcast entered an agreement with Charter Communications (NASDAQ:CHTR), to be executed following the close of the proposed merger. Together with Charter Communications, and the consent of Time Warner, Comcast would divest 3.9 million customers in order to grease the regulatory wheels. The agreed upon divestiture would result in a Comcast with less than 30% of the national MVPD - multichannel video programming distributor - market, and below the vacated ownership cap. The nature of this divestiture demonstrates a certain degree of regulatory prescience from the parties involved, and reinforces the consensus optimism surrounding the probability of a deal. Though a deal looks likely, it is still a binary event. A positive result, in which regulators give the go-ahead, will propel shares higher, and a negative result will create a significant buying opportunity, as markets overreact to the headline. The growth, financial, and valuation metrics of a combined Comcast-Time Warner - shown below - will be stellar. The Company predicts the deal will generate $1.5 billion in annual synergies, accretive to free cash flow within one year. But, rather than analyze the theoretical post-merger financials in fine, albeit speculative detail, I'll instead focus on Comcast in its current, unwed state.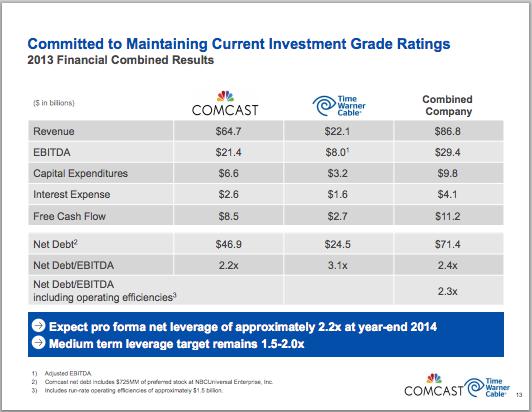 With 22 million subscribers, Comcast is the largest US cable system operator. Comcast's stable growth, and history of creating shareholder value, can be bought at a moderate discount here. Shares yield 1.7%, and provide upside exposure if the proposed deal goes through. Increased operating efficiency, across business segments, continues to be a critical driver of revenue and operating cash flow growth, the latter increasing 7.8% in 2Q of 2014. The outlook for NBC Universal also looks progressively favorable, with operating cash flow increasing by 20.4% in Q2. Comcast's strong revenue growth, in relation to price per share, is shown on the chart below.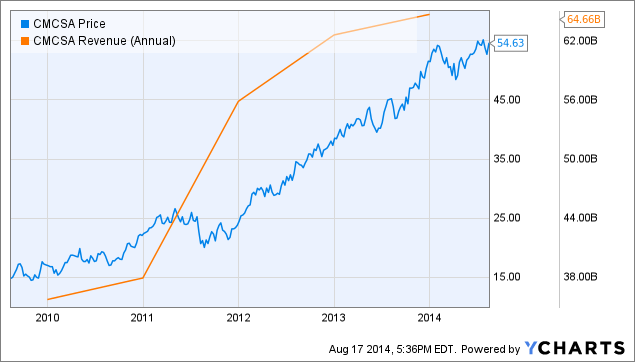 Discounted Cash Flow Analysis:
The charts below demonstrate the sensitivity of the total equity value to changes in the forward revenue growth rate, and illustrate the corresponding free cash flow, and EBITDA growth projections. The FCF and EBITDA growth forecast is determined using the consensus revenue growth rate, indicated below.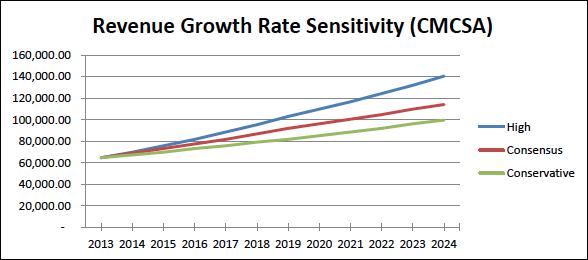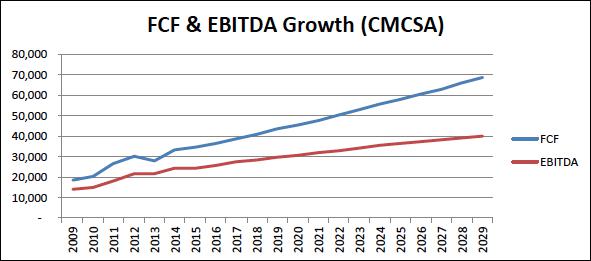 A fair value estimate of $66/share is derived using the perpetuity growth method, where the terminal perpetuity growth rate is 3.0%, and the discount rate is 11%. Assumptions include $2,739.00mm net debt, and 2,590.0mm diluted shares outstanding. The sensitivity of total enterprise value, total equity value, implied terminal EBITDA multiple, and price per share are shown below.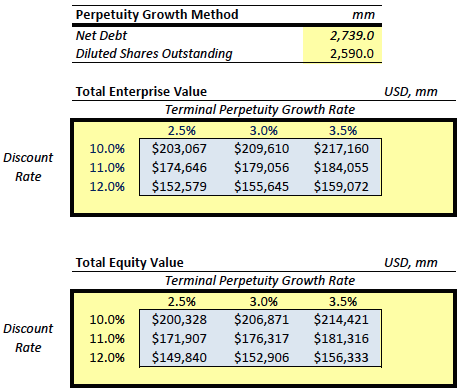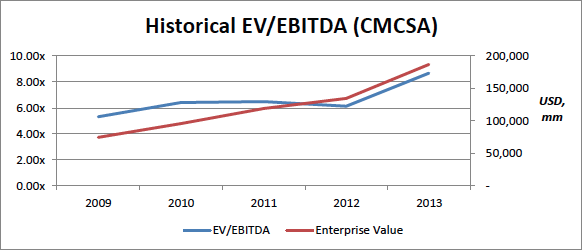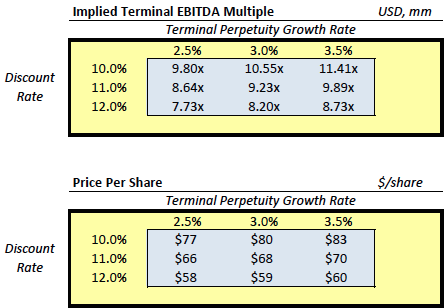 Risk/Reward

A long position initiated at current levels offers a 2:1 reward/risk ratio, with a risk adjusted return of 12%. The table below details a per share breakdown of the position.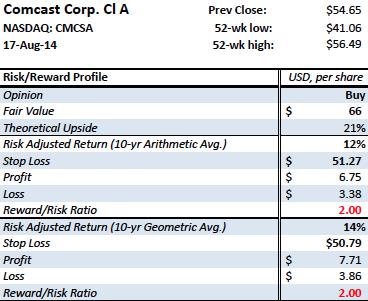 Conclusion
Buy: Comcast has a history of appreciable revenue growth across diverse revenue streams, deep market penetration in the cable division, and maintains strong balance sheets. The favorable risk/reward profile, presence of a forward catalyst in the proposed merger with Time Warner, and 21% discount to fair value suggest that this one could go higher.
Disclosure: The author has no positions in any stocks mentioned, and no plans to initiate any positions within the next 72 hours. The author wrote this article themselves, and it expresses their own opinions. The author is not receiving compensation for it (other than from Seeking Alpha). The author has no business relationship with any company whose stock is mentioned in this article.