In May 2013, a Time magazine cover story identified Millennials as those born from 1980 or 1981 to 2000. That demographic cohort, also referred to as Generation Y, includes two of my five children. My oldest kids, like most millennials, are young adults who are either getting ready to enter the work world are who are already in their twenties starting out a career. The common denominator for all millennials is that they have all been exposed to the most catastrophic financial event of the century - The Great Recession.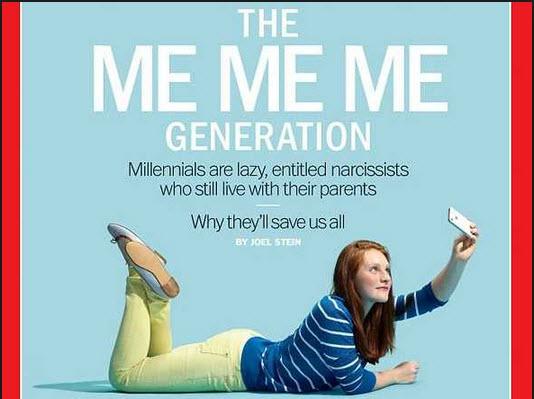 American sociologist Kathleen Shaputis has labeled Millennials as the "boomerang generation" or "Peter Pan generation", because of the members' perceived tendency for delaying some rites of passage into adulthood, for longer periods than most generations before them (source: Investopedia).
These labels were also a reference to a trend toward members living with their parents for longer periods than previous generations. That "bommerang effect" likely sparked by the Great Recession caused the young adults to experience trends like no other adult since the Great Depression; such as high housing prices, higher education costs, and high unemployment.
Also Generation X-ers and millennials were the very first to grow up with computers in their homes. That means that the younger generation of investors has been much better educated in the field of investing. With hundreds of research sites (including Seeking Alpha) the millennials enjoy much greater access to social media and stock market transparency. Let's face it, the world is more connected today and there is no excuse for not utilizing the widely-expanding universe of research on the internet.
I took my oldest daughter back to college this weekend (at UNC Chapel Hill) and she is starting her second year at the school studying business journalism. Up until a few years ago that subject never existed - you either took business or journalism - however, due in large part to the evolution of technology, the industry has expanded well beyond newspapers, magazines, radio, and television. It's now no longer a specialized sector as it has exploded into a mass media category that produces content 24 hours a day and 7 days a week. Good luck Lauren - Go Tar Heels!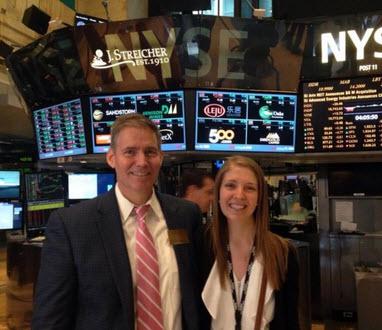 We All Should Learn from Adversity
It was not only the millennials who were touched by the Great Recession, it was just about everyone. I know I felt it. As I mentioned in a previous article, I used to develop shopping centers in the 1990's and 2000's and when the banks started drying up, so did my career. Not to bore you with the details but my investment portfolio (mostly fee-owned real estate) was hammered by the recession and that was one of the reasons I turned to writing. It was my firsthand brush with hardship that became a strengthening and defining trait that reshaped my life, Sound familiar?
That's exactly what sparked the financial success for Ben Graham. As the legendary value investor explained:
The years of poverty since Father's death had touched me only lightly. They had developed in my character a serious concern for money, a willingness to work hard for small sums, and an extreme conservatism in all my spending habits.
Similarly, for me and Graham, the memories of financial failure left a deep and permanent impression and an absolute drive to become wealthy (defined as financially secure). For that is the reason that I include this quote from Graham at the end of my email signature:
Adversity is bitter, but its uses may be sweet. Our loss was great, but in the end we could count great compensations.
My motto - "huge failure creates huge success" - is a defining attribute and unlike the period in which I was a considerably more speculative investor, thanks to lessons learned from the Great Recession, I have become a more focused value investor with absolutely no interest in timing markets. As Ben Graham explained:
If an investor places his emphasis on timing, in the sense of forecasting, that person will end up as a speculator and with a speculator's financial results.
Conversely, when one extends a rigorous application of the margin of safety coupled with some measure of diversification (which smoothes out the impact of an occasional outlier), one is all but assured of favorable results. You see, I was not born as a value investor but after experiencing significant losses stemmed by the Great Recession, I have reincarnated as more risk-averse investor seeking one investment objective: Protect My Hard Earned Principal At All Costs.
So in this article I'm not only focusing on the millennials, but every single investor who understands the distinction between investment and speculation. After all, that is the heart of Ben Graham's investment philosophy, and its primary impetus behind the principles of the margin of safety. Investors of all generations should take heed to the same "extreme conservatism" that is also a defining competitive advantage when picking stocks for purchase. Ultimately, this is what became the quintessential tenet of Graham's investment philosophy: a principle known as the margin of safety.
Graham explained that "in security analysis the prime stress is laid upon protection against untoward (unfortunate) events." Having experienced severe financial misfortunes in his youth and having witnessed all manner of financial folly on Wall Street, Graham grasped the danger of risking capital that one already had for the potential of additional capital.
Now Let's Pick a Few REITs for my Kids (and Anyone Else)
We all know that REITs are an important part of every investor portfolio and it's important to recognize that young adults - the millennials - are unique in their own right. I recently pre-ordered a new book called Millennial Money by Patrick O'Shaughnessy and the author explains:
Some may think millennials are lazy, entitled, and selfish. However, when it comes to money, millennials are quite the opposite: they are diligent, conservative, and cautious. Why? In short, they're scared. They've come of age during the worst economic environment since the Great Depression.

They've watched the housing market crumble, the global financial system teeter on the brink of collapse, and their parents' retirement savings plunge along with the stock market. Because these experiences have been burned into their minds, and because good jobs remain scarce, millennials are skeptical of the stock market and other "risky" investments. As a generation, they are as conservative as their grandparents.
He goes on to explain:
Young people today are equipped with tools, information, and perspective that were not available or accessible to previous generations. They also have the best possible investing advantage: youth itself. Their unique access to global markets and their very long time horizon mean that millennials can be the most successful investing generation ever. But they must start investing early and buck conventional market strategies.
In O'Shaughnessy's words I'm providing you with a few useful tools and hopefully you can use them to your advantage to begin a powerful and beneficial resource for your investment portfolio; here are a few REITs to consider:
Healthcare Trust of America (NYSE:HTA): You can read my latest article HERE. I own HTA and I find great value in owning this "pure play" MOB (medical office building) REIT. Everyone has to visit the doctor and this need-based model is what makes this security attractive and also the reason this REIT enjoys a distinct competitive advantage in the broader health care sector. Since listing on the NYSE (June 2012) the company has grown to over 295 properties, most located at or near primary hospital campuses. Shares are currently trading at $12.28 with a P/FFO (price to funds from operations) multiple of 17x. The current dividend yield is 4.72%.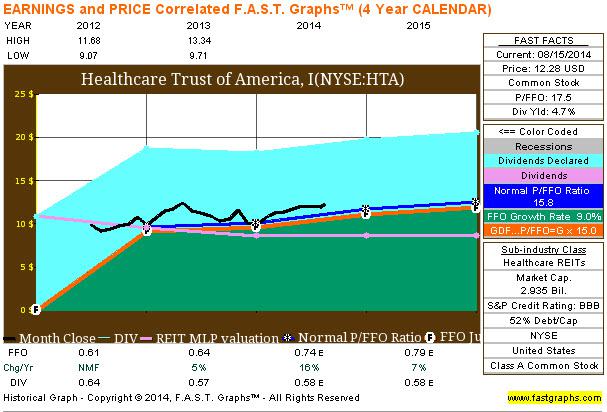 Realty Income (NYSE:O): This REIT does one thing and one thing very, very well. That is, it pays monthly dividends. So you ask: why does that matter? Well, because Realty Income has paid and increased (annual) dividends for 20 years in a row. So you ask: why does that matter? Because Realty Income is one of just a handful of REITs that paid and increased dividend throughout the Great Recession. In other words, Realty Income is a proven model of dividend repeatability and with over 4,200 properties, this REIT has one of the most diversified platforms in REIT-dom. Realty Income is trading at $44.71 with a P/FFO multiple of 17.2x. The dividend yield is 4.91%. Here's my latest article on O.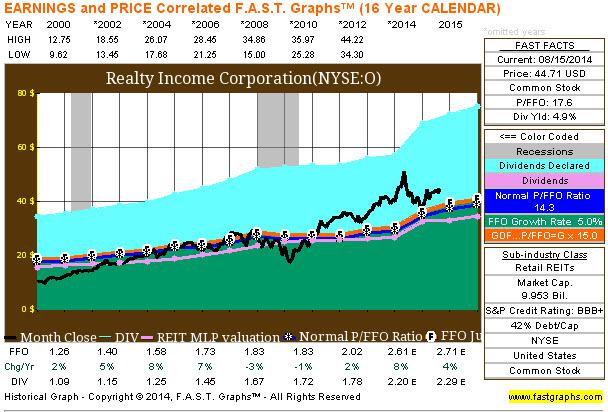 Digital Realty (NYSE:DLR): Most millennium investors know how Digital Realty converts data space into durable dividends. This San Francisco-based REIT leases space out to many well-known companies like Facebook (NASDAQ:FB) and Google (NASDAQ:GOOG). Digital, with a market capitalization of around $8.9 billion, is the largest data center REIT and the company has enjoyed a successful 10-year record of paying and increasing dividends. Digital shares are trading at $65.50 with a P/FFO multiple of 13.4x. The current dividend yield is 5.07%.Here's my latest article on DLR.
In closing, I will provide you with a secret that I learned a few years ago. I was at a fork in the road trying to determine if I wanted to be a real estate developer or a journalist. I had spent the better part of twenty years building up value in my real estate projects and then, in one market correction, I saw my net worth evaporate into thin air. Believe me that was painful.
As I pondered a transformational career move, I started reading and studying the successes of others. One web site that caught my attention was Seeking Alpha. I began reading and researching specific content related to value investing and I read and re-read The Intelligent Investor (dozens of times). It became increasingly clear to me that I could build back my investment portfolio but I first had to tap into my God-gifted intellectual property. That's when it hit me like hitting a brick wall - this is the best advice that I can offer anyone of any age: "The most durable education is self education".
This article is dedicated to my two millennial children. As long as you're learning, you're always succeeding.
Here's a snapshot of my SALSA portfolio (found in my iREIT Investor newsletter):

Click to enlarge
REITs mentioned: (NYSE:GPT), (NYSE:PEB), (NYSE:GGP), (NYSE:SKT), (NYSE:TCO), (NYSE:DDR), (NYSE:EXR), (NYSE:ARE), (NASDAQ:ROIC), (NYSE:CLDT), (NYSE:HME), (NYSE:SUI), (NYSE:HCN), (NYSE:EXL), (NYSE:OHI), (NYSE:IRC), (NYSE:STAG), (NYSE:EPR), (NYSE:LXP), (NYSE:DOC), (NYSE:CSG), (NYSEMKT:UMH), and (ARCP).
Source: SNL Financial and FAST Graphs.
Disclaimer: This article is intended to provide information to interested parties. As I have no knowledge of individual investor circumstances, goals, and/or portfolio concentration or diversification, readers are expected to complete their own due diligence before purchasing any stocks mentioned or recommended.
Disclosure: The author is long O, DLR, VTR, HTA, STAG, UMH, CSG, GPT, ARCP, ROIC, HCN, OHI, LXP, KIM, WPC, DOC, UDF, EXR. The author wrote this article themselves, and it expresses their own opinions. The author is not receiving compensation for it (other than from Seeking Alpha). The author has no business relationship with any company whose stock is mentioned in this article.