As the summer comes to a close, it's time for technology giant Microsoft (NASDAQ:MSFT) to raise its dividend again. We're about a month away from the company's next declaration, which most expect to be a decent raise. A couple of months ago, I provided an initial prediction on what the 2014 raise could be. Today, I'm here to take another look at the company's financial situation and update my projection.
Balance sheet update:
When a company wants to pay a dividend and buy back stock, it needs cash and financial flexibility to do so. Microsoft is an extremely large and profitable company, so the firm has been able to return tens of billions to shareholders in recent years. When looking at a potential dividend raise, it is always important to take a look at where the balance sheet stands. In the table below, I've detailed some key financial ratios and numbers at the end of the past three fiscal years. You can view all of Microsoft's financials in the most recent 10-K filing here. Dollar values and the shares outstanding number are in millions.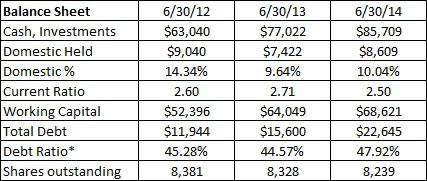 *Liabilities to assets ratio.
Microsoft's cash and short-term investments balance rose by almost $8.7 billion in the latest fiscal year, although a lot of that growth was in holdings outside the US. About 90% of the company's cash pile is held by foreign subsidiaries, meaning Microsoft could face a significant tax bill if it wants to repatriate these funds. To continue paying dividends and buying back stock, Microsoft might take on more debt. The firm added about $7 billion in the latest year, but could easily take on more if it needs to. While some of the balance sheet numbers have gotten a little worse in the past year, Microsoft still has a strong balance sheet.
What does a raise look like?
In my original article, I stated that I believed the new dividend would be $0.32 a share, and my prediction range went a penny in either direction. Well, I've updated that range in the table below, with the table showing the following.
New quarterly dividend.
Raise per quarter, in terms of cents and percentage.
New annual dividend total.
Yield based on Friday's close.
With the next dividend declaration expected to be the raise, the yield number below shows what investors would yield over the next twelve months if they bought at Friday's closing price. With about a month until the dividend declaration, stock prices are likely to change, so the yield number will most likely change.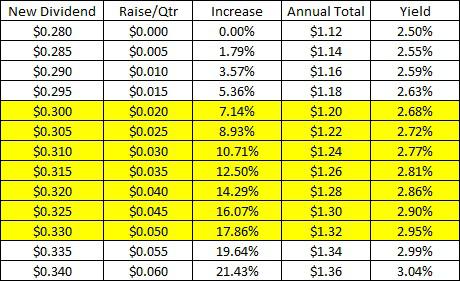 I lowered the bottom end of my range from $0.31 to $0.30, so dividend investors might see this as me being negative. In one sense, yes, I am being a little more conservative with my prediction. Now, I think either $0.31 or $0.32 is the most likely number, instead of my original $0.32 prediction. However, I still am looking for a double digit percentage rise in the dividend, which still would be a nice reward for shareholders.
So why have I lowered the bottom end of my range? Well, it just seems to me that a lot of large cap technology companies seem to be favoring stock buybacks right now. I believe that more money will be funneled to share repurchase plans instead of the dividend. In Microsoft's latest fiscal year, the company shows more than $7.3 billion in share repurchases on the cash flow statement. That's up almost $2 billion from the year earlier period.
Just look at these three specific examples recently of share repurchases versus dividends. Earlier this year, Apple (NASDAQ:AAPL) announced a meager 8% dividend raise, but boosted its buyback by $30 billion or 50%. Apple has the most powerful buyback on earth right now, which has helped shares rally, but it has left the dividend yield rather low at this point. Chip giant Intel (NASDAQ:INTC) has not raised its dividend in more than two years. Intel's decision to boost and accelerate its buyback might leave dividend investors even more frustrated until 2015 at the earliest. The most recent example is Cisco Systems (NASDAQ:CSCO), which has really stepped up its buyback efforts. As you can see in the company's most recent year, more than $9.4 billion was spent on the buyback versus less than $2.8 billion in the prior year period. With large tech firms seeming to favor buybacks at this point, that might mean dividend raises will be a little less than some are expecting.
How Microsoft's dividend compares:
Microsoft and the three other names I discussed above all pay dividends and buy back a lot of stock. When it comes to dividend yields, Microsoft is currently in third place of these four. In the chart below, you can see where Microsoft's current yield stands against the other three names. I also provided extra yield points to show you where the new dividend would be, based on Friday's close, given the four whole cent values in my range from the table above.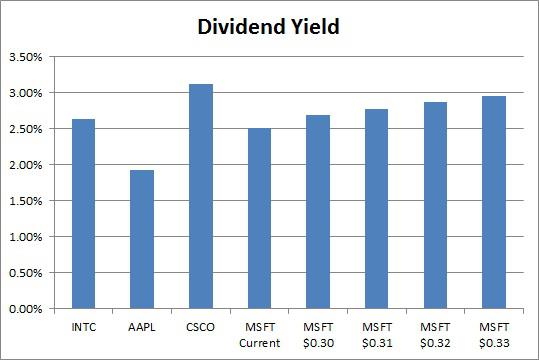 Microsoft had a 2.50% annual yield at Friday's close, which was about 13 basis points behind Intel for second place. If Microsoft hit the bottom end of my range, $0.30 per quarter, the yield would jump to 2.68%. That would put Microsoft's dividend yield 5 basis points ahead of Intel's yield, again based on Friday's close. Should Microsoft go all the way to $0.33 per quarter, the top end of my projected range, the yield as of Friday's close would be 2.95%. That would put Microsoft's yield about 16 basis points behind Cisco's yield for first place. Apple's yield is currently under 2.00%, so Microsoft should not have an issue staying in second or third place for the near future. It does seem unlikely at this point that Microsoft will jump into first, unless we see a dramatic dividend raise next month or a huge swing in stock prices.
Final thoughts:
Microsoft should raise its dividend in about a month, and investors should expect a double digit percentage raise. The company's balance sheet is still strong, although a large share of the company's cash is located outside the US. With a number of technology giants seeming to prefer buybacks right now, I have lowered the bottom end of my dividend raise prediction range. At this point, I would think Microsoft's new dividend will be either $0.31 or $0.32 per quarter. That should put Microsoft's yield back around 2.80%, which will put the company in second place of the four major tech dividend paying names discussed today.
Disclosure: The author has no positions in any stocks mentioned, and no plans to initiate any positions within the next 72 hours. The author wrote this article themselves, and it expresses their own opinions. The author is not receiving compensation for it (other than from Seeking Alpha). The author has no business relationship with any company whose stock is mentioned in this article.
Additional disclosure: Investors are always reminded that before making any investment, you should do your own proper due diligence on any name directly or indirectly mentioned in this article. Investors should also consider seeking advice from a broker or financial adviser before making any investment decisions. Any material in this article should be considered general information, and not relied on as a formal investment recommendation.