Agrium (NYSE:AGU) is a major global, Canada-based supplier of retail agriculture products, and a wholesale producer and distributor of a range of nutrients, such as potash, nitrogen, and phosphate based crop nutrient products. Agrium markets both to industrial and commercial agriculture, and has a current market capitalization of $13B. As investors holding and following Agrium are aware, the company, and the fertilizer industry as a whole, have endured numerous pressures, but I believe on a longer term, 5 year horizon, Agrium is a high reward, low risk investment. A combination of strong fundamental growth drivers for fertilizer industry, and Agrium's diversified business model, solid growth strategy, and commitment to rewarding shareholders through dividend increases and return of capital should function to drive earnings and price appreciation in the long term. In this article, I want to clearly outline and contrast the risks and potential rewards Agrium shareholders assume, and reveal a clear asymmetric risk/reward opportunity.
The Risks
Weak Global Fertilizer Prices
Agrium's performance is partially a function of several industry specific and broader economic conditions, and as of late these conditions have not been favorable to Agrium's growth. Firstly, global potash prices (a nutrient whose sales comprise approximately 24% of Agrium's wholesale division) were strongly damaged when Russia-based Uralkali and Belarus based Belaruskali terminated the joint marketing cartel they had formed, causing Potash prices to drop nearly $100 from roughly $400 to $300 per metric ton in mid 2013 due to greater competition between producers. Prices have not yet fully recovered, and when this news was announced in mid 2013 shares of both Agrium and its principal North American competitors Potash Corp (NYSE:POT) and Mosaic (NYSE:MOS) plummeted, and Potash Corp responded in 2013 by laying off approximately 18% of its labour force. These soft potash prices continue to influence sales of Agrium's wholesale division, and will likely continue to do so in the immediate future until the market rebounds.
High Natural Gas Costs
Although potash comprises 24% of Agrium's wholesale divisions sales, the majority of their sales in this division (61%) come from nitrogen. A key input for nitrogen is natural gas, and recently high natural gas prices have severely influenced profits for this nutrient. According to the Q2 earnings release, Agrium's average natural gas price in Q2 rose to 4.49 per MMBtu from 3.67 MMBtu last year, resulting in a nitrogen gross profit drop of 66% in Q2. These prices were also a slight increase from Q1 2014. Fortunately however, natural gas prices have declined since mid-June 2014, and are now sitting at approximately 3.80/MMBtu. As we can see, Agrium's earnings are highly influenced by global prices for crop nutrients and natural gas, both of which have been adversely affecting Agrium's bottom line and share price as of late.
Production Disruptions
A final concern of Agrium's has been recent production disruptions. In Q1-Q2, Agrium suffered a shutdown at its Carseland Alberta plant, which lasted several months and resulted in 18% lower nitrogen sales. Recently, Agrium announced a shutdown at its Vanscoy Saskatchewan plan, which is scheduled to last four weeks, and could cost Agrium 500,000 tonnes of Potash production, which should influence Q3 earnings.
Rewards
Fundamental economic factors will improve
Although these risks may seem significant, and some of them indeed are, many of these detrimental factors are likely to be temporary, and Agrium has significant factors working in its favor. Firstly, although global fertilizer prices are currently at multi-year lows, there are signs they have bottomed out, and are likely to improve from here. In the long term, there are powerful fundamental factors in place to drive fertilizer prices higher. The UN predicts over the next 30 years, global population can be expected to rise by approximately 3 billion. This will be coupled with longer life expectancies to result in an estimated doubling of world food production, which will be required to feed the entire global population. Since the world's arable land is decreasing due to climate factors and industrialization, more fertilizer and agricultural technology will undoubtedly be required to increase productivity in the remaining arable land. This will serve as a constant upward pressure on fertilizer prices. Additionally, natural gas prices have fallen greatly since the Winter 2014 highs, and this trend is likely to continue as increased production serves to drive prices down. Agrium also has about 1/3 of its natural gas requirements for the 2016 to 2018 period hedged at an attractive 3.50/MMBtu price, thereby mitigating some risk of high natural gas prices.
Diversified Business Model/Competitive Edge
Agrium, unlike its main North American competitors Potash Corp and Mosaic, has a highly diversified business model, which protects strongly from risk inherent in the wholesale market. Agrium has two central divisions; a retail division, and a wholesale division. Agrium is the largest global agricultural retailer of crop protection products, nutrient products, and seeds, through a global network of approximately 1500 retail locations. This retail segment comprised approximately 86% of Agrium's sales in Q2 2014, and is a constantly growing segment, effectively providing protection against declines in the Wholesale division caused by poor nutrient prices. In fact, its retail division reported record second quarter sales, and its second quarter EBITDA is up an astonishing 28% year over year. This is not a single event anomaly, but rather a regular, consistent trend. From 1997 to 2005 retail EBITDA climbed every year single year, from approximately $50 million to $110 million. From 2005 to the end of 2013, retail EBITDA has increased an impressive 10X , from $100 million to $1 billion. This strategy is progressing steadily towards a 2015 retail EBITDA goal of $1.3 billion. This growth has occurred despite weak fertilizer markets. It is obvious that Agrium's retail division serves to mitigate Agrium's risk, and enhance its rewards. During times of weak fertilizer markets, the Retail division provides stability and growth to Agrium's earnings, and during times of strong fertilizer prices, Agrium is set to benefit from both strong retail and strong wholesale sales. With global fertilizer prices likely bottomed out, Agrium's results can only improve dramatically as this market rebounds.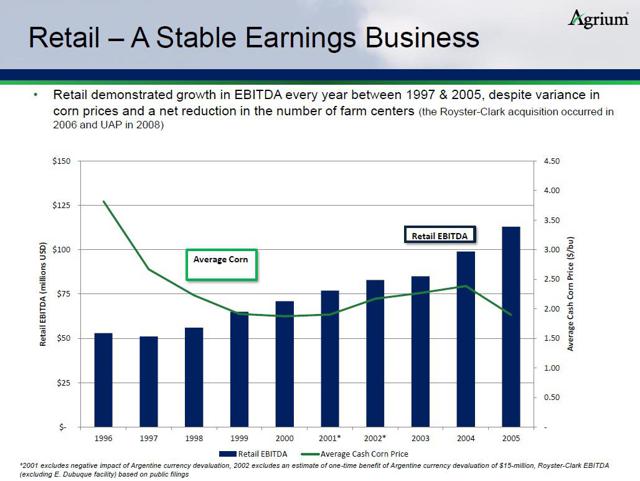 (source: Q2 earnings presentation)
Solid Growth Strategy
Share prices are ultimately driven by earnings, and without rising earnings, catalysts for growth are missing. Agrium possesses multiple drivers for long term growth. According to the June Roadshow Presentation, on the Wholesale side, Agrium is currently conducting a $1.8 billion expansion of its Vanscoy Potash mine in Saskatchewan, adding 50% to its Potash production capacity. Similar expansions are occurring at Agrium's nitrogen plant adding a 20% increase to its nitrogen capacity. For the retail division, as aforementioned, Agrium will continue to progress towards a $1.3 billion 2015 retail EBITDA through capitalizing on its recent acquisition of Vitera's 210 retail outlets.
Attractively Priced
Agrium is currently attractively priced relative to its peers, a discount which is most likely due to Agrium's recent production disruptions, as well as the fact that Agrium was hit hard due to an exceptionally harsh winter in Q1. Here's is how Agrium compares to its principal competitor Potash Corp on three key price ratios.
| | | | |
| --- | --- | --- | --- |
| Price Ratio | P/E | P/B | P/CF |
| Agrium | 18.29 | 1.82 | 6.38 |
| Potash Corp | 21.4 | 3.2 | 11.5 |
(source: this is the work of the author)
Agrium is trading at lower multiples for all three ratios, and considering both these companies sell potash, nitrogen, and phosphate nutrients, and are exposed to the same industry specific risks such as weather and nutrient prices, there is not enough of a fundamental difference in the internal economics or future growth prospects of both companies to warrant such a large valuation gap. (In fact, based on the strength of Agrium's retail business, one could argue the valuations should be reversed. Analyst recommendations would agree, with Agrium having a consensus outperform rating vs. Potash Corp's Hold rating.) Assuming this is true, and the multiples were equalized, Agrium should be valued as follows (It is currently trading at $99.16 a share).
| | | |
| --- | --- | --- |
| Agrium 12 Month Trailing EPS | Agrium 12 Month Trailing BV/S | Agrium 12 Month Trailing CF/S |
| 5.42 | 54.41 | 15.54 |
| 21.4 (Potash Multiple) | 3.2 (Potash Multiple) | 11.5(Potash Multiple) |
| Agrium Price=$115.988 (5.42 X 21.4) | Agrium Price=$174.112 (54.41 X 3.2) | Agrium Price= $178.71 (15.54 X 11.5) |
(source: this is the work of the author)
By simply closing the valuation gap between Potash Corp and Agrium we can see Agrium should be worth significantly more. Assuming Agrium's multiples remain constant however, Agrium should see increased earnings and cash flows by year end according to their own and analyst estimates. Agrium has a projected year end EPS of 6.17, which at its current multiple (18.29) would result in a year end price of $112.84 , a 13% upside. 2015 year end projections of 8.28 per share would result in an a year end price of $151.44 should Agrium's P/E ratio remain constant. The upside potential here is clearly evident. (source: earnings projections and analyst ratings from Reuters)
Conclusion
To conclude, Agrium has clear upside potential. Further mitigating potential risks are Agrium's strong record as a dividend payer. With a current yield of 3.26%, 2700% dividend growth rate since 2009 (that is not a mistake, annual dividends have climbed from 0.11 to 3.00 during this period), and payout ratio of 34%, Agrium has a growing dividend stream (source: morningstar). This stream should be sustainable due to Agrium's excellent free cash flow generation, which is projected to grow into 2015. I believe due to these factors, Agrium is a fundamentally strong, attractively valued business with a unique competitive edge, that deserves consideration.
Disclosure: The author is long AGU. The author wrote this article themselves, and it expresses their own opinions. The author is not receiving compensation for it (other than from Seeking Alpha). The author has no business relationship with any company whose stock is mentioned in this article.