Hormel Food Corp (NYSE:HRL) has had a strong run in the last year, rising over 30%. The obvious question is, can it continue?
For a bit of guidance here, I looked at the P/E and P/S ratios of Hormel and its competitors.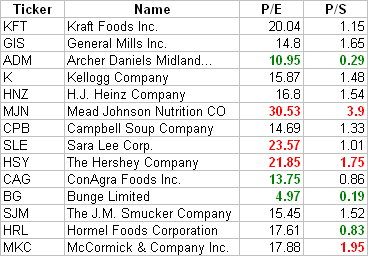 Hormel's P/E is slightly above average, while its P/S is a bit below average indicating that the company is probably neither overvalued nor undervalued and that much of the recent run up may have been a reversion to fair value.
One factor that many investors like about Hormel is its long history of dividend increases.
Click to enlarge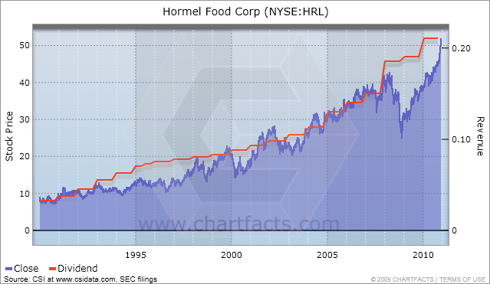 Source (chartfacts.com)
After coming out of a bear market, dividend investing has become popular as a lower risk investing strategy. However, the recent run up in HRL has reduced the yield to only 1.98%, and there may be better opportunities for dividend investors.
Probably the biggest reason to own Hormel at the moment is its price momentum. Strong performing stocks tend to continue outperforming over the short to medium term and Hormel can certainly be considered as a momentum stock.
In conclusion, a quick look at Hormel indicates it is neither overvalued nor undervalued. It has a long history of dividend raises, but its yield is now low. One reason to stay positive on Hormel is its momentum, with its stock price outperforming over the last 3, 6 and 12 month time frames. There are, of course, other factors to take into account, but a short look does not indicate anything to get really excited about.
Disclosure: I have no positions in any stocks mentioned, and no plans to initiate any positions within the next 72 hours.