It is definitely prudent for long term hold investors to invest in companies that they believe will be around in 50-100 years time. Companies that will be around for the long term need to provide a product that will always be in demand. There is no doubt that the world demands more energy and I believe Chevron will be one of the energy companies that will cash in on this imminent energy boom. Lets explain why
First of all the free cash flow figures are very impressive. Chevron (NYSE: CVX) announced cash flows of $16.3 billion compared to $14.2 billion in the corresponding 6 month period last year. Cash flows are an important metric and when you delve into their cash flow figures for the last 5 to 10 years, you extrapolate that their cash flows are growing at an averaged 16% per year. Increasing Cash flow in a company is an important metric as it allows the company to,
1. Invest in itself for sustained growth over the long term
2. Increase dividend amounts to shareholders
3. Buyback its shares which is great for existing shareholders as "buybacks" reduce the amount of shares outstanding which makes existing holdings more valuable
Nevertheless company cash flow is not all well and good if the company doesn't have sound management. We can see where this increased cash flow is going by looking at the dividend payments and the net worth of the company. The chart below leaves no doubt that a portion of Chevron's cash flow goes directly into shareholders' pockets every year through increased dividend payments.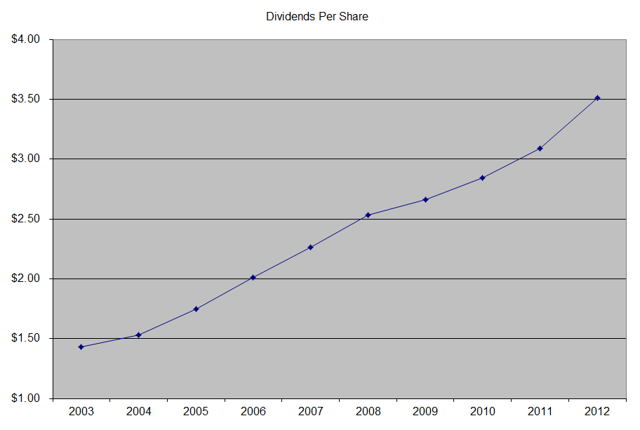 Click to enlarge
We can analyze the net worth of the company by looking at its book value. Chevron's book value presently is around 80 and has been growing consistently over the last 10 years. Again this shows that management is prudent in handling the companies ever expanding cash flows.
Finally, is it a good time to by Chevron? Well, its PE ratio is 11.60 compared to the S&P 500 average which is 18.7. This means that Chevron trades at a 38% discount compared to the average of the 500 largest companies in the US. This industry's average PE ratio is 13.7 - another 15% discount here. Its biggest competitor , Exxon Mobil (NYSE:XOM) has a PE ratio of 12.6 so again Chevron is trading at an 8% discount to Exxon.
Chevron has multiple projects in Africa and has also hung in (and for good reason) for a few years now with Falcon oil and gas (OTCPK:FOLGF) in the Karoo in South Africa. They are working together to obtain exploration permits which should be granted this year. With a bit of luck, the Karoo should become a fantastic investment for both Falcon and Chevron shareholders in the years to come.
Disclosure: The author has no positions in any stocks mentioned, but may initiate a long position in CVX over the next 72 hours. The author wrote this article themselves, and it expresses their own opinions. The author is not receiving compensation for it (other than from Seeking Alpha). The author has no business relationship with any company whose stock is mentioned in this article.
Editor's Note: This article covers one or more stocks trading at less than $1 per share and/or with less than a $100 million market cap. Please be aware of the risks associated with these stocks.