This is a series of articles to find BDCs to include in my updated "High-Yield Portfolio" for Q3 2014 for investors that are willing to take on a little more risk with less stock price appreciation, but higher dividend yields. The other four portfolios types are 'Total Return', 'Risk Averse', 'Value' and the 'Underdog' portfolios that will be updated on my "Portfolio Updates" page.
The other articles in this series are:
Dividend Coverage Update
The following table combines various dividend coverage methods using core net investments income ("NII") that excludes both income and incentive fees related to capital gains as well as some of the major onetime expenses and is a more accurate measurement of recurring income to cover dividends. I have included the amount of coverage over the previous five quarters from Part 1, the most recently reported quarter and the next two projected quarters. Using this analysis, Full Circle Capital (FULL) and BlackRock Kelso Capital (NASDAQ:BKCC) are most at risk of cutting dividends in the near term. Apollo Investment (NASDAQ:AINV), Medley Capital (NYSE:MCC) and THL Credit (NASDAQ:TCRD) have the best historical and projected dividend coverage but AINV and TCRD also have lower yields.
FULL and Prospect Capital (NASDAQ:PSEC) have not reported results for the quarter ended June 30, 2014 and the table uses information from the previous quarter.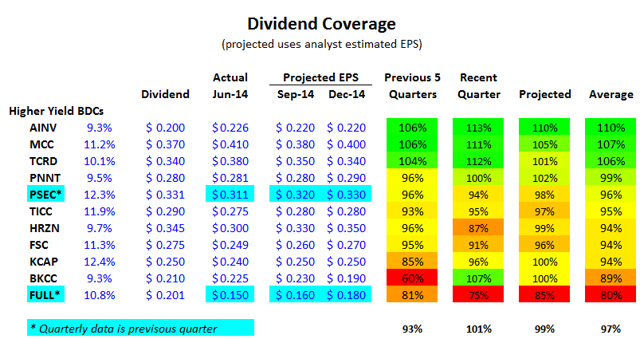 Summary of High-Yield BDCs
The following table combines the results from the other articles in this series to identify the best high-yield BDCs to include in this portfolio. I did not rank dividend coverage as high as the other measures such as returns and pricing that are related in many ways.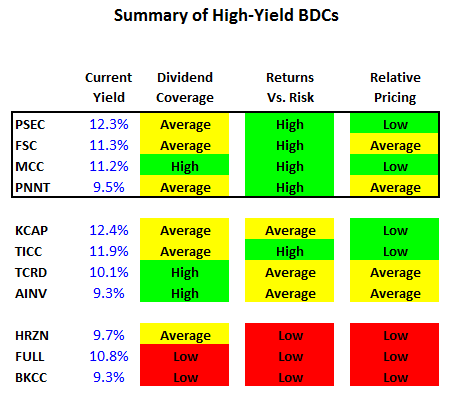 As discussed in my recent series of interest rate sensitivity articles including the most recent "Is Prospect Capita Ready for Rising Rates", BDCs such as PSEC, KCAP Financial (NASDAQ:KCAP) and TICC Capital (NASDAQ:TICC) have much more exposure to collateralized loan obligations ("CLOs") than other BDCs which is most like why they have the highest yield and lowest pricing compared to the others. I believe investors should limit the amount of exposure to BDCs with these types of investments and have chosen PSEC over TICC and KCAP for many reasons including having less overall exposure. My primary concerns are related to a potential economic downturn and the risk of increased defaults that could have a material impact on cash flows from these investments. The following disclosures are provided by PSEC regarding its CLO investments:
"We expect that a majority of our portfolio will consist of equity and junior debt investments in CLOs, which involve a number of significant risks. CLOs are typically highly levered up to approximately 10 times, and therefore the junior debt and equity tranches that we will invest in are subject to a higher risk of total loss. Payments to us as a holder of CLO junior securities are and will be made only after payments due on the senior secured notes, and, where appropriate, the junior secured notes, have been made in full. This means that relatively small numbers of defaults of Senior Secured Loans may adversely impact our returns."
"Generally, we are in a subordinated position with respect to realized losses on the Senior Secured Loans underlying our investments in CLOs. The leveraged nature of CLOs, in particular, magnifies the adverse impact of Senior Secured Loan defaults. Changes in interest rates and credit quality may cause significant price fluctuations. Additionally, changes in the underlying Senior Secured Loans held by a CLO may cause payments on the instruments we hold to be reduced, either temporarily or permanently."
Summary:
For Q3 2014, I have chosen PSEC, MCC, Fifth Street Finance (NYSE:FSC), PennantPark Investment (NASDAQ:PNNT) and UBS 2X Leveraged Wells Fargo BDC ETN (NYSEARCA:BDCL) as the components in my high-yield portfolio for an average dividend yield of around 12%. PNNT has the lowest regular dividend yield but also the highest amount of net asset value ("NAV") per share growth giving it the highest potential return compared to the others. Horizon Technology Finance (NASDAQ:HRZN) also the ability for increased NAV growth due to its strategy of investing in VC backed technology companies but I did not include due to being overpriced.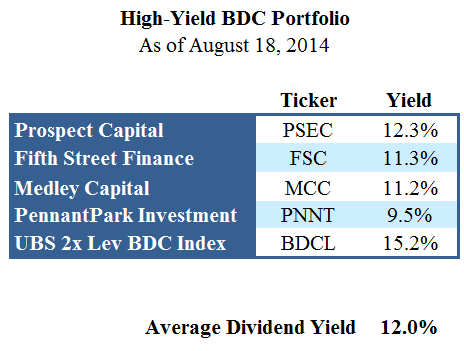 For an average annual dividend yield of 12%, I believe this is a solid portfolio that also has the potential for capital gains from stock price appreciation due to being underpriced. New financial results will not be available until November and please check my "Portfolio Updates" page as well as the "BDC Research Page" linking to various articles on Seeking Alpha that I will continue to update as well as my "Index to BDC Articles" for more information on specific BDCs.
Disclosure: The author is long ARCC, FSC, FSIC, GBDC, HTGC, MAIN, NMFC, PFLT, PNNT, PSEC, TCPC, BDCL.
The author wrote this article themselves, and it expresses their own opinions. The author is not receiving compensation for it (other than from Seeking Alpha). The author has no business relationship with any company whose stock is mentioned in this article.
Editor's Note: This article covers one or more stocks trading at less than $1 per share and/or with less than a $100 million market cap. Please be aware of the risks associated with these stocks.