Minefinders (AMEX:MFN)[TSE:MFL] is headquartered in Vancouver but all of its mines are located in Northern Mexico. It has very unique attributes, notably the hybrid nature of its mineral reserves (approximately 50/50 gold to silver).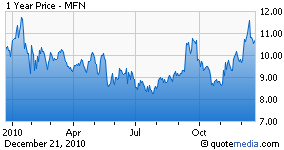 Minefinders is not a perfect company by any means as it is recovering from a second quarter setback as many mining companies do when first bringing a rather large project online. In June of this year, a phase 1 torn leach pad lead to a substantial shortfall in expected output. Management has located the tear, with repair work likely to continue to the end of Q4 and possibly into the new year. While Q4 output will be somewhat hindered, there should be a sharp turnaround in operating performance at the start of the new year. Higher grade ore is currently being stacked in the phase 2 leach pad which should drastically turn around operating performance over the next four months. Though unfortunate, this has suppressed the market price of the company providing investors a great opportunity to get in a high quality miner at bargain prices.
About the company's operations:
Financial Position: Up until last week, Minefinders capital structure was sub-optimal as it held $84 million in debt, which has been resolved via a $151m dollar financing which will go toward paying down some debt, a possible mill expansion and development of its La Bolsa mine.
The Dolores Mine: Barring a mill expansion it will produce approximately 4.5m ounces of silver in the coming year and 100-110k ounces of gold, ramping up to 5.2m ounces of silver and 135-140k ounces of gold in 2013. As phase 2 and 3 boast higher grade ore, cash costs will drop to approximately $600-$620/ounce in the coming year and $520-$540 thereafter. Though the current expected life is 15.5 years, this will likely prove to be conservative given the reserves in place, the total resources yet to be converted to reserves and quality of the mine. In turn, a higher mill throughput will likely be taken on in 2012 or 2013, increasing average annual production (which also decreases mine life) and the internal rate of return.
La Bolsa: Though La Bolsa is no Dolores, it will compliment Dolores very nicely, providing substantial operating cash flow relative to the required capital outlays. As of December, La Bolsa contains 344k of M&I ounces and 4.6m ounces of silver excluding Inferred resources. Based on current estimates production will range from 45-55k ounces of gold per annum and 650-750k ounces of silver over a 6.5 year mine life. The great thing about La Bolsa is incredibly high internal rate of return (95% @ $1,200 gold and $18 silver).
La Virginia: Encompasses a sizeable land package 32,000 HA which has so far demonstrated various intervals of high grade gold and silver zones. In other words, it possesses characteristics and trends to the Dolores mine. This is only one zone of many to follow which will provide for potential exploration upside potential.
Reserves/Resources: Currently 2P Gold reserves amount to 2.5m ounces and 126m ounces of silver. Total resources amount to 4.2m ounces of gold and 185m ounces of silver.
Valuation: Minefinders is trading at approximately 50% of net asset value using a 10% discount rate, $1,200 gold and $25 silver. On a discounted cash flow basis Minefinders is currently worth about $23 using the same inputs inclusive of the recent share dilution. Using industry averages for other various metrics, a blended valuation makes the value per share somewhere between $21-24$/share.
Disclosure: I am long MFN.