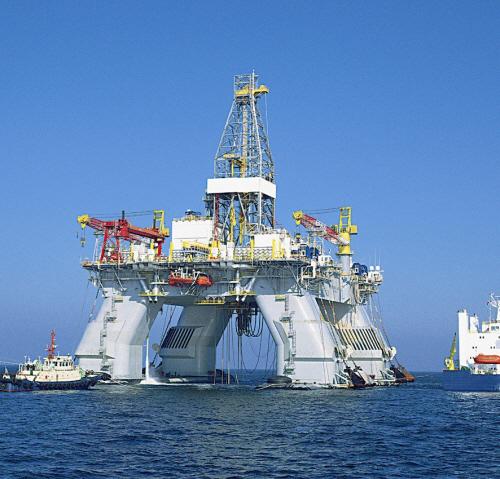 Source: Deepwater Nautilus, RIG website.
Transocean Ltd. (NYSE:RIG), is one of the top-tier offshore drilling companies, which owns a very large fleet of floaters and jackups.
The company owns a total of 27 high specification floaters: Ultra-deepwater rigs; 12 high specification floaters: Deepwater rigs; 7 high specification floaters: Harsh environment; 21 Mid-water floaters; finally, 11 high specification jackups. It is a total of 77 active rig units. Furthermore, 14 more rigs are under construction, at the moment, and scheduled to be coming on-line as early as mid-2014. (7 are already contracted.)
Complete fleet status as of August, 2014.
Link: July fleet status.
1 - Rigs under construction.
#
RIG
K feet
Contract Start
Contract End

Dayrate

K $

Location
Ultra-deepwater Drillships
1
DeepWater Asgard
12/40
Starting operation now per the CC
Q3/14-Q2/17
600
TBA
2
DeepWater Invictus
12/40
Q2/14
Q3/14-Q2/17
595
US GOM Billiton
3
DeepWater Thalassa
12/40
Q1/16
Q1/16-Q4/25
519
TBA Shell
4
DeepWater Proteus
12/40
Q2/16
Q2/16-Q2/26
519
TBA Shell
5
DeepWater Pontus
12/40
Q1/17
Q1/17-Q4/26
519
TBA Shell
6
DeepWater Poseidon
12/40
Q2/17
Q2/17-Q2/27
519
TBA Shell
7
DeepWater Conqueror
12/40
Q4/16
Q4/16-Q4/21
599
US GOM Chevron
8
JSPL Ultra-deep TBN 1
12/40
TBA
Available
-
-
9
JSPL Ultra-deep TBN 2
12/40
TBA
Available
-
-
High specification Jackups
1
KFELS High Sp Jackup TBN 1
400/35
TBA
Available
-
2
KFELS High Sp Jackup TBN 2
400/35
TBA
Available
-
3
KFELS High Sp Jackup TBN 3
400/35
TBA
Available
-
4
KFELS High Sp Jackup TBN 4
400/35
TBA
Available
-
5
KFELS High Sp Jackup TBN 5
400/35
TBA
Available
-
2 - High specification floaters: Ultra Deepwater.
3 - High specification floaters: Deepwater.
4 - High specification semi-submersible: Harsh environment.
5 - Midwater floaters.
(1) Caledonia Offshore Company spin-off (8 rigs.)
The offshore drilling assets currently contemplated for transfer to Caledonia include the following rigs: Sedco 704, Sedco 711, Sedco 712, Sedco 714, Transocean John Shaw, Transocean Prospect, GSF Arctic III and J.W. McLean.

Regarding Caledonia Offshore Drilling, the UK North Sea focused drilling company announced during the quarter, we have no additional updates at this time. We expect to establish this new entity during the second half of 2014 and at an appropriate time separate it fully from Transocean. We have maintained full flexibility to pursue all options, including the potential direct sale to public or private buyer, a spin or a public offering. (Said Isa Ikaheimonen at the last CC.)
6 - High specification Jackups.
Fleet analysis snapshot.
1- Rig Fleet per category:
Total
UDW

Deepwater

semi-subs

HE Deepwater Semi-subs.
Midwaters
Jackups
Number of Rigs
77
27
12
7
21
10
New rigs
14
2
7
-
-

5
2- Rig Fleet per region:
Total

Angola

Australia
Canada
India and Middle East (Brazil)
Nigeria
North Africa and Medit.
Norway

Other Sub/

saharan

South America
South Asia

US

GOM

UK
UDWs
27
1
2
0
3
2
3
0
2
1
0
13
0
Deepwaters
12
1
1
0
2
1
1
0
1
3
2
0
0
Semi-subs
7
0
0
1
0
0
0
5
0
0
0
0
1
Midwaters
21
0
1
1
2
0
2
2
2
1
2
0
8
Jackups
10
1
0
0
0
0
0
0
1
0
4
0
4
Total
76
3
4
2
7
3
6
7
6
5
8
13
13
Idle
4
0
0
0
1
0
1
0
1
0
0
1
0
Stacked
8
0
0
0
1
0
2
0
1
0
3
0
1
* GSF Rig 135 has been swapped with Sedco Energy (indicated at the conference call.) Now, GSF Rig 135 is classified here as idle until contracted again soon; however, it appears that this new contract is a done deal ready to be announced quickly per Terry Bono, SVP marketing:
In addition we recently executed a rig swap agreement between the Sedco Energy and GSF Rig 135. We should be announcing more positive news on the 135 shortly.
3 - Rig dayrate range:
Terry Bono, SVP marketing gave a general dayrate per category and per location at the conference call;
But we had previously reported and certainly in our last presentations on the road, I think the ultra-deepwater ranges reported were 375 to 500, deepwater was around mid-300s to 400s, mid-water was I think around mid-300s to 400s in the harsh environment and below 200 outside of U.K.
Second-quarter 2014 results snapshot.
Link: Conference call transcript on August 7, 2014.
Link: Pr second-quarter 2014 results, on August 6, 2014.
Q2 2014
Q1 2014
Revenue in $ Million
2,328
2,339
Net Income in $ Million
587
456
Operating and maintenance expenses in $ million
1,213
1,269
Fleet revenue efficiency in %
95
95.7
Earnings per share in $
1.61
1.25
Interest expense in $ million
112
126
G & A in $ Million
63
57
Shares Outstanding basic in Million
262
262
Backlog as of August 2014 in $ Billion (Versus April 17, 2014) (2)
27.08
26.11
Cash and Cash equivalent in $ Million
2,117
1,987
Long-term Debt $ Billion (1)
10.46
Stock price August 14, 2014 in $
38.88
Enterprise Value $ Billion
22.32
EBITDA $ Billion
3.90
EV/EBITDA
5.72
(1), Regarding the balance sheet, we continue to work towards reducing our gross long-term debt to below $9 billion.

(2) Terry Bono, SVP Marketing, said at the CC: "We increased our contract backlog by 75% over the first quarter, demonstrating the Company's solid position in this very challenging market."
Note: The ratio EV/EBITDA is very low, which means that RIG has a good and manageable debt level which will allow for newer rig purchase down the road to renew its aging fleet. Seadrill Ltd. (NYSE:SDRL) which has one of the most modern fleets has an EV/EBITDA reaching 11 right now.
YTD chart: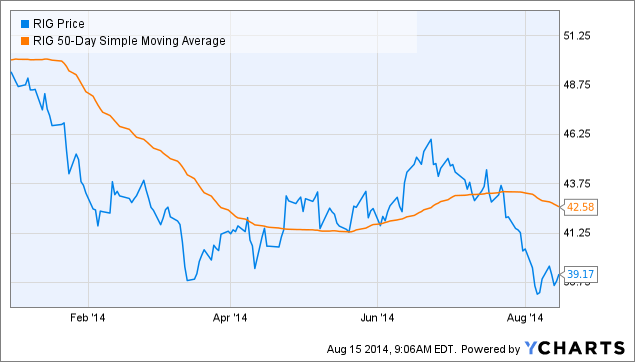 Commentary:
Transocean Ltd. Is one of the biggest and the oldest top-tier offshore drilling companies, with probably around $9.5 billion in total revenue for 2014.
The company continues to deliver outstanding positive results, quarter after quarter, whereas the analyst community exaggerated bearishness, keeps on beating up the Industry with negative and sometimes blatantly incorrect financial assumptions, in my opinion. The recent example of this dismissive and unwarranted action against the Offshore drilling industry, is the last sector brutal downgrade issued by Deutsche Bank analyst, Mike Urban.
My ultimate goal is not to discuss in-depth the validity of this downgrade which is totally unjustified, but preferably, give the reader enough compelling data to make a personal and honest assessment of the situation; and judge, first hand, what is pure fiction and what is reality?
At the last conference call, Terry Bono, SVP marketing, explained succinctly what sort of headwinds the Industry is actually facing. A definitive market softness is being experienced by all the players in the offshore drilling sector, and it is still difficult to indicate an end of this weak cycle. After analyzing many different companies, I believe the real turnaround will be Q3 2015.
Another important topic, which has been debated almost on a monthly basis, is the dividend level and its sustainability. Few analysts once more have suggested that the dividend will have to be reduced or even temporarily cancelled due to the continuing depressed market, and so far, after over a year, they are still wrong. Again, this topic came back at the conference call, and the question was asked by Angie Sedita, UBS, and was answered by Steven Newman, CEO:
But as both I and Esa commented in our remarks, we are committed to maintaining a competitive and sustainable dividend. So that's very important to management and the Board.
What we can say is that the dividend is pretty safe, and it would take some extraordinary circumstances to change this standard paradigm. It is contrasting again with the Deutsche Bank analyst, Mike Urban, who predicted a forced cut in dividend as one justification for his broad downgrade of the sector and for RIG, particularly.
Some specialists are asserting that RIG still has room for a dividend increase that I am not advocating at all at the moment.
RIG is trading now at a large discount level while reporting $2.33 billion in revenue and $1.61 per share whereas analysts' expectation was for $2.27 billion and $1.12 earnings per share. I believe the stock is trading at a discount to its true fair value which I estimate to be between $48 to $50, and despite the two or three coming quarters which are considered as tough, because of more idle time and mobilization time. I am expecting earnings of 0.81/0.85 per share for the next Q3 2014.
Finally, we will find out soon, what will be decided with Caledonia Offshore? If we look at what Noble (NYSE:NE) did with Paragon (PGN) recently, I would be interested to see Caledonia spun off and a special share dividend to be distributed to all RIG shareholders. I believe this situation may bring more value for investors, and the new company will be totally autonomous and will trade separately.
I am rating RIG as a BUY accumulates, especially when we look at the 7.5% dividend.
Disclosure: The author is long RIG, SDRL. The author wrote this article themselves, and it expresses their own opinions. The author is not receiving compensation for it (other than from Seeking Alpha). The author has no business relationship with any company whose stock is mentioned in this article.