Equity markets in the United States have seen a classic bull market for over five years now. From a closing low of 683 on March 2, 2009, the S&P 500 has gone up by 185%. There are three factors that have supported the bull market:
Gradual economic revival from the worst economic period witnessed during October 2008 and March 2009.
Strong earnings growth backed by corporate earnings diversification globally and through record levels of share buybacks.
Artificially low interest rates along with ample liquidity in the banking and financial system
These factors have certainly supported markets in the past, but will they continue to take markets higher?
This article discusses where the markets might be headed in 2014 amidst tapering and concerns on interest rate increase relatively soon.
I have been expecting that markets will correct by 15%-20%, but I am relatively sure that a big market crash is not coming. The only factor that can trigger a big market crash is significant escalation is geo-political tensions in the Middle-East as well as Ukraine. Investors need to keep a close eye on these two events.
However, there are no other visible triggers for the market to crash. Way back in 2007-08, the banking system was in a mess, the derivatives markets had gone out of hand, the housing prices were crashing and unemployment was going through the roof.
Today, the banking system has ample liquidity, the unemployment rate has improved on a relative basis and we do have indication of stability and bounce back (in some regions) in housing prices. I should also mention that headline inflation is not the best indicator, but even the U6 rate has declined to 12.2%. Overall, the outlook is more stable even if the GDP growth prospects are not robust.
However, I have not yet mentioned one of the biggest factors for believing that markets will not crash. Equity markets currently are a function of fundamentals and liquidity. If fundamentals worsen even slightly, there will be more liquidity pumped into the economic system and that will support markets. It is my guess and there is some conviction behind it that equities might crash if the economic scenario is so healthy that the Fed tightens liquidity significantly. Therefore, equities might continue to go higher if the economy remains relatively weak, forcing the Fed to continue on its expansionary monetary policies.
Talking about expansionary monetary policies, the adjusted monetary base has increased from $3.6 trillion in December 2013 to $4.1 trillion currently. This is a direct indication of continued expansionary monetary policies and should ensure that equity markets remain higher.
The point I am trying to make is that there is enough liquidity support to keep the markets higher. Even if the tapering continues and markets correct by 15%-20%, there will be a reversal in stance as the Fed does not want asset deflation to happen. This is very true for equities as trillions of dollars of pension funds are invested in equities. If equities crash by 40%-50%, the saved wealth will vanish in thin air.
I am also not completely ruling out the fundamental positive factors that will support the markets. As the chart below shows, the consumer confidence is at its highest level since 2008 and that is a positive sign for the markets.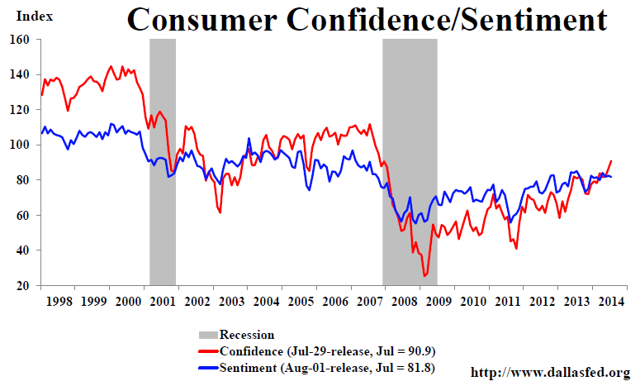 Economic indicators have also shown resilience, but the big test will be when there is no artificial support to the economy. That still remains to be tested. However, I feel that the quantitative easing will continue for long-term as the Fed might not want to risk another economic collapse by completely withdrawing support.
On the point of current valuations, the Shiller PE ratio of 25.74 and this is much higher than the mean and median Shiller PE of 16.55 and 15.93 respectively. Valuations are clearly stretched and a 15%-20% correction can come anytime in 2014. I would still be investigating on the trigger for correction, but valuations are pricey, without doubt. The Shiller price to sales ratio is also near the highs of year 2000 and it is certainly something to be worried.
I also consider the margin debt data as a good indicator of the amount of speculation in the markets and the last margin debt data was close to an all time high. As there is more and more speculative activity, the probability of a market correction also increases and margin unwinding can easily result in a correction of over 10%.
My suggestion would be that investors should consider switching to low beta names or completely book profits. Among the low beta names, Johnson & Johnson (NYSE:JNJ) and The Procter & Gamble Company (NYSE:PG) are interesting. Also for the relatively economic downturn free sector they cater to and for a good dividend yield.
In conclusion, markets don't seem to be having any crash trigger, but the valuations might not remain at stretched levels for long. I expect markets to correct and the best idea would be to book profits on stock where returns have been very significant.
Disclosure: The author has no positions in any stocks mentioned, and no plans to initiate any positions within the next 72 hours. The author wrote this article themselves, and it expresses their own opinions. The author is not receiving compensation for it (other than from Seeking Alpha). The author has no business relationship with any company whose stock is mentioned in this article.