Last month many investors and reporters had written off the 2014 box office and began looking towards 2015's stellar slate of sequels to save the day. Yet the more and more we get into August, the more and more we are beginning to see a (slight) box office rebound. A large part of that success comes from Disney (NYSE:DIS) and Paramount (a subsidiary of Viacom (NYSE:VIA)) which this month have each released movies that have been welcomed by the mainstream.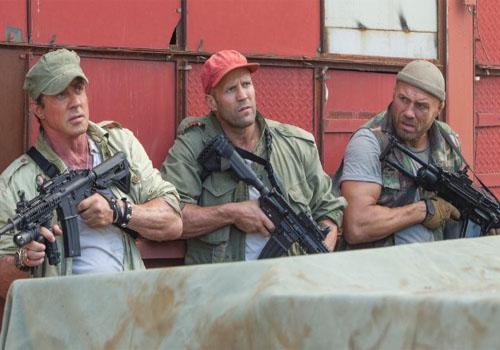 (Credit: Lionsgate)
Now while the year-to-date box office is still down around 5% and the summer season itself is down 15%, the month of August is actually up 14%. With regards to the 15%, believe it or not that is actually good news as prior to the debut of Disney's Guardians of the Galaxy and Paramount's re-booted Teenage Mutant Ninja Turtles franchise the box office was down over 20%, so at least we are going in the right direction.
This weekend "Turtle Power" ruled for a second straight week with a $28 million haul (down a understandable 58% week-to-week) and Guardians took in another $23.5 million in earnings, slipping just 26% following it's equally understandable 55% second week swoon last week. Overall Nina Turtles now sits at over $100 million and Guardians are well past $200 million following this weekend's earnings.
The power of this two-some was challenged by a trio of new releases including Fox's (NASDAQ:FOXA) (NASDAQ:FOX) Let's Be Cops, Lionsgate's (NYSE:LGF) The Expendables 3 and The Weinstein Company (private company) The Giver, but none of three could top the charts.
The biggest shock of the group was the collapse of The Expendables franchise. Even though it was expected the movie would open below the already deflated debut of its 2012 predecessor, nobody expected a $16 million first week haul. Despite an aggressive marketing campaign and an all-star cast, it couldn't top the $20 million mark which is very surprising.
On the other hand Cops benefitted from a two day head-start and will end up with a $17.7 three-day haul (which incidentally is about what it cost to make the movie) and a $26.1 five-day total which will place it third for the weekend. Expendables finishes behind them in fourth and The Giver clocks in fifth with a $12.7 million total.
The Giver's been plagued by development issues for a long time and it's remarkable that it finally got to theaters at all. Made for just $30 million it was a low-risk, high-reward venture that will likely re-coup its cost in the long run.
Investor Analysis
Disney & Viacom:
Investors had no doubt Disney's latest Marvel venture was going to do well, but over $200 million domestically and over $350 million globally is beyond expectations for a franchise very few people knew about just two years ago. Meanwhile Viacom is loving these results as well given that critics had written off the TMNT re-launch as a huge mistake, yet audiences thought otherwise. Now Disney has a shiny new toy to play with in this larger than life portfolio of inter-connected Marvel movies and Viacom has a tentpole franchise that positively impacts two of its subsidiaries (Paramount and Nickelodeon). In addition both companies' consumer products divisions must be in heaven as the properties each come with a full line of toys that will no doubt be best sellers this holiday season.
Here's where things get fun though…theatrically both studios are going to be worth watching as well this fall given that Disney has the animated Big Hero 6 (also a Marvel property) and Paramount has Christopher Nolan's Interstellar coming up but each hit theaters on the same day. Yes, those films hit different demographics but it's still going to be a fun match to watch come November 7.
Fox
Let's Be Cops wraps Fox's summer film roster and with the movie making back its $17 million budget in its first weekend, investors and executives have to be happy. Yet by comparisons to fellow adult comedies Neighbors and 22 Jump Street which are looking at domestic profits of over $100 million each it's nothing to go crazy over.
However combined with X-Men, The Fault In Our Stars and Dawn of the Planet of the Apes (which just crossed the $200 million mark this weekend), the studio has had a nice run and should give its investors a sense of confidence going into the fall where Fox has literary adaptations of Gone Girl and The Maze Runner plus a four week run where it will open four movies back-to-back, each of which could turn into a blockbuster hit.
The studio side won't be the only division looking forward to the fall as the Fox TV networks will also enter the season with an impressive slate including Sleepy Hollow and Gotham on Fox and new seasons of Sons of Anarchy and American Horror Story on FX, plus the second-run cable debut of the highly profitable The Simpsons franchise on FXX and streaming.
All together this slate has to be tempting for investors and right now looks to be one of the most solid (on paper) of any of the main studios.
Lionsgate
Plain and simple Expendables 3 was a disappointment, but then again the whole summer has been on the film side as the studio released just two movies. The latest (and maybe now last?) installment of Step Up has made just $50 million worldwide and only $11 million domestically. Granted these films don't carry a high price tag but like Expendables, each Step Up film has debuted to less than its predecessor, but stunningly ends up making more when international totals are thrown in.
For Step Up, that streak technically ended with the last one (Step Up Revolutions) which made a few hundred thousand less (a drop in the bucket in the grand scheme) but is in extreme danger of ending now as the odds of All In hitting $165 million worldwide are about the same as Expendables 3 reaching the $300 million brought in by its predecessor.
As bad as this seems though, all is not lost though for Lionsgate as the debut of the Divergent franchise earlier this year has set them up with a nice safety net, plus the studio has juggernaut in waiting The Hunger Games: Mockingjay - Part 1 in queue for November and that will send a serious shock-wave through the box office upon release. Investors will also likely stay calm as the studio's TV and home entertainment divisions which boast over 30 programs across 20 networks including ABC's Nashville and Netflix's Orange Is The New Black as well as projects from Miramax and A&E are still thriving and that likely won't change entering the end of the year. This was a blow for Liongate, but not one the studio can't eventually overcome.
Disclosure: The author has no positions in any stocks mentioned, and no plans to initiate any positions within the next 72 hours. The author wrote this article themselves, and it expresses their own opinions. The author is not receiving compensation for it (other than from Seeking Alpha). The author has no business relationship with any company whose stock is mentioned in this article.