Management was not happy with the results; neither was I. No one said the transition and strategic repositioning of the firm was going to be easy, but Millennial Media (NYSE:MM) had another disastrous quarter. Revenue came in at $67.3 million, 8% below my and the street's estimate. To further complicate matters, Q3 guidance again was very soft due to weak sales in the performance advertising subset. The company is guiding Q3 revenue between $65-70 million (street was $78 million) and EBITDA of negative $7 to $8 million (I had -$1.8 million). Near-term choppiness was expected, however not of this magnitude.
Q2/14 Results

Source: Company Reports, RideBuyCycle
Despite the poor quarter, I remain LONG due to the compelling valuation. I have reduced my price target by $1.10 to $5.20; to incorporate a conservative forecast for 2014. I have severely reduced my forecast and am now anticipating negative growth in 2014 as the company navigates itself through its strategic changes. My Q3 forecast has been brought in line with guidance and anticipate Q4 to be higher than Q2/Q3 due to seasonality. My long-term growth forecast has been unchanged, but the financial figures have been reduced due to growth off a lower base. In spite of the reduction, I believe the firm is still moving to a more sustainable and well-rounded firm in a fast growing market.
Updated Forecast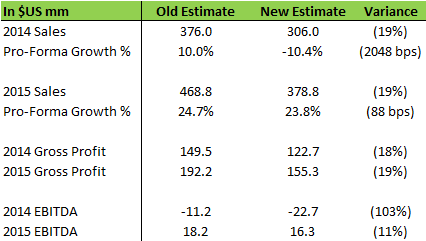 Source: RideBuyCycle
Reasons to still believe in MM's long-term payoff
Millennial Media is not for the faint-hearted; it is a show-me story, that is looking to secure the turnaround. It is no big secret that MM has failed to capture the heights of its IPO days. The stock has been on a downward trend since, but I do believe that is beginning to turn. The changes that have and are being implemented such as the Jumptap Acquisition, MMX, and management changes will make the company more sustainable and able to take advantage of the fast growing mobile ad market. Patience and a long-term perspective are required, as results will not happen over one quarter. It will be a process but I expect the turnaround to come in 2015.
The new management is better experienced and more practical. When Michael Barrett joined MM as CEO in early-2014, I believe he was aware of the challenges ahead. Initially he relied on input from those there longer, which led to poor management of expectations. Now, that we have had (roughly) two quarters to assess his behaviour, Mr. Barrett comes across as a practical thinker, pulling no punches and letting investors know the reality of the business. He expressed his disappointment in the figures thus far but was early to identify the problems as he did last quarter when he designed the four strategic objectives.
Key management additions have been made. In July 2014, Millennial added Marc Theermann as EVP Strategy to its management team. This was a significant coup as Mr. Theermann (along with Mr. Barrett) helped build AdMeld, before being sold to Google (NASDAQ:GOOG) (NASDAQ:GOOGL) in 2011. He was retained by Google, where his most recent title was the Head of Mobile Platform Sales. This is a significant coup, as Mr. Theermann is a key insider in the mobile landscape and it speaks volumes if he can be lured away the Google powerhouse to Millennial Media. He clearly sees some value in MM's tech/products. At AdMeld, he assisted in conceptualizing the world's first auction for the real time buying of digital ads; thus, has been brought on to expand MM's programmatic and native (advertising) presence.
MMX continues to grow and will likely have a stronger presence in 2015. The MMX exchange is growing at a rapid rate but is still only a small portion of the business and its revenues are not disclosed at this time. On the call, management stated that MMX is coming along well and is expected to make a more significant contribution in the upcoming year. The exchange is now connected to over 350 buyers, an increase from 180 buyers in Q114. MMX is an important piece of the puzzle, as it will help drive Millennial's programmatic presence; making Millennial's ability to pair up advertisers and developers more efficient.
My conservative forecast takes into account market share loss to larger players such as Facebook (NASDAQ:FB) and Twitter (NYSE:TWTR). One of the key worries in 2014 thus far has been the loss of market share to larger advertisers in the performance advertising subset. This was anticipated and has been built into my forecast previously as Facebook and Twitter took more market share away from the independent ad networks in 2013. To achieve the current valuation target, Millennial only needs to grow its domestic sales at a CAGR of 11% vs. the market rate of 42%. Much upside remains but given the near-term choppiness, I have chosen to remain fairly conservative in my forecast. As shown below, MM only needs a sliver of the market to justify the valuation target.
Market Share Analysis

Source: eMarketer, RideBuyCycle
Valuation
My valuation methodology is based on three different approaches: EV/Sales, EV/Gross Profit and a DCF analysis. No changes have been made to the parameters of my valuation methodology to the previous quarter, only the estimates have changed. Target EV to Sales/Gross Profit remains at a 1.25x and 3.0x respectively, while the DCF is based on a 13% discount rate and 4% terminal growth rate. I choose EV/Sales and Gross Profit as both are a reasonable proxy to value an early stage high growth stock with little operating profits.
Valuation - Target Price Calculation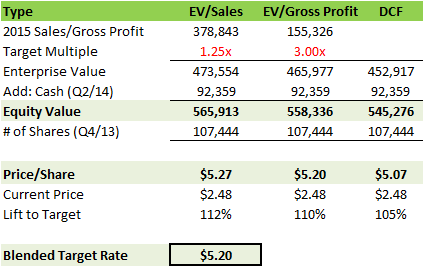 Source: RideBuyCycle
DCF Analysis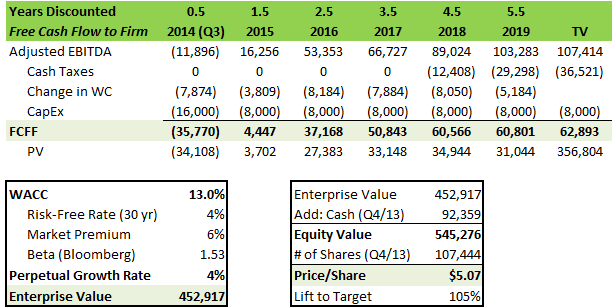 Source: RideBuyCycle
Terminal Value Sensitivity

Source: RideBuyCycle
The current market price recently touched a 52-week low and is close to my bear-case scenario. In the bear-case, I reduce the 2014 growth rate in sales to -13%, from the base scenario of -10%. Furthermore, I increased operating and corporate expenses (as a % of revenue) and forecast only 4% growth from 2015 onwards. This yielded a valuation of $2.14, 14% downside from the current market price. I assign very little probability to this scenario (5-10%) due to the very high growth of the mobile display ad market and MM's already established tech platform. The company should achieve a higher growth rate than 4% once fully stabilized.
Downside Scenario DCF Analysis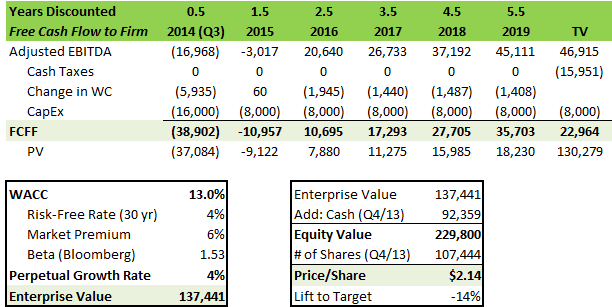 Source: RideBuyCycle
Q2/14 Results and Other Industry News
For the full press release of financial results, see here: Q2/14 Results
Performance advertising sales continue to be under pressure. The firm's attempt to diversify its revenue is still ongoing. MM's performance business still relies on a few large clients, which have since decided to spend less on advertising as well as MM experiencing market share loss to bigger players. The company acknowledged they need to continue to build out their real-time bidding programmatic technology as it will likely assist in driving stronger performance sales.
Brand advertising continues to remain strong (24% Y/Y). On the network side of the business, revenue was shifted back to roughly 60/40 in favour of brand advertisers (its previous mix prior to Jumptap). More brand advertisers are shifting larger volume of their campaigns to programmatic buying. MM's aim is to move smaller dollar transactions to high-volume automation (via exchange), while giving more personal attention to highly creative larger campaigns. Management anticipates gross margin to remain around 40% in the near-term (my forecast remains unchanged at 39%-40% for the balance of the year). Video advertisements and interactive ads continue to grow in strength, doubling Y/Y and global CPMs (cost per thousand clicks) increased 19% Y/Y due to more highly targeted brand business and use of more engaging ads. One disappointing statistic was the number of active user profiles and apps using MM platform was flat sequentially with 650 million profiles and 60,000 apps/sites (still a very large set of data).
As a refresher, here are MM's current four key strategic objectives:
Diversify performance customers - in order to counter the weak sales, the firm will have more emphasis on obtaining more but smaller clients. This will cut dependence on the large clients and diversify their revenue base.
Expand their programmatic presence - in my initial report, programmatic real-time buying is the emerging trend in digital advertising. Furthermore, programmatic real-time buying allows clients to better measure and control their advertising spend. A facet very important to smaller clients, and thus ties into point 1 above.
Continue to invest in brand business - building on the strong growth, the company will continue to innovate with new products. Two such products that were recently launched were PATH (cross-screening product) and POINT (location-based targeting), along with other post campaign products (OMNI) to help better measure the effectiveness of advertising campaigns.
Continue expansion into international markets - MM is opening more offices globally, I believe international revenue will be a key driver going forward.
Yahoo purchased mobile analytics firm Flurry in late July. Techcrunch estimates the price to be within the $200-$300 million dollar range. This acquisition is mixed for MM as Yahoo (NASDAQ:YHOO) is looking to build its mobile presence and could become a stronger competitor for MM. On the flip side, industry consolidation continues and lends credence to a future acquisition for MM as the stock traded up on the day the news was released. I still believe that Microsoft (NASDAQ:MSFT) would be smart to acquire MM (given the recent price decline), though I do not believe that such an acquisition will happen any time soon as they are more focused on building out their cloud-based products. Flurry has been in operation since 2008 and according to them, they work with 170,000 developers and picks up data from 150 billion app sessions each month.
Strong quarters for competitive threats, Facebook and Twitter. Both large competitors had good quarters, beating expectations. Facebook continues to roll out its independent mobile ad-network though at this time does not offer real-time bidding (RTB). Unlike Twitter, with its MoPub ad-network (focus on RTB). Though MoPub at this time only makes up ~5% of Twitter's revenue, research analysts are fairly bullish on its growth prospects - confirming the importance of RTB and programmatic buying. As of the most recent quarter, MoPub handles 170 billion ad impressions per month, up from 130 billion last quarter.
Conclusion
In spite of the poor quarterly results, I am buying MM on this dip for the following reasons:
MM is still the 2nd biggest independent mobile ad network on the market
The company made a few key acquisitions and partnerships in 2013 that make them well poised to take advantage of longer-term industry trends. They are currently in the process of this transition and I believe will come out as a stronger competitor after all the changes are able to settle and take effect
2014 was always going to be a difficult year and I am buying it based on stabilized operations in 2015. Pricing in a negative 2014, the price target still remains at a sizable level relative to today's price
MMX is a small but fast growing portion of the business. It will be a larger contributor in 2015 (in terms of revenue) but also drives demand for MM's ad inventory.
Recent management hires such as Michael Barrett and Marc Theermann (who sold their previous ad business to Google) suggests they see something in MM's product offerings and are the right men to drive this business forward. Mr. Theermann was most recently Google's Head of Mobile Platform Sales.
Disclosure: The author is long MM. The author wrote this article themselves, and it expresses their own opinions. The author is not receiving compensation for it. The author has no business relationship with any company whose stock is mentioned in this article.