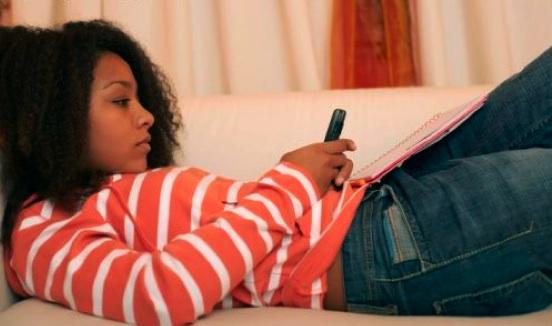 Picture: Teenager texting. Source: oldschool1003.com
I am a loyal customer of BlackBerry, Ltd. (NASDAQ:BBRY). The company's smartphone has never let me down. In the wake of the mini-earthquake that hit New York City a few years ago, BlackBerry was the only phone that was still operating. Other than my dog, Jazz, BlackBerry is my best friend. As a shareholder however, I have been holding out for the company's best-in-class security and reliability to reach pop culture status. On my previous article, a commenter and I pondered BlackBerry's growth once it caught on with teenage girls:
Shock Exchange: BlackBerry doesn't promote its security features enough. It needs to talk itself up more and convince people why they need their service. Teenage girls would love the security of knowing their 800 messages/day are only being read by the person they send it to.

Commenter: Maybe it will take something epochal in terms of the teenage girls' texts getting hacked before BlackBerry will leverage its superior security and robust delivery.
Well, that epochal moment may have finally arrived. Due to the Edward Snowden Effect, individuals have become more wary of governments and criminals hacking their computers and mobile devices. The demand for encryption products to protect emails, text messages or one's browsing habits may expand beyond the realm of computer nerds, law enforcement and government officials, and become popular amongst the masses. According to the Wall Street Journal, that is what start-ups and established companies like Google, Inc. (NASDAQ:GOOG), (NASDAQ:GOOGL) and Yahoo! Inc. (NASDAQ:YHOO) are betting on:
Neil Robinson, a Brussels-based cyber-security expert at RAND Europe believes there is a paradox between the worries people express in opinion polls about surveillance and the actual products they buy. "If asked whether they think privacy is very important, [consumers] will likely answer very positively, but still share lots of personal information quite freely on social networking sites or in exchange to get a discount or money off voucher." While the market for the products may still be developing, a range of products are hitting the market.
The Contenders
The following are contenders who are trying to convince the mainstream that encrypted products are a necessity.
ProtonMail
ProtonMail is an encrypted email service started earlier this year by a team of scientists who met while working at the European Organization for Nuclear Research ("CERN") in Geneva, Switzerland. The company believes that once the public's privacy is invaded upon, freedom will be the next civil liberty to crumble. Despite the good the Internet has brought, it also allows surveillance and spying on a massive scale. According to ProtonMail, its encrypted emails are immune to large scale problems:
Emails are encrypted in users' browsers
The encryption key never comes to the email server, so no one can read encrypted messages
Communication between ProtonMail users never go through email protocols, so they cannot be intercepted intranetwork
Users can send encrypted messages to other email providers such as gmail or outlook
The company has raised $550 thousand, enough to allow it to buy and host servers, provide custom domain names and mobile apps. ProtonMail's goal is to raise $1 million dollars in order to start encrypted chat and encrypted file storage.
Google And Yahoo!
Google and Yahoo! rank as the number one and number two search engines in the world. That search traffic and goodwill built up amongst customers have allowed them to sell email services as well. Google and Yahoo! rank number one and number three, respectively, in terms of active email accounts. According to Litmus, they ranked number two and number eight in popularity amongst the top ten email clients. To help protect clients' emails, the two email heavyweights may offer encrypted email services next year. After the recent Goldman unencrypted email debacle involving gmail, Google may want to include an "unsend" function as a feature for its new service.
Apple
OpenWhisper Systems has developed an app called Signal that brings secure communication to Apple, Inc.'s (NASDAQ:AAPL) iPhone. Encrypted text messages are expected to be added later; customers can use their existing phone numbers and the app does not require a password. To use the app, you have to register your phone with Signal. Customers can make encrypted calls to other Signal users on the iPhone or to RedPhone users on android. If a user calls someone who is not registered with Signal, the app will offer to send a text message encouraging them to join.
BitTorrent, Inc.
BitTorrent, Inc. has introduced Bleep, an application that lets users communicate via text and voice without going through centralized servers. The company is letting testers try out the pre-Alpha, to help work out any kinks before going live. Bleep allows users to communicate with others in a direct, decentralized setting without exposing any metadata. It is currently available on the Windows desktop.
Blackphone
The much-publicized Blackphone is an android operated smartphone built specifically for security. The Blackphone promises to deliver encrypted calls, texts, emails and Internet browsing, and has been touted as the world's most secure android phone. Geeksphone, a smartphone manufacturer in Spain, and Private Circle have teamed up to develop and market the phone. Private Circle is a venture-backed entity that has received funding from deep pockets like Ross Perot Jr. The Blackphone received some negative press recently when news broke that it was hacked within five minutes at the DefCon hacking conference in Las Vegas:
Hackers declared at the Black Hat security conference that they discovered two security issues in Blackphone's security mechanism. One issue was exploited by gaining access to the Android Debug Bridge (ADB), and the other issue was exploited by executing a chain of commands to obtain confidential data, by obtaining shell access.
The Winner - BlackBerry
BlackBerry is known not only for developing handsets, but for bringing security and enterprise solutions to governments and corporations through mobile device management ("MDM") services. Its BES12 offers solutions for multi-platforms, supporting iOS, Android, BlackBerry and Windows 8. Though many of its competitive advantages lie on the corporate side, BlackBerry is poised to offer encrypted emails, instant messaging and phone services to individuals as well.
BlackBerry Messenger
At one juncture, BlackBerry Messenger ("BBM") was the most popular messenger service around. Its existence was closely tied to BlackBerry handset sales; when handset sales dwindled, so did the popularity and market share of BBM. In my previous article I explained how BBM is considered to be the most secure messenger service on the market:
BBM's security and its value to the enterprise and governments provide it with an anchor of sorts. Millions of consumers were rabid about BBM and only ditched the service after they switched phones. From consumers I have spoken to, BBM Video, which allows users to engage in live video chat, is expected to be a game changer.
BlackBerry is also known to have one of the few networks that is NSA-proof, i.e., cannot be hacked by the U.S. National Security Agency. Additional distribution and BlackBerry's reputation in security should go a long way in helping BBM regain market share, and grow its base beyond its current 85 million users.
BlackBerry Passport
BlackBerry's new Passport phone, due in September, is expected to help resurrect the company's handset sales. This phablet is the best of both worlds, [i] a physical screen (4.5 inches) big enough to rival the Samsung (OTC:SSNLF) Galaxy or iPhone 6, making it easier for the younger generation to surf the web, and [ii] a physical keyboard making it easier for older BlackBerry users to navigate the handset. The Passport is also key to the BlackBerry/NantHealth alliance to provide a connected services healthcare platform in India. The service is expected to connect thousands of medical devices to help detect early stage illnesses. The Passport will make it easier for healthcare professionals to view patient information, while BlackBerry's best-in-class security will help protect against identity theft and protect patients' confidential information.
Angela Merkel Line Of Encrypted Phones
When German Chancellor Angela Merkel's iPhone was hacked by the NSA, she turned to BlackBerry; the German government purchased 5,000 BlackBerry Z10s. Ms. Merkel's personal BlackBerry Q10 came voice-encrypted by Secusmart to thwart any future efforts by the NSA to hack her phone; Merkel's phone has been touted as the most secure phone in the world. Secusmart has since been acquired by BlackBerry. Some have suggested that the acquisition was intended to thwart efforts by the Blackphone to encroach on BlackBerry's turf. If BlackBerry is able to sell enough units of its Angela Merkel line of encrypted phones, the price (currently over $2,000) could come down enough to give it mass appeal.
Conclusion
BlackBerry's bread and butter is security for government entities and corporations. If encrypted messaging enters the mainstream, it is poised to dominate the retail space with handsets and its revolutionary BlackBerry messenger service.
Disclosure: The author is long BBRY. The author wrote this article themselves, and it expresses their own opinions. The author is not receiving compensation for it (other than from Seeking Alpha). The author has no business relationship with any company whose stock is mentioned in this article.