Fuel Systems Solutions, Inc. (NASDAQ:FSYS) is set to announce its quarterly earnings today before the market opens. The company is focused on the alternative fuel industry and expects the price differential between propane or natural gas and gasoline and diesel will result in an economic benefit to end users of alternative fuel technology. In transportation markets, the price of alternative fuels such as natural gas or propane is typically lower than the price of gasoline. By converting a liquid fueled internal combustion engine to run on propane or natural gas, customers can exploit this fuel price differential. Below are the company's historical operating results: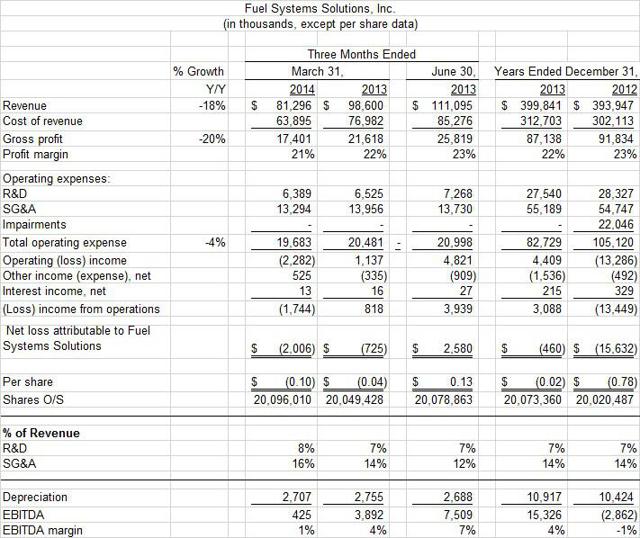 Revenue
Revenue decreased 18% year-over-year from $21.6 million to $17.4 million in Q1 2014. Revenue has been flat to declining since 2012.
The company has been facing increasing competition, resulting in the loss of its largest customer in 2013. There have also been lower aftermarket and OEM sales, and lower sales in Europe due to the European recession. In 2013 sales to Europe represented about 38% of total revenue.
Analysts are expecting revenue of $89.53 million, a 19% decline annually and a 10% increase sequentially.
Earnings
R&D and SG&A expense as a percentage of total revenue increased to 24% in Q1 2014 versus 21% in Q1 2013. EBITDA margin was 1% in Q1 2014 versus 4% a year ago.
Loss per share was $0.10 in Q1 2014, versus a loss per share of $0.04 a year earlier. Analysts are expecting earnings per share of $0.02 for Q2 2014, versus EPS of $.13 in Q2 2013.
Valuation
Fuel Systems Solutions' EBITDA through last 12 months ended March 31, 2014 ("LTM0314") was $11.9 million. The company also has an enterprise value of $213 million, which equates to 18x LTM0314 EBITDA. Based on its deteriorating operating leverage, the company is a sell going into earnings.
Disclosure: The author has no positions in any stocks mentioned, and no plans to initiate any positions within the next 72 hours. The author wrote this article themselves, and it expresses their own opinions. The author is not receiving compensation for it (other than from Seeking Alpha). The author has no business relationship with any company whose stock is mentioned in this article.