I think of myself as a contrarian investor with a long-term outlook. And for the most part, this approach has served me well over the years.
For example, I used some of my earnings from my first job following high school graduation to buy shares of Johnson & Johnson (NYSE: JNJ). Excluding dividend reinvestment, this has worked out to a near 250% gain on a stock that's not even viewed as a growth vehicle (see chart below).
What's really impressive is that including dividends, my gain now stands at close to 400%. And the best part is that I all I did to achieve such gains was to buy a quality name and let father time/compound interest do the rest.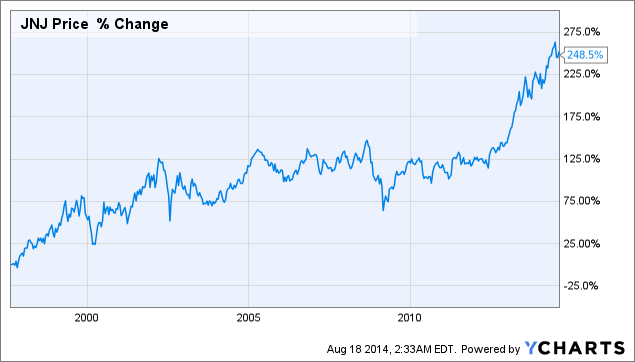 Unfortunately, many retail investors chase after biotech stocks popular on social media or various investing message boards for a quick buck--eschewing the tried and true strategy of buying and holding for the long haul.
MannKind signs partnership, shares head south
MannKind Corp. (NASDAQ: MNKD) is the latest cult biotech to go belly up--and I think investors/gamblers should use it as a prime example as to why these types of stocks are in fact dangerous.
Since signing the long-awaited partnership to market its newly approved inhaled insulin product Afrezza about a week ago with Sanofi (NYSE: SNY), MannKind shares have fallen approximately 40% from their former highs. What's particularly informative about the nature of MannKind's supporters is that they were claiming that the stock was ready to double--or perhaps even triple, following this news.
Instead, investors that bought MannKind shares from the outset would have lost nearly half of their investment at this point. While I will readily concede that the last year has provided ample opportunities to game this stock for a quick buck, you would have needed incredible timing to beat my gains on J&J, especially after accounting for taxes and brokerage fees.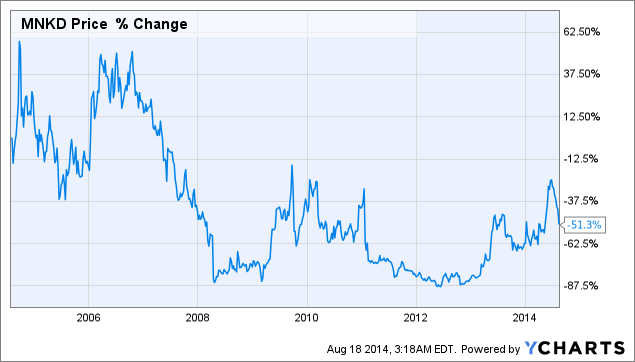 Social media darlings are not your friend in biotech
Arena Pharmaceuticals (NASDAQ: ARNA) also built a large and vociferous following on social media heading into the FDA approval of its anti-obesity drug Belviq. Despite a handful of bears pointing out the problems associated with pharmaceutical treatments for obesity, retail investors pushed these arguments aside, countering with what are now obviously wrong-headed sales estimates.
The result for investors buying into the social media hype has been utter catastrophe (see chart below). When I warned investors about the difficulties Belviq was facing, I was called "crazy" and a shill for short sellers. And I even received an email from a self-professed Areniac claiming to have taken out a home equity loan to buy more ARNA as a sign of their faith in the company.
With the clarity of hindsight, we can see that emotion and group-think are poor bedfellows when it comes to investing in biotech stocks.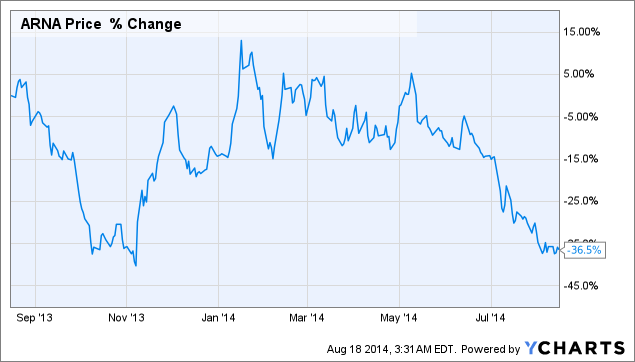 Dendreon's lesson should be taken to heart
In a time long since forgotten, Dendreon Corp. (NASDAQ: DNDN) and its prostate cancer immunotherapy Provenge were also touted as the next multi-bagger that would make your dreams come true. And yes, some individuals with the sense to sell at or near the top did profit from this stock.
With that said, Dendreon shares have lost 93% of their value in a mere 5 years and the company is teetering on the edge of bankruptcy.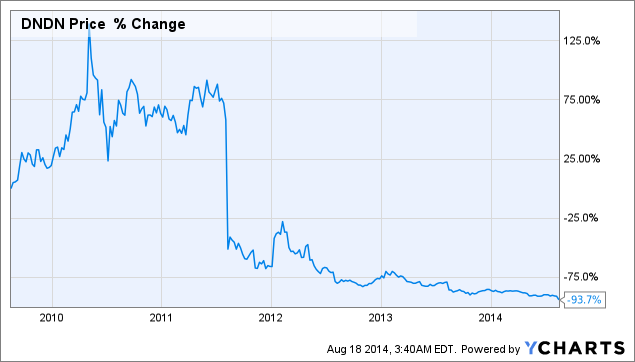 Bottom line
There are a number of compelling reasons for why most investors shouldn't bother trying to pick their own stocks, especially in biotech. My view is that these three examples demonstrate that the vast majority of retail investors can easily be manipulated into believing in highly unrealistic value propositions.
Trading biotech stocks might be sexy and a fun hobby. But this is not a method that will lead to long-term success in the market. Perhaps you got lucky by correctly timing some of these massive moves, but even then, you would have a new set of problems on your hands.
First and foremost, you have to search out a new investing vehicle that carries its own set of unique risks. Can you pull the magic off for a second or perhaps a third time? The examples above would suggest that this is a dangerous game to continue playing with your capital.
The truth is that picking quality companies and investing for the long-term will always be a superior strategy for asset appreciation than short-term trading. Unfortunately, this lesson appears to get forgetten, time and again, among retail investors chasing the next "multi-bagger".
And adding insult to injury, the best performers in the sector that have produced eye-popping gains, like Puma Biotechnology and Intercept Pharmaceuticals, weren't even on retail investors' collective radars prior to their monstrous moves upwards this year. In short, I think these two stocks further illustrate the sheer folly of gleaning investing ideas from social media or internet message boards.
Disclosure: The author is long JNJ. The author wrote this article themselves, and it expresses their own opinions. The author is not receiving compensation for it (other than from Seeking Alpha). The author has no business relationship with any company whose stock is mentioned in this article.