From early 2014, when earnings reports were beginning to be released, the overwhelming consensus was that weather was the major culprit in poor retail sales, although a number of companies I've written about outside of retail asserted the same thing.
Now that the smoke has cleared and the latest numbers being released, it has been found out that there was something systemic about the poor sales results in the last quarter of 2013, as retail continues to struggle, with auto being the key sector that has shown any sustainable strength over the last nine months or so, although that shows signs of slowing down as well.
That was evidenced by retail giants like Wal-Mart (NYSE:WMT) and Amazon.com (NASDAQ:AMZN) vastly underperforming, with weaker guidance going forward.
The implication seems to be that in order to generate decent revenue, the companies will have to offer a number of discounts in order to incentivize consumers to open up their pocketbooks. That means margin and earnings pressure for the second half of 2014; possibly longer.
This is why companies need to learn to not blame secondary catalysts that aren't provable at the time of the assertions. This is why the retailers, for the most part, have been hit hard throughout 2014. Most people assumed it was weather-related, when in fact, we've found out that it wasn't a factor, based upon weak sales through 2014 so far.
Weather may have been a factor in spring sales as far as it taking longer for consumers to make their acquisitions, but that's just shifting chairs, a shift that should have balanced out by now if it was only related to delays. That hasn't happened. Retail sales now stand at a 6-month low. The expected demand has never materialized, meaning the declared reason behind it was mis-identified.
(click to enlarge) source: StockCharts.com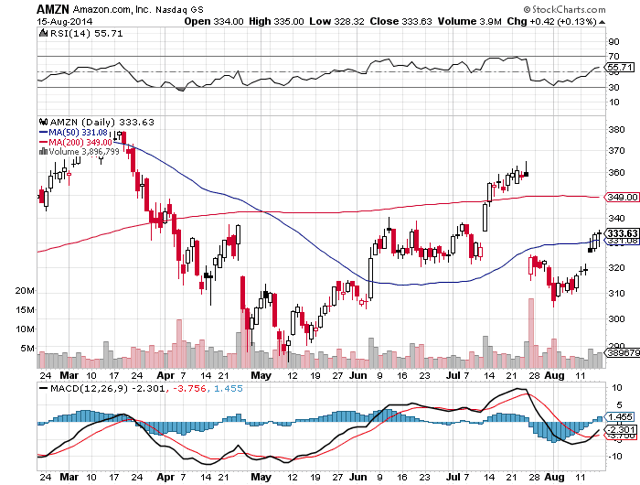 (click to enlarge) source: StockCharts.com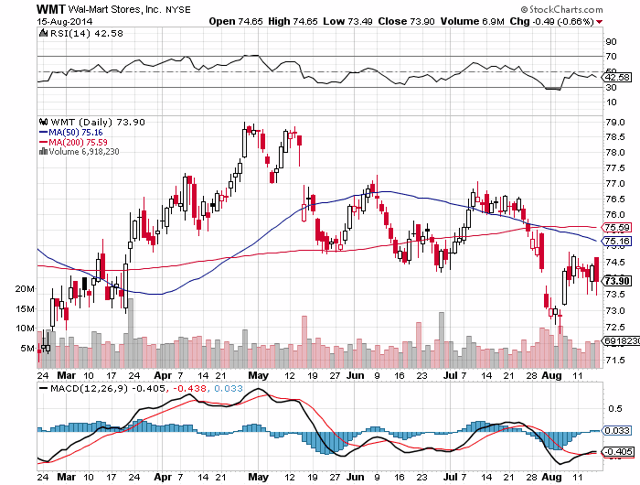 The Numbers
Most retailers have been struggling, but department stores took the biggest hit, with sales down 0.7% month-over-month.
Overall retail sales were below expectations for the third month in a row, with July recording no growth, against the expected 0.2% increase in sales. Even auto and gas sales in July were disappointing, growing only 0.1%, against the 0.4% expected growth rate.
With July being the lowest increase from the 1st of the year, the GDP for the third quarter will be downwardly revised.
While auto sales are headed for the best year since 2006, that is likely to be front-loaded in the first half, with the second half of 2014 continuing to slow down. Auto and truck sales were down 0.2% in July from June, according to the Commerce Department.
Reason Behind Slowing Sales
With job growth figures dominating the headlines, the non-existent increase in wages is what is the key catalyst holding back consumer spending.
For example, as measured after being adjusted for inflation, the average weekly earnings of U.S. workers was down 0.2% for the 12-month period through June 2014. That's the lowest since October 2012, according to the Labor Department.
That's just another way of saying the so-called economic expansion is an illusion; or at least the expansion is having no effect on retailers outside of the auto industry. Job growth isn't going to loosen consumers up to spend, only an increase in wages will. That's not happening.
With consumer spending accounting for approximately 70% of the American economy, this doesn't look good for the rest of 2014 or early 2015.
Another reason associated with lower wages is the drop in consumer credit, which points to either the inability to obtain it, or the decision to not go deeper into debt. A significant number of consumers remain cautious in that regard since 2008.
Conclusion
It took some time to find out if bad weather was the reason behind slowing retail sales, and time has proven that it in fact wasn't. There are other factors slowing consumer spending down, which point to concerns over the outlook people have over the U.S. economy.
To me, investors need to ignore, or at best, take with a grain of salt, the polls out there which conclude consumers believe the economy is good. The truth is polls are generally unreliable because of the way questions can be asked. Only the actual data really reveals what consumers are thinking, and the data underscore they are wary of where things are at. This has been happening long enough that it can't just be considered an anomaly any longer.
How I see it is the second half is going to be weak for retailers, and if they have a weak third quarter, we'll see discounts being offered even earlier than last year as the holiday season approaches.
Retailers are likely to underperform for the rest of 2014 as a result. Earnings for many will be lower than expected for those that find they must offer many promotions and discounts to generate sales and revenue.
Any retailer that surprises on the positive side should get a boost in share price disproportionate to actual results. That could be a short-term opportunity. I would look for retailers not offering as many discounts as a way to identify those believing they don't have to promote heavily to generate sales.
But overall, retailers are likely to remain under pressure for a least six months, and possibly longer. Low-price outlets could be among those that surprise to the upside.
Disclosure: The author has no positions in any stocks mentioned, and no plans to initiate any positions within the next 72 hours. The author wrote this article themselves, and it expresses their own opinions. The author is not receiving compensation for it (other than from Seeking Alpha). The author has no business relationship with any company whose stock is mentioned in this article.