Nanosphere (NASDAQ:NSPH)'s shares tanked 33 percent to a 52-week low of 94 cents in the aftermarket trading hours on Wednesday (Aug 6) after the company reported second-quarter earnings that camp up short of analysts' expectations while revising its full-year revenue guidance downwards. The bearish momentum continued with the stock closing at $0.89 per share on Friday.
The company reported revenue of $2.67 million that despite being up by 44 percent year-over-year was well short of analysts' expectation of $3.90 million. A net loss of 13 cents a share was also wider than the consensus estimate of 12 cents a share.
To add to investors' woes, Nanosphere reduced its previously issued full-year revenue guidance in the range of $19 million to $21 million and 200 new customer placements, to $14 million and 175 to 200 new customer placements.
For the uninitiated, the little-known molecular diagnostic company is dedicated to enhancing medicine by providing targeted molecular diagnostic tests that can lead to earlier disease detection, optimal patient treatment and improved healthcare economics.
Despite short-term negativity, I believe the company has great prospects in the long haul. The purpose of writing this article is to highlight:
Primary benefit of Nanosphere's technology, i.e. it saves lives.
Benefits to the healthcare industry, including significant cost reduction, minimized use of drugs and efficient use of medical industry resources.
The company's financial position.
Current investor concerns regarding weak second-quarter performance.
Investment risks.
Offerings make lifesaving difference
To accomplish its mission statement, Nanosphere developed the Verigene System- a revolutionary bench-top diagnostics workstation that equips clinicians to quickly perform a wide variety of assays simultaneously with a single test (referred to as "multiplexing") and help detect pathogens responsible for some of the most complex, expensive and fatal infectious diseases. The system is differentiated by its ease of use, quick and superior analytical performance and ability to multiplex. However, the bigger difference - that manifests from the combination of these smaller differences - is that the system enables healthcare providers to save lives. Next to loss of life, most losses seem trivial and perhaps recoverable. So while Nanosphere's diagnostic technology has many benefits, but none are as important as saving lives through early and accurate detection, which happens to be the primary benefit of the Verigene System.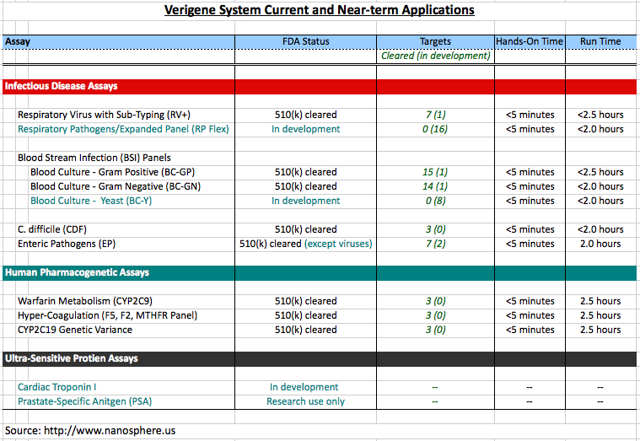 Over the years, the company has developed and continues to develop panels that take about two hours to generate the results doctors need to make critical decisions. The Verigene System's current and near-term applications are listed in the figure above. Discernibly, none of the assays take more than 5 minutes of hand-on time and 2.5 hours of run time. This per se partially solves a major problem in the healthcare industry that stems from hours or even days of gap between drawing patient samples and detecting exact abnormalities in their cultures.
Nanosphere's work in the field of molecular diagnostics is also noteworthy for its preference to design assays for targets that are becoming increasingly prevalent and can cause critical life-threatening infections. For instance, sepsis, a deadly response to bacteria in the bloodstream responsible for 1.6 million hospitalizations and one death every two minutes in the United States. Delay in appropriate sepsis treatment increases the risk of death by 7.6 percent every hour; as a result, quick results are of great importance in treatment. However, conventional diagnostic methods take 2 to 4 days to deliver bacterial identification and resistance determination, meanwhile patients are treated with broad-based antibiotics that are often unnecessary or inappropriate, not to mention, frequently toxic.
But Nanosphere's Blood Stream Infection panel does the same task in less than two hours. Early diagnosis of infections and targeted therapy based on identification of causative specie, resistance or toxin result in better treatment outcomes and optimal patient care. So far, in this category, the company has developed gram-positive (BC-GP) and gram-negative (BC-GN) panels with 15 and 14 targets, respectively, while it continues to expand the menus for both these panels. The company is also developing a yeast pathogens (BC-Y) assay to identify eight fungal targets. These targets include Candida, the most common human fungal pathogen and the fourth leading cause of nosocomial bloodstream infection with a mortality rate exceeding 40 percent in the United States.
Further, Nanosphere has also developed a C. difficile Infection test to detect Clostridium difficile, a bacterium that can cause symptoms ranging from mild diarrhea to life-threatening inflammation of the colon. According to a comparison for the detection of toxigenic C. difficile, published in PubMed, US National Libraries of Medicine, the Verigene CDF was only second to Capheid's Xpert C. difficile assay, with slightly lower sensitivity of 95.2 percent versus Xpert's 100 percent, but better specificity of 99.4 percent versus Xpert's 98.8 percent. The Simplexa C. difficile Universal Direct (Focus Diagnostics) and the BD MAX Cdiff (Becton Dickinson) were other assays used in comparison that had weaker numbers than Xpert and Verigene. C. difficile infections are responsible for a quarter of million hospitalizations and at least 14,000 deaths in America. So again, Nanosphere has the potential to address widespread and frequently occurring infectious disease.
A few months ago, Nanosphere also received 510(k) clearance from FDA for its Enteric Pathogens Panel. It has been cleared for five bacteria and two toxins so far while it anticipates receiving approval for two viral targets, Norovirus and Rotavirus, by the end of next month. The current enteric pathogens assay identifies the Enterobacteriaceae species that are often due to food poisoning.
The Verigene's Respiratory Virus Plus (RV+) assay detects of viruses and bacteria that most commonly cause respiratory infections, including influenza A and B as well as respiratory syncytial virus (RSV) A and B (RSV B is pending FDA clearance). Influenza is commonly known as the seasonal flu and RSV is a respiratory virus that infects the lungs and breathing passages. Not only is RSV the most common cause of pneumonia and bronchitis in children, but also a significant concern for older adults. In a recent evaluation, the sensitivity of the Verigene RV+ kit for detection of the influenza A, 2009-H1N1, influenza B, and mixed A & B was 97.1, 100, 100, and 100 percent, respectively. The specificity of the Verigene RV+ was 100% for all types. And while some of the competitor systems have the ability to detect a large number of pathogens simultaneously, many of them have lower analytical sensitivity and/or longer run time in comparison. In addition, it is also developing Respiratory Pathogens Flex Test (RP Flex) for a wider spectrum of organisms (15 test targets).
Apart from tests for infectious diseases, the company also offers Human Genetic Assays. Nanosphere's offerings include a Warfarin Metabolism assay, a pharmacogenetic test to determine the existence of certain genetic mutations that affect the metabolism of warfarin-based drugs. The company also offers a hypercoagulation assay, a human genetic test to determine the existence of certain genetic mutations that are hereditary contributory factors in forming blood clots. This Verigene test detects the F5, F2, and MTHFR genes that are associated with hypercoagulation. Further, it also offers CYP2C19 genetic variance test that detects variances in the cytochrome P-450 2C19 gene.
Altogether, the Verigene System panels can detect up to 55 targets currently, with development work going on or FDA approval pending on 29 more near-term targets. Out of the total 84-target menu that it hopes to have in the near-term, 75 targets would be for infectious diseases pathogens that are increasing in occurrence with each passing year. Needing quick and accurate identification, Verigene provides a solid system for optimal patient treatment that could save a number of lives each year.
The current alternatives to Nanosphere's Verigine System include Cepheid's (NASDAQ:CPHD) GeneXpert system and Genmark Diagnostics' (NASDAQ:GNMK) XT-8 system, although Nanosphere's Verigine System is superior to the current alternatives, in part due to the automatisation of tests, which minimizes the risk of human error, and the fact that the system allows for multiple tests to be run at the same time, but also due to the speed and sensitivity of the Verigine System, which enables diseases to be identified in as little as 2 hours (compared to 2-4 days using traditional tests), and enables the system to detect diseases earlier.
Cost-effective & reduced use of last-line drugs
In a 2013 study by University of Florida Health Jacksonville, published in Journal of Clinical Microbiology, demonstrated significant clinical and economic impact of Nanosphere's blood culture test.
The study found that following the adoption of Verigene BC-GP for the detection of bloodstream infections caused by Enterococcus, there was an average per patient hospital cost savings of $60,729 and 22 day reduction in length of stay. Sure enough, such massive reductions may lead some to question the quality or accuracy of tests, but the report also stated that Verigene results enabled clinicians to immediately select appropriate therapy for 100 percent for patients with vancomycin-susceptible Enterococcus bacteremia, potentially resulting in further cost savings. Also, there was a significant decrease in the average time it took for patients to receive appropriate treatment. Given these figures, there is no doubt that the Verigene System will gain popularity in the future.
Further, let's consider the potential market sizes of some of diseases that Nanosphere's current and near-term assays detect. According to a statistical brief in the Healthcare Cost and Utilization Project accesses in November 2013, sepsis costs the US healthcare system more than $20 billion per year. With high recurrence rates of 15 to 35 percent, C. difficile infection or CDI-related cases lead to at least $1 billion in excess medical costs per year in America. Nanosphere is already showing great progress in both these areas, while it plans to enter the nosocomical bloodstream testing market with its yeast (BC-Y) assay. An estimated $2 billion is spent annually on nosocomical bloodstream infections in the US.
It goes without saying that targeted therapy results in improved patient management decision-making, thereby reducing use of inappropriate or unnecessary drugs. Healthcare providers are often forced to use the last-line of antibiotics (drug of last resort) in certain severe cases based on common symptoms and not actual results. The use of broad-spectrum drugs leads to drug overuse, not to mention, can cause toxic reactions. But all that could change if the Verigene System is adopted. With the huge cost-cutting benefits along with other benefits that it provides, a widespread implementation of the system by hospitals and clinics is imminent.
Financials looks positive
Emerging firms must maintain a decent balance sheet, and determine the best use of cash sourced from equity and debt issues, especially if cash flow from operations is negative.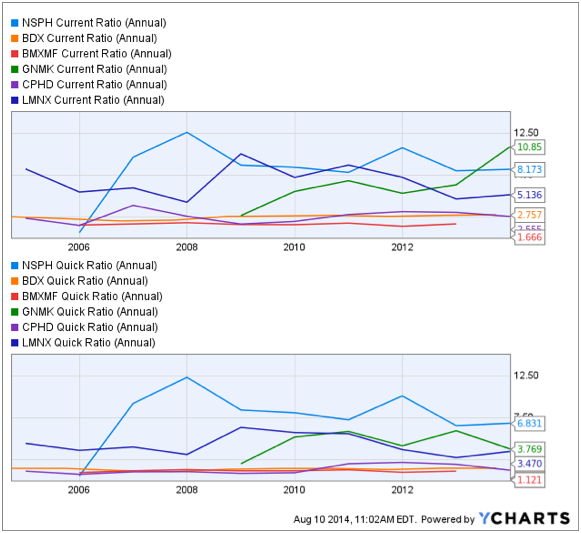 Nanosphere's current ratio, a measure of short-term liquidity risks, has been in excess of 8 for past several years. Compare that to some of its industry peers, and you find it has had almost twice the ability to fund its current liabilities. At the end of the second quarter of 2014, the current and quick ratio dropped to sub-4 and sub-3 levels, respectively. These are still superior ratios when compared to its peers.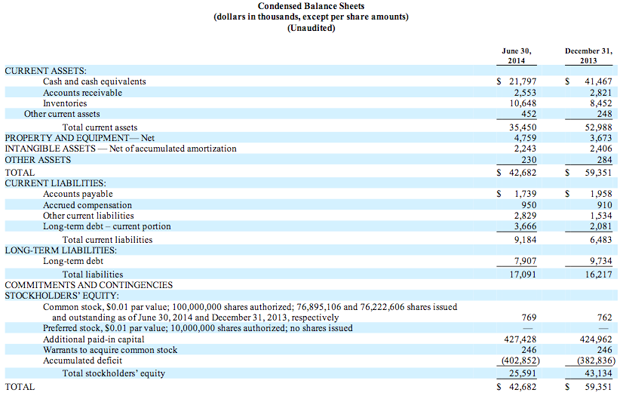 The company has cash-to-debt and debt-to-equity ratio of 1.8 and 0.31, respectively.
However, one of the most important metrics for any emerging company is the cash burn rate, viz. the rate at which a company uses up its supply of cash. Nanosphere's cash burn from operating and investing activities has been approximately 3 million per month over the last 12 months. With a little over 21.7 million in cash and cash equivalents on its balance sheet, it has about 7 to 8 months before it needs to generate a positive cash flow from operations or raise funds from other sources. It should be noted that the increased use of cash in the second quarter included $1.6 million of inventory buildup due to deferred instrument sales during the same period.
Going by the company's history of financing, it doesn't seem like the company should have any trouble in raising capital. Nanosphere's CFO Roger Moody has on many occasions spoken about arrangements with Aspire Capital, Oxford Finance and Silicon Valley Bank. In May 2013, the company secured $22 million in financing through an agreement with Oxford Finance and Silicon Valley Bank. The term loan included an initial gross tranche of $12 million to be drawn immediately and a second tranche of $10 million that could be drawn between December 2013 and September 2014 (extended) if certain conditions were met.
During the recent earnings call, Moore also talked about the company's ATM facility with Aspire Capital, traditional stock offering as well as potential investment from strategic partners as some of the financing alternatives. Clearly some of these options would have a dilutive impact on the share price, but it seems unlikely that the company would resort to such measures just yet. In most likelihood, it will try to post 30 percent year-over-year sales growth in third quarter, to achieve its $13.8 million trailing twelve-month revenue target to draw upon the $10 million tranche of debt, before considering other options. Wait a minute, 30 percent? Nanosphere delivered a 44 percent year-over-year sales increase in what was considered to be a disappointing second quarter, so a 30 percent increase seems reasonable and should be manageable considering the new full-year revenue guidance of $14 million. Even if it misses the target, my sense is, it should still be able to work out a deal with Oxford Finance and Silicon Valley Bank. So the company has enough financing possibilities to ensure that is well capitalized down the road.
Institutional holding & insider buying
While some investors find safety in institution holding percentages, others believe in discovering the next big thing long before the big institutions. Nanosphere doesn't really fall in the institutional-favorites category, but even so, it has a reasonable institutional holding of about 37 percent.
On March 18, 2014, Nanosphere entered a $30 million common stock purchase agreement with Aspire Capital, whereby on any business day on which the closing sale price of the company's common stock equals or exceeds $0.75 per share, the company can direct Aspire Capital to purchase up to 50,000 shares of its common stock per trading day, up to $30 million in the aggregate. However, under special conditions, Nanosphere also may mutually agree with Aspire Capital to increase the number of purchase shares to as much as an additional 1,000,000 shares per business day. To date, no shares have been purchased under this agreement, which expires in March 2016.With a current market cap of just $71.23 million, a $30 million stock purchase is a significant deal, not to mention clearly shows Nanosphere's strong ties with Aspire Capital, where the latter is mostly found financing the former, even in tough times. As an investor, it is heartening to see the confidence that Aspire Capital, as a creditor, has in Nanosphere's business.
The agreement has an Exchange Cap (limit to shares sold to pursuant) of 15,368,333 shares, i.e. 19.99 percent of the company's outstanding shares. However, this would mean an exchange of $14.23 million (15,368,333 x $0.926 per share) at current share price $0.926, approximately $15.77 million short of desired $30 million exchange.
Further, the company has lost nearly $103.35 of its market cap since the announcement of this agreement, including an approximate $37 million loss after the second-quarter results. So it seems like that the market has already priced in the dilution, but even if it hasn't, doing some simple math for an undesirable but dire exchange event of $14.23 million will have a per share dilution impact of negative 15.4 cents, to a price level of $0.772 a share (see illustration below).

In order to fully capitalize on the deal, the stock price will have to be considerably higher from its current price levels. And although I suspect Nanosphere could indulge into dilution activity, it is unlikely to do so in the near-term as it would restrict its long-term financing plans.
In March this year, three of Nanosphere's Directors purchased 36,200 shares of company's stock for a total value of $75,795, according to SEC Form 4 data on OpenInsider. Needless to say, insiders are more knowledgeable about the company than an average investor, and such insider activity shows their confidence in the company's future profitability.
Once bitten, twice shy
An unpleasant experience usually induces caution, and that's exactly how CEO Michael McGarrity reacted to Nanosphere's poor show in the second quarter.
Going by the record, the company posted poor results - instrument sales and new customer placements were below expectations, leading to a revenue shortfall. Combine that with lowered revenue guidance for full year - and the company's shares took a 37 percent drubbing. But that's just a part of the record. Going by the complete record, sales were still up by 44 percent year-over-year, consumable sales increased 108 percent, driven by gram-positive tests and initial sales of gram-negative tests, gross profit margin improved from 32 to 38 percent year-over-year, and McGarrity was quick to assess and introduce corrective measures to address the basis of shortfall so as to avoid facing the same fate in upcoming quarters.
By now, we know that Nanosphere has a highly marketable Verigene System. We also know instrument sales were down sequentially and year-over-year in the last quarter, which doesn't make sense unless the company is lacking in its marketing and commercialization efforts or its customer agreements are not binding enough to prompt near-term purchases and reduce deferrals. The notion was confirmed when McGarrity introduced three key initiatives to drive customer- and revenue-building.
To find a model for success in company's sales representatives that is highly productive. Replicating it in both selection and sales process.
More feet on the street. The company believes the time to productivity is a factor, particularly in the complex blood culture sale. As a result, it needs to accelerate expansion of sales and implementation ramps to drive productivity in a more consistent and predictable way.
Drive new process-based sales and pricing programs to accelerate rental contract procedures. These will include financial incentives to customers in order to achieve this objective and hold the customers more accountable to the process laid out in the implementation blueprint.
These initiatives would allow for more focused territory penetration for new placements; improved validation and implementation processes and contract timing; and laying emphasis on driving additional menu through the company's current customer base and new pipeline customers.
Investment risks
While Nanosphere has excellent future prospects, it would be an investing blunder to not consider risks at all, especially if the company belongs to the speculative category. In fact, a key criterion to astute investing is to consider risks to investment. Some of the most significant risks in Nanosphere's case are listed below:
The company's results depend on commercial acceptance of the Verigene System, its array of tests, and the development of additional tests. It has a history of losses and is yet to achieve profitability.
The regulatory approval process is expensive, time consuming and uncertain and the failure to obtain such approvals will prevent the company from commercializing its future products. Further, the company and its customers are subject to various governmental regulations from time to time, and this may result in significant compliance expenses and delays in product commercialization.
Being an emerging company, if it does not achieve its projected development goals in the quantities or time frames it estimates, the commercialization of products may be delayed and business prospects may suffer.
Failure to achieve significant product revenue, Nanosphere may not be able to meet its cash requirements without obtaining additional capital from external sources, and if it is unable to do so, the company may have to curtail operations.
Even though Nanosphere has various financing arrangements/alternatives, it is not guaranteed that additional capital will be available when and as needed or that its actual cash requirements will not be greater than anticipated.
Lastly, as seen in the second quarter, Nanosphere has limited experience in sales and marketing and may find it difficult to successfully commercialize its Verigene System or to build brand loyalty.
Closing thoughts
Nanosphere has a lot going for it, its revolutionary Verigene System that can make a lifesaving difference through early and accurate detection of targets, not to mention, the assays are cost-effective and allow optimal patient treatment. Further, the company's financials look solid and it doesn't seem like it would have any financing issues in the near-term. It also has observed an increasing institutional and insider purchasing activity. After a weak performance in the second quarter, the company outlined initiatives to accelerate expansion and tightened its contractual policies to minimize delays.
At the end of the second quarter, Nanosphere had a book value of roughly 33.5 cents per share. In my view, it could trade up to four times that value in near-term and see levels of $2.50 or above within a year. I also believe the stock will see a strong buying activity between $0.70 and $0.85 price levels in view of the Aspire Capital's stock purchase agreement, which, even after the full dilution impact, should not weaken the share below $0.77, +/- 10 percent of market overreaction, at current price levels. In view of all the above said factors, Nanosphere does make an extremely attractive turnaround opportunity in the medium to long term.
Disclosure: The author is long NSPH. The author wrote this article themselves, and it expresses their own opinions. The author is not receiving compensation for it (other than from Seeking Alpha). The author has no business relationship with any company whose stock is mentioned in this article.
Editor's Note: This article covers one or more stocks trading at less than $1 per share and/or with less than a $100 million market cap. Please be aware of the risks associated with these stocks.