Geopolitics are not at the forefront of today's news as Ukraine and Russia did not allow tensions to escalate into anything more serious. That is good for eastern Europe and markets, but we feel that this situation has not been resolved; either to Putin's liking or that of the West. The rally Friday after the news broke of Ukraine destroying a part of a Russian military convoy which had entered Ukraine's territory showed that buyers still exist on the dips, which says a lot about the state of the current bull market and leads us to be more bullish than bearish at this point.
With a bidding war now breaking out over Family Dollar (NYSE:FDO) between Dollar General (NYSE:DG) and Dollar Tree (NASDAQ:DLTR), it certainly seems that we have further evidence of the need for M&A to continue to provide growth. We say this because an acquisition by Dollar General provides shareholders with the best long-term returns as the overlap between the companies would allow for the most effective cost cutting.
Chart of the Day:
Volatility is once again receding, and if today's bullishness is any indication then we shall most likely see further drops in the volatility index as bulls return. A closure to the Ukraine issue would help further, but at this time it appears that the eastern Ukraine will remain the main driver for volatility.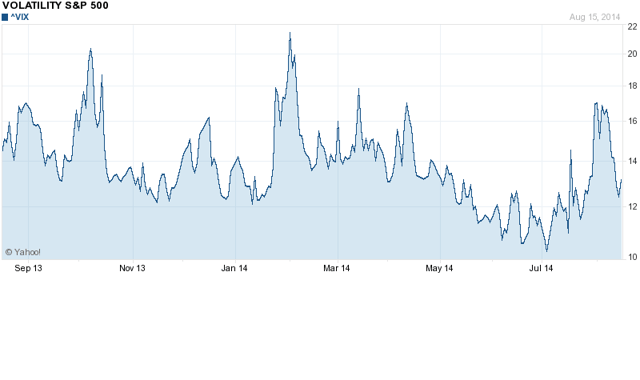 Source: Yahoo Finance
We have economic news today, and it is as follows:
NAHB Housing Market Index (10:00 a.m. EST): Est: 53.0
The Asian markets are mixed today:
All Ordinaries

- up 0.37%

Shanghai Composite

- up 0.57%

Nikkei 225

- up 0.03%

NZSE 50

- down 0.14%

Seoul Composite

- down 0.49%
In Europe, the markets are higher this morning:
CAC 40

- up 1.24%

DAX

- up 1.50%

FTSE 100

- up 0.77%

OSE

- up 0.86%
New Feature For iPhone 6?
TechCrunch has an article which discusses a potential new feature on Apple's (NASDAQ:AAPL) upcoming iPhone 6. The new feature, which has been discussed elsewhere as well, is a new type of USB connector. The reversible USB cord would allow the user to no longer have to worry about which way they plug in the cord as it fits either way; which as the article correctly points out is one of the frequent annoyances faced these days when dealing with hardware.
Big Tech Makes Do Without Investment Bankers
We came across an interesting article this weekend which discusses how investment banks are missing out on a number of large deals as the practice of not using advisors in Silicon Valley spreads. Larry Ellison's Oracle (NASDAQ:ORCL) has long implemented the strategy, and other large tech companies such as Cisco (NASDAQ:CSCO) have from time-to-time performed deals without advisors, but now the new wave of 'Big Tech' names are expanding the practice.
With Google (NASDAQ:GOOG) and Facebook (NASDAQ:FB) having completed a number of deals without the assistance of investment bankers, one has to wonder whether this trend will grow even further. The fact that some of these transactions have been the biggest winners among the portfolio of companies that Google and Facebook have purchased highlights that with the proper amount of due diligence that successful deals can be closed without the expertise of an outside adviser.
In many cases, traditional companies use outside advisers to help them arrive at a price that is justified by the operations of the target company while also providing legal cover for deals that do not go as planned. With many of the big technology companies now hiring inside adviser teams to work on M&A from start to finish, one has to wonder whether internal teams will be assembled at other large companies in industries where M&A is a focal point of the business plan. That would not be a welcome transition among the Wall Street firms, but could be shareholder friendly in the long-term.
Brazilian Telecom M&A
Both Telecom Italia (NYSE:TI) and Spain's Telefonica (NYSE:TEF) are targeting Vivendi's Brazilian telecom arm, Global Village Telecom, or GVT. The two European carriers are pushing up the price of the Brazilian telecom as Vivendi looks to exit but more questions are being raised than are being answered. Regulators look to play a role in the transaction, which is what could block Telefonica, a company with the financial resources to complete a deal, from being an acquirer. Telefonica, with a purchase of GVT, would create three companies which control about 90% of the fixed line market in Brazil and that is something that the regulators appear unwilling to create.
While Telecom Italia would be a more ideal buyer in regulators' eyes, the company has little wiggle room financially to pull a deal off. The debt load that the company carries would prohibit any sort of all-cash deal and it is unclear how open Vivendi would be to having a minority stake of roughly 25% in a name such as Telecom Italia. Regardless of which of these two companies ends up the buyer, either deal would continue a trend of European telecoms looking to South America for growth opportunities.
Disclosure: The author has no positions in any stocks mentioned, and no plans to initiate any positions within the next 72 hours.
The author wrote this article themselves, and it expresses their own opinions. The author is not receiving compensation for it (other than from Seeking Alpha). The author has no business relationship with any company whose stock is mentioned in this article.
Additional disclosure: AAPL has previously been recommended.