If you believe 1) natural gas prices will rise and 2) power prices in the Northeast and eastern Midwest will strengthen, and if you are willing to take on some additional risk from shorter-term merchant power exposure, Exelon (NYSE:EXC) should be included in your portfolio.
Investors should not compare EXC with some of the stalwarts of the sector, as it offers a different business model. Comparing EXC's merchant power business with Southern Power, a subsidiary of Southern Company (NYSE:SO), misses with most important factor in profitability - pricing models. EXC is part of the PJM Interconnection LLC network, which uses a 3-yr rolling pricing auction. PJM controls the power grid and wholesale pricing for about 61 million consumers from Washington DC to Chicago, with auction prices being inclusive of all costs. SO, on the other hand, utilizes multi-year Purchase Power Agreements PPA, which are negotiated by customer. As of Dec 2013, according to the 10-K, Southern Company has contracts for 77% of its generating capacity over the next five years and 70% of capacity over the next ten years. SO attempts to insulate its self from rising costs by contracting fuel supply, fuel transportation and electric distribution risks the responsibility of its counterparties.
A map of PJM jurisdiction is below and more information on PJM is found here. Most of EXC's merchant power is generated and sold within this jurisdiction.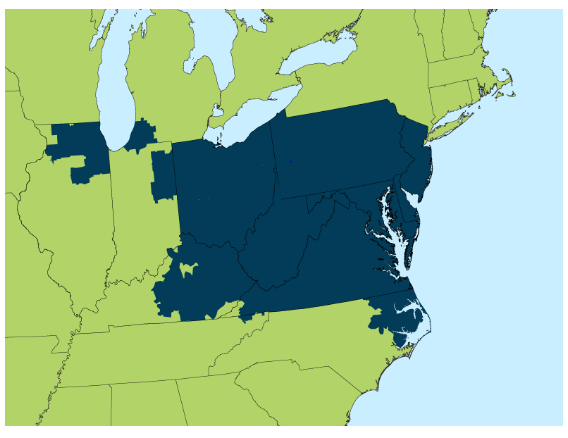 Source: pjm.com
EXC's merchant power pricing is set by PJM auction pricing, hedging, and spot, or Day-Ahead, markets. Below is the Front-Year pricing chart for PJM's Western Hub from South River Consulting and EnerNoc :
The following chart from Energy Research Council for PJM Day-Ahead pricing also reflects the depressed levels since 2008. Notice the three times price spike in Jan 2014, from $40/MWh to $120.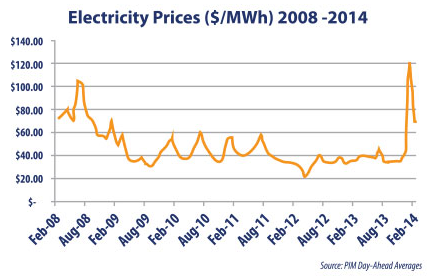 Note should be given to three aspects of these chart. The first is the upward trend in electricity pricing since a bottom in late 2011 for Front-Year and in early 2012 for Day-Ahead. The second is the spike in pricing that coincided with the polar vortex of last winter and the subsequent spike in natural gas pricing. The third is overall depressed levels with pricing unable to sustain above $60 in both the Front-Year and Day-Ahead since late 2008 compared to mid-2004 to late 2008.
Exelon's pricing program involves hedging of commodity risks for expected generation. The proportion of expected generation hedged as of Jun 30, 2014, is 92%-95% for 2014, 75%- 78% for 2015, and 46%-49% for 2016. The unhedged generation capacity allows the company to benefit from shorter-term movements in the power market. As Day-Ahead pricing moves higher, unhedged generating capacity can be sold for higher profits.
What can move electricity markets higher? The quick answer is higher prices for natural gas and higher demand. Below is a graph of the correlation between natural gas and electricity pricing from Jan 2001 to Dec 2012, as offered by the energy-consulting firm Avalon Energy. As shown, while the correlation between the two has lessened a bit since mid-2010, there is a historic link.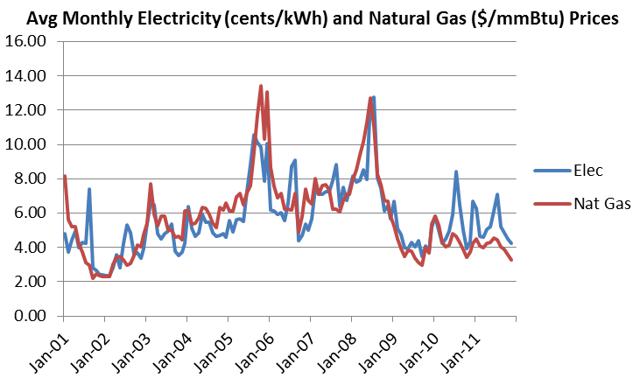 Source: avalonenergy.us
According to the first half 2014 report by PJM (pdf), natural gas is playing a bigger role in setting electricity costs. During the first 6 months of 2014, natural gas accounted for 40% of marginal generating capacity in PJM territories, up from 33% a year ago. Due the extreme cold weather and the subsequent spike in demand and price of electricity, the total PJM-billed market for the six months doubled from $15.6 billion to $31.1.
There is growing opposition to new natural gas pipelines in the Northeast, recently led by Massachusetts Senator Elizabeth Warren. Add this to the continuing delay in fracking approval in New York and investors may get the impression that the shortage of natural gas, and hence the high price for both gas and electricity experienced this past winter, will not be resolved in the Northeast anytime soon. This will increase long-term pressures on regional electricity pricing.
The 3-yr rolling auction was recently completed at an average price of $120 for 2017-2018. The energydynamics.com chart below plots the average price across PJM territories from 2012-2013 to 2017-2018: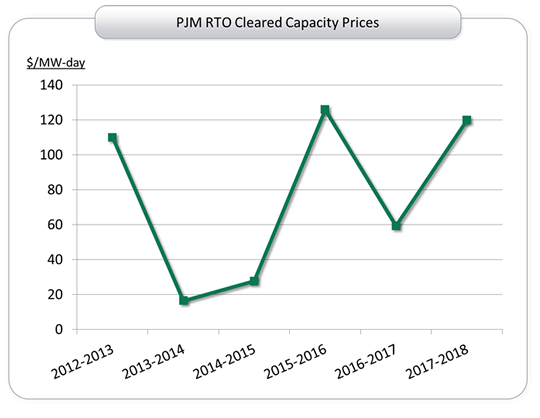 Source: enerdynamics.com
It seems the bottom may be set for merchant power pricing with a 2014-2018 four-year average price of $80.
Electricity demand may be bottoming as well. According the PJM report, Real-Time load demand increase 4.2% Y-O-Y during the first half 2014. The average Day-Ahead demand increased by 10.7% from 2013. Overall, 28% of average demand for the first 6-months was satisfied by spot markets. The amount of unhedged capacity that can be sold on the Day-Ahead market can be quite profitable, albeit risky if not sold.
Below are EIA projections for electrical generating capacity and electricity sales going out to 2040. It is interesting the spread between capacity and sales will narrow over the medium term as capacity declines slightly, mainly due to the pending coal-fired capacity retirement that is not replaced. It seems the EIA projections would support higher prices as sales/demand grows in the face of declining capacity.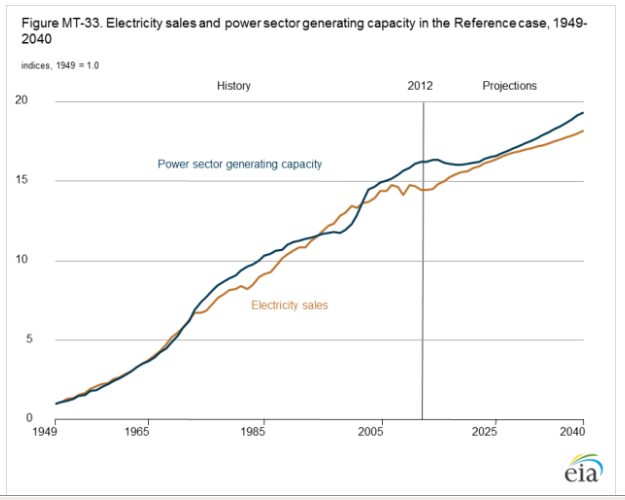 In addition, EIA is forecasting overall growth in electricity demand. While slower at a 1% growth, the reduction in net capacity over time will offset the sluggish forecast. In addition, the 60-year slide in the trend line decline will finally stabilize.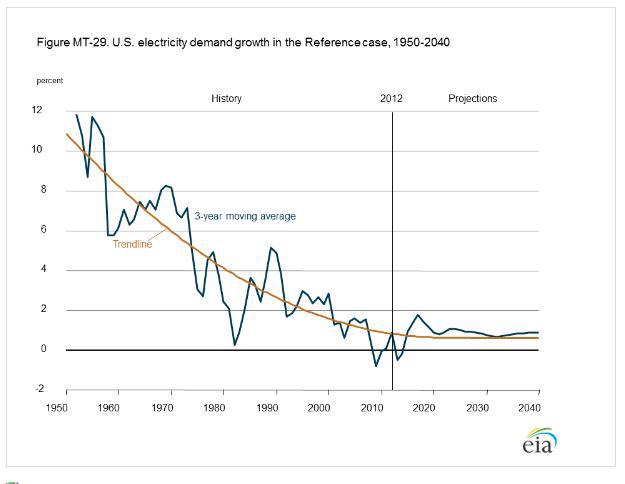 EXC's low cost nuclear assets should be well positioned for the anticipated increase in PJM prices between now and 2018. While EXC has been aggressively expanding its regulated businesses in the same geographic areas, and will soon serve 10 million customers, the investment story continues to be a turn in the merchant power business. As the regulated business grows to over 50% of earnings, up from 20% in 2008, investors should be cognizant of the dilution to the merchant power part of the story.
According to nasdaq.com, consensus earnings estimates per share call for $2.36 this year, $2.56 in 2015, $2.62 in 2016, and $2.80 in 2017.
At a current price of $31.80, share prices are in the middle of its 52-week high/low range. While the 3.4% current yield is a bit light compared to a few other controversial or unloved utilities, investors should not expect a dividend hike until the payout ratio drops below 50%, as it was in 2004, 2007, 2008, and 2009. At a current dividend of $1.24, a 50% payout ratio could correlate to sustainable earnings above $2.48 a share and could be accomplished by late 2015 and into 2016.
If management can generate $2.60+ a share in earnings with the expectations for reinstatement of dividend growth, the market should support a price in the $40 range, or about 20% above it current price. The underlying fundamentals appear to favor EXC and buying this dip could prove to be adequately rewarding.
Author's Note: Please review important disclaimer in author's profile.
Disclosure: The author is long EXC, SO. The author wrote this article themselves, and it expresses their own opinions. The author is not receiving compensation for it (other than from Seeking Alpha). The author has no business relationship with any company whose stock is mentioned in this article.