Based on third-party sales channel data, eBay (NASDAQ:EBAY) is still experiencing some headwinds following the eBay market place hacking from May of 2014. However, even with a slight drop in volume, the business carries strong fundamentals.
Investment thesis
I think the forward P/E of 15.57 is way too low relative to growth potential, and risk factors. Furthermore, key performance indicators like enabled commerce volume growth, paired with opportunities for further expansion in developed and emerging markets, makes it a compelling investment opportunity.
While competitive headwinds from neighboring e-commerce websites have weighed heavily on the company in prior quarters, I think that the business has a competitive moat across its payment ecosystem, and its third-party market place still carries reasonable volume growth. Also eBay has made a successful transition to mobile on both PayPal, and eBay, positioning the company reasonably well when compared other mobile apps (Groupon, Four Square, Amazon, and etc.)
The use of share buy-backs, and the relatively high profitability of the business, when compared to other opportunities in its space, also makes it very appealing. I think the combined impact from top-line growth, moderate cost efficiency gains, along with continued capital returns will allow eBay to trade at a significantly higher valuation in future years.
Notable data-points and key-performance indicators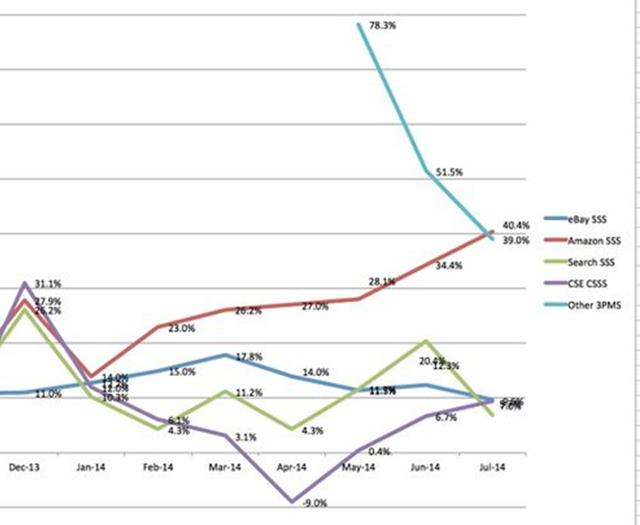 Source: Channeladvisor
The data provided by Channeladvisor is its proprietary same-store-sales metrics, and to get a basic idea of how it works, I suggest you follow this link, and read into it, in more detail. It's not fully representative of eBay's gross market place volume, nor does it include details from certain sales segments, however, it does give investors a basic idea on how e-commerce stores are performing on more of an aggregate scale.
Looking at the data, same store sales growth has declined, and it's more in-line with broader industry growth trends. The slower growth rate is to be expected, as triple-digit growth rates are very difficult to sustain in any industry, especially e-commerce. When translated into eBay's consolidated performance figures, the data aren't too discouraging.

Source: eBay
Looking over the data points, the FX-Neutral year-over-year growth declined from 11% to 8%. The growth rate has declined by 3 percentage points. However I think this decline in growth is likely to be temporary, and it's a lot less severe than what could have happened, which is why investors are starting to get back into the stock.

Source: eBay
Also, PayPal, the payment platform that eBay runs, wasn't too negatively affected from the May database hacking. The payment volume grew on a year-over-year basis, and this was driven by expansion into other emerging markets, paired with further penetration into the eBay marketplace.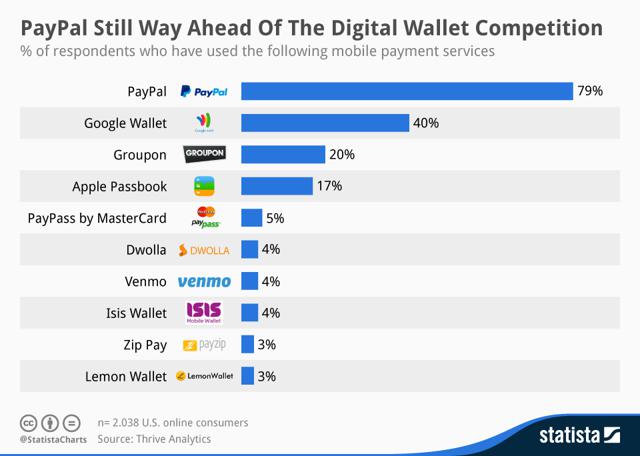 Source: Statista
PayPal remains the most dominant payment platform. Out of 2038 U.S. consumers polled, 79% of respondents have reported that they have used PayPal's payment services. The relatively high penetration rate, along with further expansion into emerging markets, gives the company exposure into domestic e-commerce volume growth, paired with emerging market payment volume growth. I think investors are well positioned by investing into the e-commerce, and payment platform.
Bottom line
The payment business exhibits fairly attractive growth rates, and has the highest market share among peers in its space. Ecosystem synergies between marketplace and payment, along with continued expansion opportunities in emerging markets should drive top-line growth over the next five years. Bottom line growth will happen incrementally, as take-rates from transactions, paired with falling costs per transaction drive incremental transaction profit. The impact from share buybacks will also drive EPS growth; therefore, low to mid-teen EPS growth looks sustainable over the next five years.
I'm initiating a buy rating on eBay; my EPS forecast for 2014 is $3.03. My price forecast is $58.05 on 19.16 times earnings. I think the core investment thesis is still intact despite competitive headwinds, along with unforeseen difficulties with cyber security. The stock has 10.2% upside over the next four months, based on my price forecast.
Disclosure: The author has no positions in any stocks mentioned, and no plans to initiate any positions within the next 72 hours. The author wrote this article themselves, and it expresses their own opinions. The author is not receiving compensation for it (other than from Seeking Alpha). The author has no business relationship with any company whose stock is mentioned in this article.