Groupon (NASDAQ:GRPN) has been dead money for quite a while, and while on-going risk factors impair the company's fundamentals, the strategy going forward is compelling, and growth opportunities in new categories make it a compelling investment opportunity over the foreseeable future.
Why Groupon is chasing after pull marketing
The company transitioned to pull marketing versus push marketing when it made its transition to mobile. Push marketing tends to be more effective on desktop, as it pushes out local deals via e-mail. PCs in general are not application-centric, meaning that content consumption has to be pushed via alternative mediums like e-mail, web pages, etc. The concept of push is "web 2.0."
However, going forward it's likely that the next generation of the web will be contextual. Groupon has much more upside based on mobile active user growth, as the product can use location specific information to determine the type of deals to market along with the type of products and services that the user is interested in.
I offer much more detail on the semantic/contextual web in prior articles. Groupon's mobile application is highly compatible for the future, as the device can quickly notify a user passing by a store that there's a Groupon special going on. Mobility of commerce has many implications, and some think that the retail store-front will change with concepts of e-wallets, less inventory, print-on-demand, and ya-da. But before any of that wildly sci-fi stuff happens, better information flow to consumers via notifications on smart watch, smartphone, or smart glasses will give consumers the needed information to pay less per retail transaction, or buy things they actually want to buy.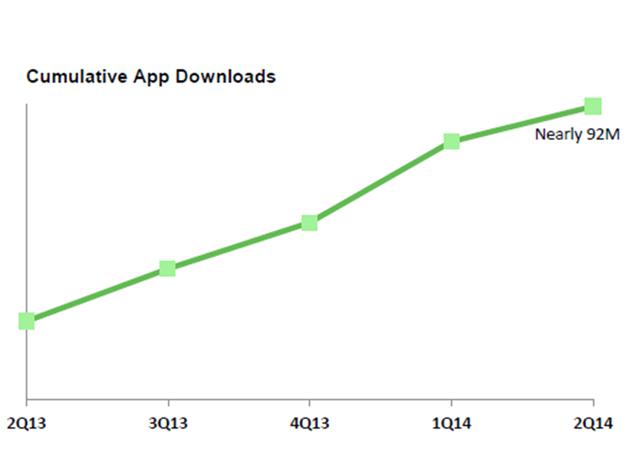 Source: Groupon
At the present moment, Groupon cumulatively has 92 million downloads. The download figure is pretty impressive, as it's a mobile application that's intended to market limited time deals, or products sold at bulk-discount. Currently, the Groupon application has a 4.5/5 rating. That's a significantly higher rating than Amazon's 2.5/5 rating.
People think mobile commerce will be purely driven via the showroom concept, i.e. walk into a retail store, take a picture of the product, find it on Amazon, and buy the product. Everyday low pricing has its own specific niche, but based on user rating of the Amazon mobile application, Groupon's promotional discounting has a much higher rating.
I think the advantages carried by Groupon's core business model are largely intact, and while recent trends in top-line revenue/billings outlook wasn't exactly great, plus trends in profitability are ugly, the business has key developments in play that make it a compelling investment opportunity going forward.
Product pipeline, plus merchant growth, gives it some upside
Groupon is launching two initiatives, pages and genome. According to Groupon, "pages will be filled with useful information for users, including contract information, maps, time of service, recommendations, tips, and most importantly, wider variety of discounts." Groupon mentions that it has built millions of pages, and it will be a couple quarters before they're fully rolled out. But based on the description of these pages from the earnings conference call, it's almost similar to Facebook pages, paired with Google reviews.
Groupon is also launching a software service for its vendors, referred to as Genome. Genome offers the back-end software via an application compatible with iOS devices, making it easy to integrate into a standard retail operation. The application also comes with a card reader similar to square magnetic card reader. However, the advantage for retailers to go with Genome is the seamless integration of both merchant transaction services, with Groupon coupon redemptions. The combined impact is the opportunity to cross-sell vendors into Groupon's merchant services, which gives them a take-rate on service/merchandise volume, paired with Groupon's 50-50 revenue split with small businesses.
Groupon mentions that further penetration into small business could be a growth engine:
As our marketplaces evolve, we've come to realize that despite the gains we've made, and continue to make in expanding our supply, having less than 5% of the available merchants on our platform is insufficient. We need a solution for the other 95% of merchants that don't work with us today.
However, to appeal to the remaining 95% of merchants, Groupon should consider alternatives to the 50-50 revenue share model. Some small businesses will intentionally lose money for promotional activity, giving merchants the ability to earn profit from a Groupon event that may attract more merchants to its platform. Despite the pricing of the platform, the number of active deals continued to grow at a steady rate, whereas spend per active customer has declined (excluding impact from the Ticket Monster acquisition). The spend rate per consumer may improve, if a broader ecosystem of vendors offered its services, even on a limited basis.
Conclusion
Strategically, Groupon is well positioned. I think that the business will continue to attract merchants, and recent initiatives to cross-sell merchants, paired with new categories will drive billings growth at a fairly reasonable rate. However, difficulties with generating profitability due to compressing margins operating/gross margins have left investors skeptical over the profit-model of Groupon.
I think that Groupon's sheer scale, paired with its ability to add monthly active users will drive both top-line growth and margins. Also, the profitability of Groupon should improve, as it has closed non-performing segments like Groupon Korea, and it's also coming out of an investment year where SG&A and cost of revenue are elevated.
Overall, I think Groupon is a compelling growth investment going forward.
Disclosure: The author has no positions in any stocks mentioned, and no plans to initiate any positions within the next 72 hours. The author wrote this article themselves, and it expresses their own opinions. The author is not receiving compensation for it (other than from Seeking Alpha). The author has no business relationship with any company whose stock is mentioned in this article.