A recent article is the Wall Street Journal, and backed by data from research firm IDC, suggests that the idea of a viable third ecosystem in the realm of smartphones is "Ending With a Whimper." With all due respect to Thomas Gryta, the article's author, I would simply say that in the history of everything that works, there was a time when it didn't. I agree with Gryta that Microsoft's (NASDAQ:MSFT) Windows Phone - once a strong hopeful in providing Apple's (NASDAQ:AAPL) iOS and Google's (NASDAQ:GOOG) (NASDAQ:GOOGL) Android with a meaningful challenge - does not seem up to the task, but I am not ready to concede that it cannot or will not be done.
When a meaningful third challenger comes along - a role which most agree is hugely needed - it will not come through the front door, in my opinion. It will come when those in the know have to recheck the IDC numbers and ask, "what is this new OS that suddenly is grabbing market share?" The message for investors and consumers is that simply deciding to be an alternative is not likely to be enough, at least not in developed markets. The device that becomes a player will change things in some important way that goes well beyond the basics of an OS.
Current Competitors
To date, the most meaningful iOS and Android competitors have been Microsoft and BlackBerry (NASDAQ:BBRY). What had shaped up to be a battle royal for the number three spot saw the once dominant Research In Motion change its name and go almost dark while it tried to reinvent itself. This provided the glimmer that Microsoft - the suddenly new owner of Nokia's (NYSE:NOK) phone business - thought it needed to make a push. Still, the numbers show that Windows Phone lost market share, falling from 3.4% of shipments a year ago to 2.5% this year. This slip is the "whimper" Gryta was referring to - I'll get back to Microsoft later.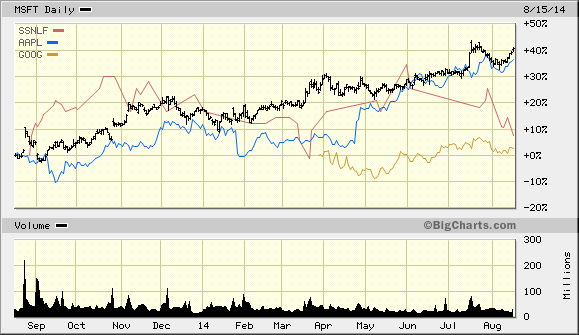 Concept Phones
Approaching the problem from a different angle, we see concept phones, like the briefly heralded Facebook (NASDAQ:FB) Phone, or the now-available Amazon (NASDAQ:AMZN) Fire Phone. Each start with the idea that a smartphone's basic purpose is more singular than their generic cousins. In Facebook's case, this meant a phone that was a conduit to social media first, and it happened to do other things as well; consequently, this phone, like the Fire Phone, is built on the Android platform, but developing a concept could be the first step to an independent approach.
The Fire Phone is set up to streamline the ecommerce experience, but a recent Consumer Reports article complains that the phone "traps" you without basic Android functions. Both concepts seem solid, but neither, at least thus far, has been able to focus attention away from the smartphone's basic function and the systems that perform them best. This may, however, be the path that finally creates a viable number three.
Tizen Needs to Get Going
Championed by smartphone megahouse Samsung (OTC:SSNLF), the Tizen operating system is actually the most viable challenger thus far, that is, assuming it ever launches. Totally open source, Tizen is designed to compete with Android in those markets where Google is unwelcome, and basic functionality is all that is needed. Keep in mind that 58.6% of Android devices shipping were devices costing less than $200. In developing nations, Tizen has a real chance to get some footing, but the system has faced real delays. Still, if Tizen takes hold, those developing nations could provide the sheer numbers to make it a legitimate threat to Apple and Google.
Who Might Win and How to Invest
Turning back to Microsoft, the company has a few things in its favor that should not be overlooked: 1) it still makes the best enterprise software in Office of anything available, 2) it is finally getting some traction with the Surface Pro 3 as a legitimate laptop alternative option, and 3) the company has a lot of cash to keep hanging around. For example, if the company can gain real traction with the Surface pro 3, and easily integrated phone gives it the compelling story it needs to compete. Now the Windows Phone is not a quirky alternative, but an integrated business tool. That's the catalyst the successful number three will need.
Thus far, Tizen seems to have the easiest entry angle to break into a tough market - targeting people who are not app-centric means that app competition is largely irrelevant. Also, targeting consumers with little existing affiliation makes it easier to break into the market. If Tizen gets going, it should not be overlooked.
In terms of trades, the growing push from Chinese manufacturers is putting pressure on Samsung and Apple, so watching these numbers is critical. I want to like Microsoft in this fight, but it has yet to reach fighting weight. I will be looking for a successful Tizen launch as a threat to Google first, and less so to Apple, but as a big positive for Samsung and even Intel (NASDAQ:INTC), which is integrally involved in the project. Ultimately, this is a developing story, and one that should be carefully monitored.
Disclosure: The author has no positions in any stocks mentioned, and no plans to initiate any positions within the next 72 hours. The author wrote this article themselves, and it expresses their own opinions. The author is not receiving compensation for it (other than from Seeking Alpha). The author has no business relationship with any company whose stock is mentioned in this article.
Editor's Note: This article discusses one or more securities that do not trade on a major U.S. exchange. Please be aware of the risks associated with these stocks.