While bears have continued to criticize the high valuations of Netflix (NASDAQ:NFLX), shares have continued to climb 892% over the past five years and 21.25% YTD. Over the past year, the company has added 11.2 million new subscribers to its 50.7 million subscribers worldwide. The company has delivered strong results consecutively due to its ability to add new subscribers, as well as keep current subscribers regaled with its massive movie and television show archive, plus its highly successful original programming. As such, revenues rose 25% year-over-year in the second quarter of its fiscal 2014, and profits increased to $71 million. To help give some comparative insight, CEO Reed Hastings wrote an interesting statistic on Facebook (NASDAQ:FB); "last quarter we passed HBO in subscriber revenue ($1.146 billion vs. $1.141 billion). They still kick our ass in profits and Emmy's, but we are making progress. HBO rocks, and we are honored to be in the same league." Figure 1 shows Netflix catch up and surpass HBO's quarterly subscription revenue over the past few years.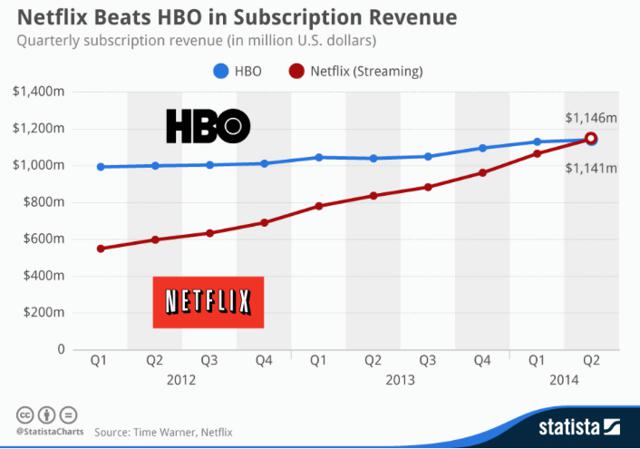 While Netflix has surpassed the 50 million worldwide subscribers benchmark, it is still well below HBO's estimated 120 million worldwide subscribers. At least in the United States market, Netflix has more subscribers than HBO. However, HBO has shown that it can leverage its premium position for higher margins, but the tides could change as Netflix gears up its in-house series productions.
Currently, Netflix has lowered its expected profit for the next quarter as it begins to invest in launches across several European cities to expand its international segment and boost its topline. There are certainly some concerns about how these investments impact the company's earnings growth, but these investments remain a growth driver for the company. For long-term investors, this is exactly what you want to see, however, because while these investments can hurt earnings in the short term, it will produce value over the longer time frame through a growing subscriber base, as well as greater value in the overall service. Currently, the I Know First self-learning algorithmic output has indicated a bullish signal for NFLX in the 1-year time horizon, but a bearish signal for the mid- and short-term time horizons. Due to expenses that encourage growth and enhance the quality of service but also put pressure on margins, shares will likely remain relatively stagnant but marginally lower for the forecasted short- and mid-term time horizons. For at least this provisional amount of time, share growth will likely cool off before regaining steam.
Growing Competitive Strength
Growth rates will naturally slow down in the United States over time; however, Netflix has a tremendous amount of room in the European markets. Starting in September, Netflix is scheduled to launch in France, Switzerland, Belgium, Luxembourg, Austria and Germany. These markets will significantly increase Netflix's exposure to over 60 million broadband households, making its total addressable market more than 180 million broadband households, which is about twice the number in the United States. Currently, approximately 72% of Netflix's customers are from the U.S.
Profits have been outgrowing expenses, allowing profit margins to increase. In fact, the contribution margin rose from 10.2% in 2Q13 to 18.5% of revenue in 2Q14, although management expects this margin to decline this next quarter due to an increased investment in international growth. While this increased spending will take its toll on margins, Netflix has shown that its business model is profitable when it reaches enough viewers in a particular market.
Netflix was also successful at smoothly increasing prices in May by charging an additional dollar in the U.S. for new subscribers. The existing price of $7.99 will be continued for two additional years for existing subscribers. Similar adjustments were made in international markets. CEO Reed Hastings stated in a July letter to shareholders, "in May, we raised prices modestly in most of our markets for new members on our two screens at-a-time HD plan, and introduced a one screen at-a-time, standard definition plan across our markets. Our two-screen HD plan continues to be the most popular plan choice for new members. We expect ARPU to rise slowly as members at the new prices grow as a percentage of total membership. There was minimal impact on membership growth from this price change."
The minimal impact on subscriber growth from the increased subscription fee indicates Netflix's pricing power and competitive strength. This attests to the company's ability to gradually adjust prices without drastically affecting growth too much, which important for profit margins over the longer term.
More Original Programming To Come
Having top quality, original and engaging content is crucial for any content delivery business such as Netflix. The company has already produced many popular shows, such as Orange is the New Black, Hemlock Grove and the House of Cards, but according to Fox News Business, Netflix will be stepping up original programming over the next two years. Orange is the New Black ended 2013 as the most watched original series ever, with its audience being comparable with that of cable and broadcast television. Some of the new original shows to be added include Bo Jack Horseman, Grace and Frankie and Marco Polo. Netflix has access to a tremendous amount of data about viewing habits, tastes and social interactions of its users that assists the company to making the best decisions on purchasing or creating new content. It is quite clear that this has been effective, as Netflix original series and documentaries received 31 Emmy nominations, more than double the 14 the company received in its first year of releasing original programming.
Building a Niche With Stand-Up Comedy
Beyond television series, NFLX has also employed Bill Cosby, Jim Jefferies, Chelsea Handler, Bill Burr and Chelsea Peretti for stand-up specials that will debut before the end of the year. "Stand-up comedy is a category of original content that we're very focused on," stated Lisa Nishimura, Netflix's vice president of original documentary and comedy programming. "There's a really huge scope of types of comedy within stand-up, and we have the ability to provide that entire scope." Jefferies will start the specials at the end of August with "Jim Jefferies: Bare," taped in the Wilbur Theatre in Boston.
Net Neutrality
Earlier in May, the US Federal Communications Commission (FCC) approved a proposal that would officially allow Internet service providers (ISPs) to manage traffic in "commercially reasonable" ways, instead of treating it as a utility. Public sentiment surrounding net neutrality has flooded the FCC, even crashing the website in July. At the heart of the issue is whether content providers and Internet service providers should be allowed to make deals that will allocate more bandwidth to particular content providers.
For Netflix, it's about stopping large ISPs from holding joint customers hostage with poor performance to extract payments from Netflix, other Internet content firms and Internet transit suppliers. Netflix, a strong advocate of net neutrality, has openly expressed its discontent at paying interconnection fees, and has signed multiple deals with ISPs to ensure an uninterrupted video streaming experience for its subscribers. Netflix has been working with AT&T to improve the speed of the network; however, Netflix will have to pay AT&T for the additional capacity an undisclosed amount as of yet.
Video streaming is more data-intensive, resulting in data congestion between the ISPs and subscribers. In order to reduce the delay that subscribers are faced with for delivery of its content, Netflix entered into agreements to pay. Netflix also entered similar agreements with Comcast Corporation (NASDAQ:CMCSA) in February and Verizon Communications Inc. (NYSE:VZ) in May 2014. Since Netflix and Comcast struck a deal, the average connection speed of Netflix users on Comcast's broadband network increased 80% from its speed in January. Figure 2 shows the increase in average Netflix connection speed from the end on 2013 through the beginning of 2014 when the deal with Comcast was made.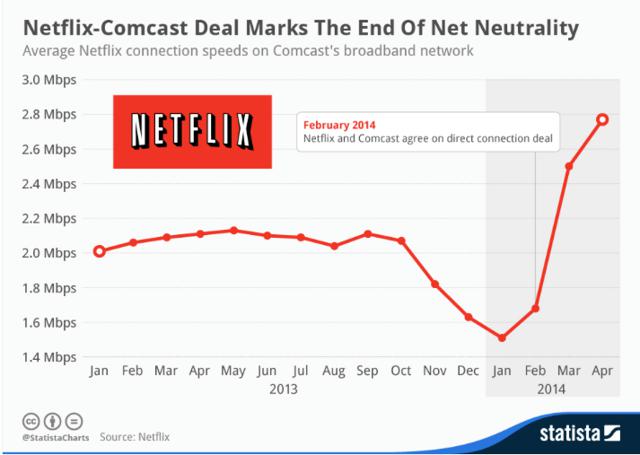 For now, this discussion is still open and the debate on net neutrality will move forward, with the FCC planning to hold conferences on the issue in DC in September and October. For the time being, the issue will remain in limbo, with corporations trying to sway opinions in their favor. For investors, this remains a variable that can certainly affect share value in the coming months.
Algorithmic Forecast For Netflix
On January 7th 2014, I recommended NFLX shares based on predictive analytics from I Know First in my Seeking Alpha article: "Netflix Still Has Room To Grow." Since publication, shares have risen 25.39%. Figure 3 shows a screenshot from the algorithmic forecast utilized to accurately forecast NFLX shares' impending movement within the black frame.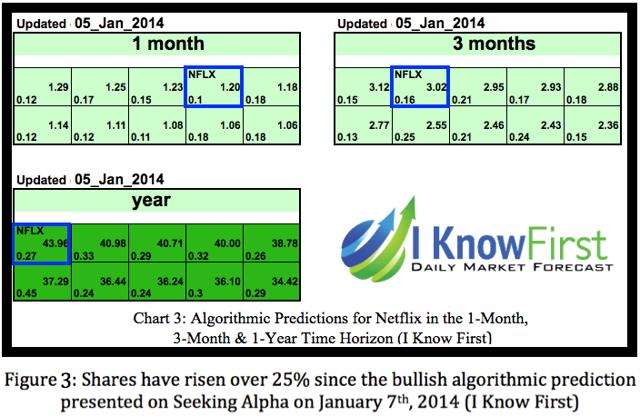 At I Know First, we utilize an advanced self-learning algorithm based on Artificial Intelligence (AI) and Machine Learning (ML) that also incorporate elements of artificial neural networks, as well as genetic algorithms, in order to model and predict the flow of money in almost 2,000 markets from 3 days to a year. As such, we promote algorithmic trading, coupled with a vigilant risk management strategy and fundamental analysis for avant-garde investment strategies designed to mitigate maximum amount of risk, as well as to optimize potential returns. Just to be clear, this is not high-frequency trading, and the differences are explained here.
The market prediction system is entirely empirical, and not based on human-derived assumptions. This system can also be referred to as a "Big Data" solution for Wall Street by incorporating popular types of convergence averages and moving averages that have been traditionally used to forecast assets with complex and intelligent algorithms that can make these predictions more accurate and efficient.
The human factor is limited to building the mathematical framework and initially presenting the system with the "starting set" of inputs and outputs, which is also utilized for recognizing every other market opportunity. The algorithm then repetitively proposes "theories" and recurrently tests them automatically on years of daily market data. It then validates them on the most recent data, which prevents over-fitting. By separating the predictable part from stochastic (random) noise, the algorithm is able to create a model that projects the future trajectory of the given market in the multi-dimensional space of other markets. The output of the predicted trend is a number, known as the signal, which is used by traders to identify entry and exit points in the market. While the algorithm can be used for intra-day trading, the predictability tends to become stronger over longer time horizons, such as the 1-month, 3-month and 1-year forecast, making this market prediction system ideal for longer-term trading.
Netflix has been a top stock pick in our aggressive stock forecast, which can be seen in Figure 5. This forecast is a component from our Risk Conscious Forecast, and comes with two distinct forecasts. We determine our aggressive stock picks by screening our database daily for higher-volatility stocks that recently moved often strongly up or down. These aggressive stocks present more opportunities, but are also more risky. Our conservative stock picks are determined daily by screening our database for lower-volatility stocks that are subject to less risk.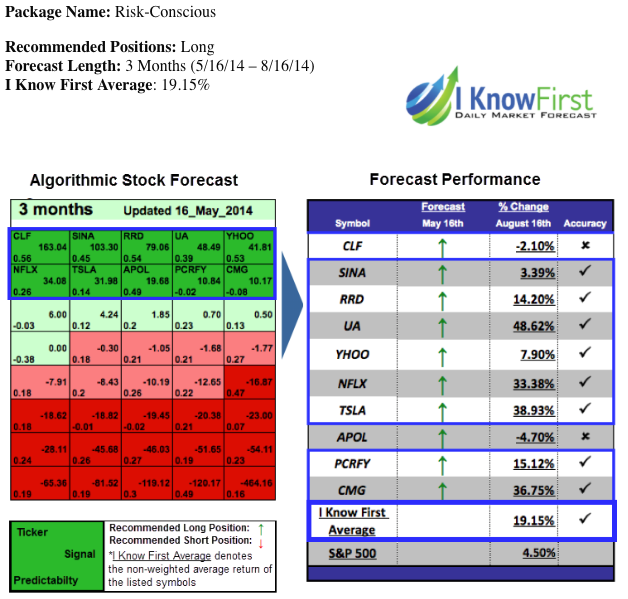 The color-coded forecast is very easy to read, where green indicates a bullish signal and red indicates a bearish signal. Deeper greens signify that the algorithm is very bullish, and vice-versa for deeper reds. The signal is the number flush right in the middle of the box and the predicted direction (not a specific number or target price) for that asset, while the predictability is the historical correlation between the prediction and the actual market movements. In other words, the signal represents the forecasted strength of the prediction, while the predictability represents the level of confidence. These are two independent indicators, but consider both as you make your own analysis. Figure 6 shows the latest algorithmic forecast for NFLX in the 1-month, 3-month and 1-year time horizons from a section in my personal customized algorithmic forecast.

Since the signal given expresses moderate movement in both directions, this is indicative that the predicted magnitude of actual movement of the stock will likely not be as aggressive as it has been YTD or in the past year. The current predictability given from this forecast is fairly strong throughout each time horizon. During the recent quarter, Netflix successfully acquired 1.69 million subscribers globally, up from the 610,000 net additions in the same quarter last year. As the company will eventually mature, growth in the subscriber base will improve Netflix's profitability, while content costs will become a lower percentage of the total. These types of investments are necessary for the online streaming company to be able provide the growth that Wall Street demands; however, there will always be harsh critics and bears.
Conclusion
There are some variables, such as the disputed issue of net neutrality and the expenses associated with growing its business, whether through geological location or increasing the quality and quantity of content, which will have a pronounced effect on shares over the short term. The algorithmic signals are also bearish on Netflix for the 1-month and 3-month time horizons, although the market prediction system does not forecast drastic movement in share value. Over the longer term, however, I am bullish on Netflix, as the company is well-positioned as a premium content delivery business that has plenty of potential as it expands globally. There are some interesting trends appearing with the emergence of online video streaming services that are having unfavorable effects on U.S. cable subscriptions. Figure 7 shows the percent of U.S. households ending their cable subscriptions from 2010 to 2013.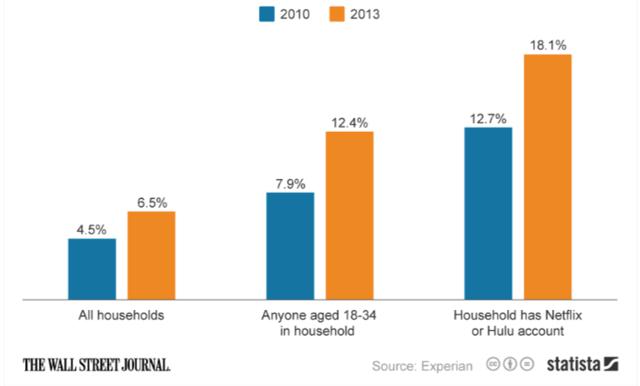 This chart clearly demonstrates how households with an online video streaming service such as Netflix or Hulu are much more likely to cut cable, and this number is growing. This indicates the level of impact quality video streaming services are having on how consumers will want to receive their favorite programs and movies. Profit margins will benefit, as the company has been able to successfully increase the subscription rates of its service. With the massive archive of data and increased financial resources, Netflix will continue building its library over time. While shares may flounder in the short term, Netflix is well on its way to producing value for shareholders down the road.
Business disclosure: I Know First Research is the analytic branch of I Know First, a financial services company that specializes in quantitatively predicting the stock market. Joshua Martin, an I Know First Research analyst, wrote this article. We did not receive compensation for this article (other than from Seeking Alpha), and we have no business relationship with any company whose stock is mentioned in this article.
Disclosure: The author has no positions in any stocks mentioned, and no plans to initiate any positions within the next 72 hours.
The author wrote this article themselves, and it expresses their own opinions. The author is not receiving compensation for it (other than from Seeking Alpha). The author has no business relationship with any company whose stock is mentioned in this article.