Amazon (NASDAQ:AMZN) recently released its own offering in the smartphone game, known as the Fire, in an attempt to further drive traffic to its ecommerce empire. While the concept makes sense, Consumer Reports recently complained that the company's attempt at a unique ecosystem "traps" consumers, leaving them cut off from some of the most basic apps that are favorites amongst other Google (NASDAQ:GOOG) (NASDAQ:GOOGL) Android users. While the Fire is classically Amazon, and one can see CEO Jeff Bezos' fingerprints all over the smartphone, it simply goes too far in trying to insulate its nascent advantages from its underlying functionality. Ultimately, Fire does little to tip the scales on Amazon, neither eclipsing its strengths nor adding to them; I remain a seller.
A Value Trap?
In an interview with CNBC late last week, Consumer Reports' Mike Gikas explained that the Fire smartphone "traps" its users in the "Amazon Retail World." The magazine review points to the fact that "App choices are confined to Amazon's Appstore, which is notably bereft of Google apps." While other smartphones, including Apple (NASDAQ:AAPL) iPhones and Microsoft (NASDAQ:MSFT) Windows Phones, do the same thing, these others offer a more diverse functionality. Fire does offer a full year of Prime with the device and "comes equipped with more than 33 million songs, apps, games, movies, TV shows and Kindle e-books."
IDC's Ramon Llamas somewhat excused the practice: "It's 100% true that Amazon Fire traps [its users], but Android does the same thing, [and] Apple certainly does the same thing. Let's call a spade a spade and a trap a trap. This is not the only platform that does it." The power of the ecosystem is that it draws users in, and while it makes them captive, it does so while arguing that the very practice allows for an enhanced experience.
The Data Is Key
In addition to Fire, Amazon is the process of rolling out its new POS system called Amazon Local Register. As has become a hallmark of Amazon offerings, the service will look to undercut its competition on cost, essentially providing free hardware as an enticement to try the service. Critics fear, however, that the real motive behind the service is to access customer data as an enhancement to its own retail empire. In a recent Forbes article, retail consultant Max Goldberg explained: "Do you really want to give a huge competitor access to your sales data? This is the question that retailers should ask before adopting Amazon's Local Register. This is a smart move by Amazon. It gets a brief float on all funds it processes, but more importantly, it gets a new source of valuable data which it can use to sell more products to consumers."
This may be a somewhat jaundiced view of Amazon's practices, but if we apply it to the Fire as well, we can see a pattern that would give Amazon a significant advantage within the retail space. If the company could track browsing history under the guise of improving the user experience, and then match it with actual POS transactions, the analysis possible would be a powerful tool. It is in advancing such a strategy that you must ask if, assuming the legitimacy of the claim, the company goes too far.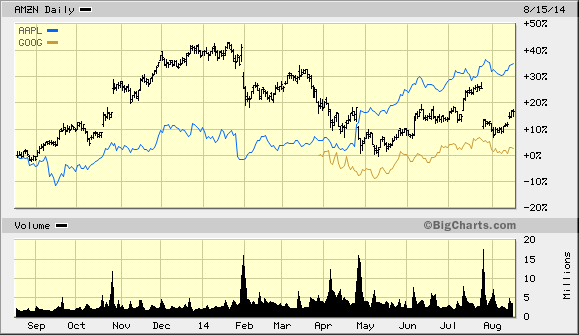 The Trade
While this opens up some interesting philosophical questions, our pursuit is to apply information and extract actionable trading information. With the stock still trading at a P/E over 500, the stock feels very expensive. Critics, myself included, have been asking for years how long Amazon can operate at such inflated multiples, yet the company and the stock have continued to press ahead; as such, the high valuation may be more excusable. Still, the release of neither Fire not Local Register is sufficient to make the stock a favored option in the sector. I remain a seller and would not be a holder of the stock.
Disclosure: The author has no positions in any stocks mentioned, and no plans to initiate any positions within the next 72 hours. The author wrote this article themselves, and it expresses their own opinions. The author is not receiving compensation for it (other than from Seeking Alpha). The author has no business relationship with any company whose stock is mentioned in this article.