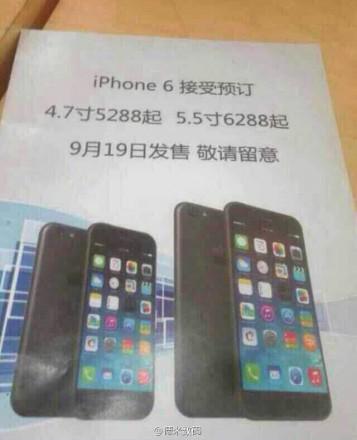 Picture of iPhone 6 leaked in China. Source: loadthegame.com
All eyes are on Apple, Inc. (NASDAQ:AAPL) as it prepares for its launch of the iPhone 6 due out in September. The iPhone 6 will be the biggest launch of an iPhone in history. First of all, the launch will include China Mobile (NYSE:CHL), one of the world's largest phone carrier in terms of subscribers. Secondly, there is strong pent-up demand for an Apple phone with an oversized screen to match the Samsung (OTC:SSNLF) Galaxy or the BlackBerry (NASDAQ:BBRY) Passport. Bill Mauer of Seeking Alpha estimated that [i] iPhone sales during the most recent quarter were depressed because consumers were waiting for the new iPhone 6 and [ii] it may have cost Apple about one million iPhone unit sales.
Apple appears to be pulling out all the stops to ensure the iPhone 6 launch is as good as advertised. The New York Times is reporting that for the first time Apple will begin storing user data on servers in mainland China; the servers will be provided by China Telecom:
Apple on Friday said it had begun storing user data on servers provided by China Telecom, the No. 3 Chinese carrier. The purpose of storing the data in China, Apple said, was to improve performance of its online storage service, iCloud. Apple also noted that the data would be secure and China Telecom would not have access to the content.

"Apple takes user security and privacy very seriously," said Trudy Muller, an Apple spokeswoman, in a statement ... All data stored with our providers is encrypted, China Telecom does not have access to the content."
Importance of iPhone
For Apple's quarter-ended June 28, 2014, the company sold 35.2 million iPhones, which represented 63% of total unit sales (iPad, Mac, iPod) of 55.8 million. iPhone revenue of $19.7 billion was a little over half the company's total revenue as well. That said, the iPhone 6 is of extreme importance to Apple. Overall, China is an important market for Apple. In its most recent quarter, $5.9 billion of revenue from China was about 16% of Apple's total revenue of $37.4 billion. Also, revenue from China grew 28% annually, versus the Americas (1%), Europe (6%), Japan (1%) and rest of Asia Pacific (6%).
Apple Attempts to Assuage China After Government Ban?
According to the New York Times, Apple's move is unusual for big tech companies. It is also a sharp departure from Google Inc.'s (NASDAQ:GOOG), (NASDAQ:GOOGL) posture of refraining from setting up data centers in China out of concern over privacy and censorship. Apple's move may also be strategic; the decision comes on the heels of the Chinese government's ban on purchases of Apple devices. On my previous article I described the potential impact the ban could have on Apple:
Dampen iPhone 6 Sales
The government's ban due to security concerns cannot be good for Apple. Prior to the ban, Chinese officials were already concerned that the iPhone was a risk to national security. The move to store user data on servers in China may appease the government, yet also has the potential to alienate consumers over issues of privacy and censorship. Worse, it could drive consumers to purchase a BlackBerry, Ltd (BBRY) device, which has built its reputation on privacy and encrypted messages.
PR Fiasco For Apple/IBM Enterprise Solutions Partnership
The Chinese government's concern over Apple's security, or lack thereof, could strike through the heart of Apple's alliance with IBM (NYSE:IBM) to provide mobile device management to governments and corporations. Their stated goal is to transform enterprise mobility and offer IBM's blue chip clients Apple devices pre-loaded with IBM apps. However, security and protecting clients' confidential emails and intellectual property lie at the heart of enterprise mobility. Any concerns over whether Apple/IBM can provide best-in-class security could deter potential clients.
Conclusion
I think it is more than a coincidence that Apple's decision to store user data in China comes shortly after a moratorium on purchases of Apple devices by the Chinese government. Though the move could assuage government officials, it could also alienate consumers over issues of privacy and censorship. I do not have a position in Apple. I expect the iPhone 6 launch provide a short-term boost to the stock price. Afterwards, I will then look to take a short position in Apple.
Disclosure: The author is long BBRY.
The author wrote this article themselves, and it expresses their own opinions. The author is not receiving compensation for it (other than from Seeking Alpha). The author has no business relationship with any company whose stock is mentioned in this article.