Apple (NASDAQ:AAPL) did mention some difficulties in its most recent quarter, and with news of new tablets being put into production, I think there's a distinct possibility that demand may in fact recover in Apple's Q4 FY 2014 or Q1 FY 2015. However, I think what's contributing to the slight drag in refresh has to do with longer product upgrade cycles, and so as long as Apple is able to convince consumers that the upcoming tablet is worth upgrading into, the specific product category will surprise to the upside.
Historical iPad data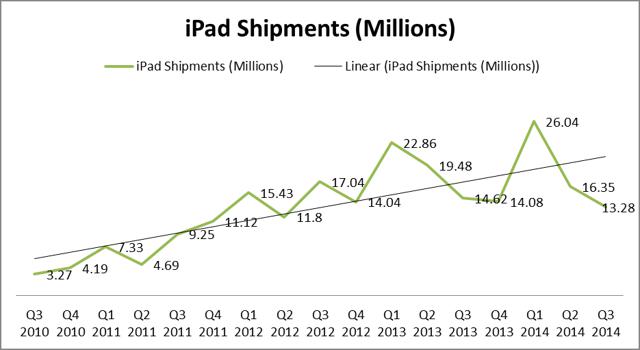 Data from Apple, Chart was created by AlexLeAnders
Besides the momentary blip in Q3 results, the overall trajectory is still positive as indicated by the trend line.
Based on broader industry data however, the tablet market is set to grow, but there may be some difficulties in the high-end as product refresh is estimated (rough estimates, it's a young category) to be 2.2 years. Therefore, if we were to adhere to that logic, the broad installed base of iOS/Mac users may upgrade tablets between the two-year and three-year mark. Older tablet devices (gen 3) are more than sufficient for running applications, but eventually consumers will want the novelty of owning a new device, and newer hardware will allow consumers to play the latest games and run applications more efficiently. So we may see some migration from gen 3 and 4 iPad owners into generation 6 iPads (the models that will be released in the next couple months).
Tim Cook offers added insight on the tablet segment:
But what's most important to us is that customers are enjoying their iPads and using them heavily. In a survey conducted in May by ChangeWave, iPad Air registered a 98% customer satisfaction rate, while iPad Mini with retina display received an astonishing 100% customer satisfaction rate. The survey also found that among people planning to purchase a tablet within 90 days, 63% plan to buy an iPad and our own data indicates that more than half of customers purchasing an iPad are buying their very first iPad.
Tim Cook tried to explain that tablet growth should be robust going forward. What he kind of had a hard time explaining was that there are a ton of new people buying tablets, and eventually pre-existing consumers will upgrade their tablet, but as an industry, we don't know exactly when, so the impact from refresh is kind of hard to estimate at the present moment.
At present more than half of iPad sales in the prior quarter were made by non-iPad owners. So if we were to add in the impact of the refresh from the 2012 model, Apple can expect the installed base from 2012 to upgrade, which will lock in sales of 58.31 million units over the next four quarters. However, if Apple's survey is accurate about more than 50% of iPad sales are in the form of new buyers, demand should accelerate tremendously.

Source: AlexLeAnders
To explain the logic behind why Apple will ship 7-8.5 million more iPads y-o-y let's look closely at what Tim Cook said one more time: "Our own data indicates that more than half of customers purchasing an iPad are buying their very first iPad."
So, I created a trend line from the prior quarter and assumed that on a year-over-year basis, 50% to 60% of iPad buyers will be new. So that's where I base my 7.06-8.462 million growth assumption. However, 14 million iPads were sold in Q4 2012. So the pre-existing installed base from 2012 will most likely renew (upon 6th generation introduction) and that adds 14 million in sales, and the 50%-60% trickle of new customers will add the 7-8.5 million on-top of that. This totals to 21.1 million in sales for the next quarter, and if there's a 60% mix from new iPad buyers, on top of refresh, there will be 22.51 million iPads sold in the next quarter.
However the timing for when third generation owners update their iPad may not happen this quarter, but perhaps the next one following. So, eventually, the uptick in demand from new iPad owners, paired with repeat business from existing owners, should stimulate shipment growth at some point.
Also I don't think historical projections will factor the impact from refresh, as a full refresh cycle from older generation to newer generation iPads have not occurred yet. However not every older generation iPad owners will upgrade into a new iPad. Even though Tim Cook reports a high satisfation rate, Surface Tablet growth in the high-end has been phenomenal, and competing Android tablets from Samsung and Sony are carving out a bit of a niche of their own. Even so, I still think full product refresh will add significantly to shipment figures, as contribution from the installed base has been negligible over the three prior quarters.
Conclusion
When I look very carefully at the data points between Q4 2012 and Q4 2013, sales were flat at 14 million. I think that if we were to adhere to a three-year upgrade cycle, iPad gen 3/4 owners will elect to upgrade to gen 6, and the impact from new iPad owners will contribute an additional 50%-60% shipment growth on top of that amount. Unit shipment growth will not directly translate into 50%-60% sales growth, as the ASP mix between the mini and iPad will lower total revenue contribution.
iPad shipments will surprise analysts next quarter, or next fiscal year, as full refresh has not happened, and the continued influx of new customers is still robust. Because analysts base their figures on Apple's outlook, it's likely that a pretty strong beat is in store. Apple's projection on tablet demand is likely to be extremely conservative.
Disclosure: The author has no positions in any stocks mentioned, and no plans to initiate any positions within the next 72 hours. The author wrote this article themselves, and it expresses their own opinions. The author is not receiving compensation for it (other than from Seeking Alpha). The author has no business relationship with any company whose stock is mentioned in this article.