Of all the hydrogen stocks, Ballard Power (NASDAQ:BLDP) has long been considered the sober one. After some initial millennial hype surrounding fuel cell cars, which Ballard got caught up in, the company has settled down and now largely minds its own business. Unlike other fuel cell names, its management doesn't promise the earth or hype the stock nor does it hit its investors with massive dilution. And of course recently those investors have done very well sticking by Ballard.
Latest earnings report
Ballard posted revenue of $18.5 million, beating consensus revenue estimates of $17.1 million. Its earnings of $.03 missed estimates by a penny. Management indicated that operating costs were higher due to one-off legal and transaction costs incurred as part of licensing deals with United Technologies Corporation and Azure in China. Gross margins for the quarter rose to 25% from 22% a year ago.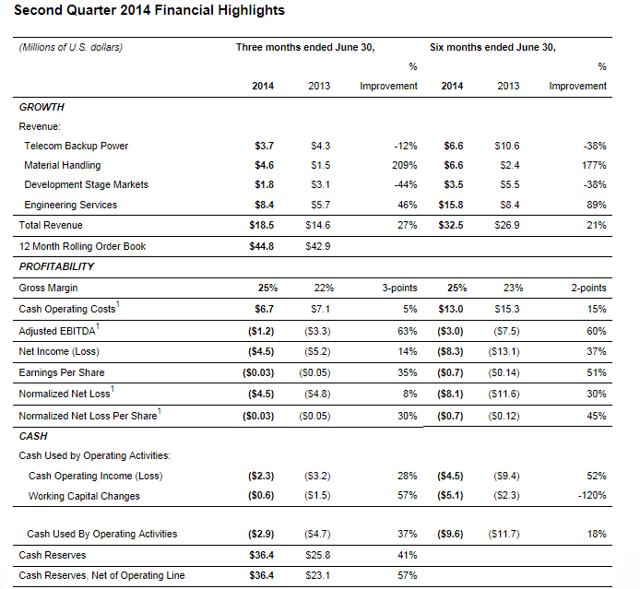 Management also guided for 30% revenue growth for the rest of the year and adjusted EBITDA breakeven of 2014 as a whole. The market didn't like the earnings report, sending Ballard's shares down 5%. I think what upset the market was the modest expansion in the order book from $42.9 million to just $44.8 million. This 5% growth means that Ballard has a lot of work to do to meet its 30% revenue growth projections for the year and contrasts badly with fellow Canadian fuel cell company Hydrogenics (NASDAQ:HYGS), which saw its order book increase by 15%.
Fuel Cell Hodgepodge
I don't like Ballard's business. I think it's the weakest of all the main fuel cell plays. Why? Only telecom backup power is a "real business" - i.e. provides value proposition to end customers without a tax subsidy. Over half of Ballard's revenue comes from providing engineering services to automakers that essentially are playing at making hydrogen fuel cell cars. This revenue stream has decent margins but is ad-hoc and vulnerable to automakers losing interest in developing fuel cell cars or turning to in-house engineers, if they decide to persevere with those efforts. Material handling - supplying fuel cell stacks to Plug Power (NASDAQ:PLUG) for forklift trucks -- is a semi-real business, but Plug's customers such as Wal-Mart do receive tax credits, so it's not clear how big the market is without these subsidies. That leaves telecom backup power as the only reliable revenue stream, but this segment only provides 20% of the company's revenue and is declining.
Valuation
Ballard Power has a P/S ratio of 8 and has negative EV/EBITDA and P/E ratios. The way I like to value companies that don't have earnings is to think about how much earnings they need to generate to justify a given market multiple. In Ballard's case, I assume that the stock will trade at a PEG ratio of 1 if and when Ballard starts to report decent net income figures. Ballard is currently growing at around 25 -30% annually, so a P/E ratio of 30 is the maximum rating I would give Ballard. With a market cap of $527 million, that implies Ballard needs to earn $17.5 million in net income. So the company needs to go from losing $18 million a year (annualizing the current quarter's loss of $4.5 million) to earning that same amount - a swing of $36 million! Even if we use the adjusted EBITDA numbers for that calculation, Ballard still needs a swing of $22.5 million.
Given that Ballard only has 25% gross margins, the company clearly needs to massively increase its revenue base to achieve such an earnings turnaround. How much of a revenue boost depends on how easily it can increase revenue without incurring additional operating expenses. Thus assuming no increase in the sales, R&D and administrative expense line, Ballard would still have to make another $90 million in revenue to achieve that profitability target.
One can use different assumptions. Perhaps Ballard can make 33% gross margins, in which case the revenue run rate only needs to double to around $140 million, though again this assumes no expansion of the operating expense line. A more realistic scenario is one where operating expenses increases by 50% say for every doubling in revenue. With current operating expenses at a $30 million run rate, a doubling in revenue would mean operating expenses climbing by another $15 million, nearly sending Ballard back into the red again. It turns out that Ballard needs to generate a further $200 million in revenue to reach our profit target. At that point, Ballard will have revenue of ~ $270 million, nearly quadruple the present run rate! And actually the above calculation hasn't included depreciation, amortization, exceptional expenses or taxes; with those included, Ballard's net income won't even reach our target of $17.5 million.
Clearly, an awful lot has to go well for Ballard for it to even grow into its current valuation, let alone provide a decent return on equity. Note that it would take 5 years of growth at 30% a year to hit $270 million revenue, so one should immediately discount the current share price by 40% (assuming a 10% discount rate), even if you do believe Ballard can achieve that kind of success. Realistically, it's hard to imagine Ballard can sustain that kind of growth for so long. Ballard isn't a "growth company" - in fact its revenue is less now than it was in 2011. What Ballard has is a good year followed by a bad one, usually as a result of winning and then losing some big item contract.
At a minimum then I'd be looking for a 40% decline in Ballard's share price, which would leave Ballard on a P/S of 5. Ultimately, though Ballard could easily be valued on an EV/S basis below 1. With only $20 million in tangible net assets, that would result in Ballard's stock price falling by over 80%.
Conclusion
Ballard Power is definitely a sell in my view and also should make a good short. Though it's not as overvalued as Plug Power - the poster boy for fuel cell excess, Ballard's shares are less volatile and unlike Plug Power there isn't a heavy short interest or a steep borrow fee. Also, Ballard Power's valuation seems particularly egregious in comparison to Hydrogenics given that company has a lower P/S ratio, better growth and whose revenue base tilts more toward commercially viable products and services. Ballard is thus perhaps the best play to take advantage of the inevitable collapse of the hydrogen fuel cell space, either as a direct short or as a pair trade with Hydrogenics.
As for a specific share price target, I'm aiming for a reversal of the last 6 months or so gains in Ballard's stock as an initial price target. That takes the stock price down to the $2.40 level. Longer term, I'd be looking for the stock price to decline to below $1, which was the level the stock traded at only 15 months ago.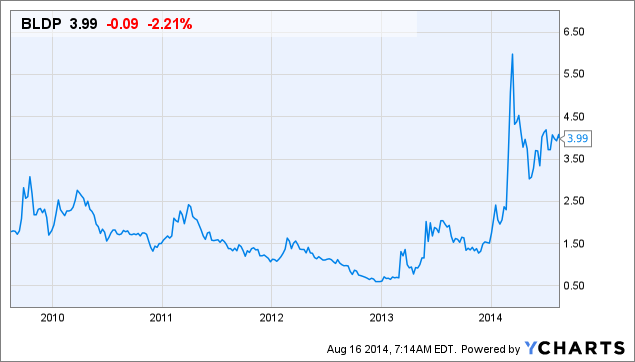 Disclosure: The author is short BLDP, PLUG. The author wrote this article themselves, and it expresses their own opinions. The author is not receiving compensation for it (other than from Seeking Alpha). The author has no business relationship with any company whose stock is mentioned in this article.