The rise and fall of BlackBerry (NASDAQ:BBRY) is a good representation of how fast things can change in the technology industry and how quickly companies need to adapt in order to survive. But past failures need not continue to be part of a company's legacy. Companies can and sometimes need to change their focus and their business model in order to survive a rapidly changing technology landscape. For instance, Apple (NASDAQ:AAPL) changed its focus in the late 1990s from Macintosh computers to mobile devices like iPods, iPhones and iPads such that now Macs only account for a little over 10% of all revenue. Going back to BlackBerry, the verdict is out that BlackBerry has decisively lost the smartphone war to Google (NASDAQ:GOOG) (NASDAQ:GOOGL), Apple and even to Windows. Yet, it continues to try catching up.

A Qualitative Analysis
BlackBerry has two main sources of revenue:
1. Hardware, including phones, and related accessories. The BlackBerry 10 series of smartphones is the newest one and is shown below.

The Z10 is widely available in North America and the Z30 in Asia. Neither of these have been well received as is evident from BlackBerry's declining market share. Reviews of these devices indicate that their specifications and prices are comparable to Android and iOS devices, but that their software and app choices are not. However, BlackBerry recently struck a deal to offer Amazon's app marketplace to its customers. This may make their smartphones more competitive, but with a large glut of Android phones that still have a larger app marketplace, it is hard for BlackBerry's phones to stand out.
2. Services and software, including BlackBerry Enterprise Services (BES) QNX software and BBM.
BES offers a way of managing BlackBerry devices and those running Android or iOS within a contained and secure environment. It allows users to securely access email, documents and intranet browsers without setting up a virtual private network.
QNX software is aimed for the embedded systems market and is currently the predominant technology deployed in vehicles. It offers a reliable reputation for critical and secure applications like air traffic control systems, medical imaging equipment and nuclear power plants.
BBM is the company's instant messaging service that is used by over 85 million monthly active users and is also available on Android and iOS devices.
A Quantitative Analysis
A look at BlackBerry's income statement below clearly shows how revenues from its two main revenue streams have changed over time.

Source: BBRY Annual Report 2014.
The below graph clearly depicts the dramatic decline in revenues from hardware and the more attenuated decline in revenues from software.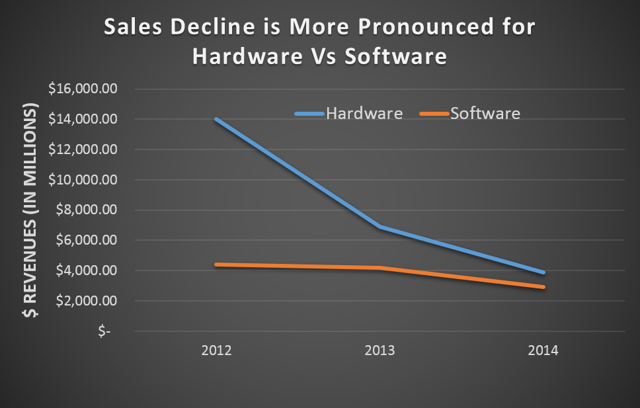 What is also striking is the change over time in profit margins associated with these two revenue streams.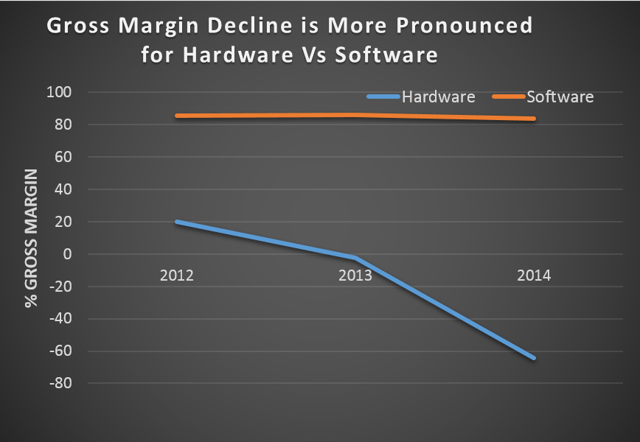 Profit margins have decreased over time for both hardware and software revenue streams, but the decline is more pronounced for hardware than software. Hardware is clearly no longer profitable for BlackBerry with margins of -65%, while software is still very profitable with margins of 83%.
Decoupling Hardware and Software
John Chen was hired as BlackBerry's CEO in November, 2013. Previously, he turned around the struggling Sybase and sold it to SAP for nearly $6 billion. He is repeating the same pattern of steps he took with Sybase now at BlackBerry, starting with stabilizing the company first through cost reduction, then looking into the company's financial strengths, and refocusing the company toward a new direction. After laying off 40% of the workforce or about 4,500 personnel, John Chen has finally signalled that layoffs are over. He also expressed an interest in steering BlackBerry more toward software. However, the company continues to invest in hardware albeit in a more cost effective manner now by outsourcing manufacturing to Foxconn.
It is hardly surprising that for a company like BlackBerry that takes pride in offering a complete package, i.e. hardware that is tightly bundled with software, it is difficult to decouple hardware from software. For many years now, BlackBerry's ability to securely transfer sensitive data was coveted by the corporate world. However, its dated user interface made them less popular when competing touch-sensitive iOS and Android devices came out offering hundreds of thousands of apps. By the time it finally caught up to also offering touch-sensitive devices and its own version of an App marketplace, many of its enterprise customers had also turned their back on the company. By not adapting quickly enough, BlackBerry may have lost the smartphone battle altogether. But, it may still win the enterprise mobile device management battle. Sure, now that Apple and IBM (NYSE:IBM) have announced plans to tackle the enterprise market together, BlackBerry now has serious competition. BlackBerry also has many years of experience already in the enterprise market and has a highly coveted reputation for security. To succeed in this war, BlackBerry needs to have a clear focus on software without distractions from trying to design any more hardware.
Conclusions
It remains an open question as to whether BlackBerry can survive and thrive again in the fiercely competitive technology industry. BlackBerry's past was marked by successfully creating a secure smartphone that was easy to type on, but was marred by not keeping up with a change in customer tastes toward touch-sensitive devices. Now, having lost the smartphone war, it needs to decouple hardware from software and focus solely on the latter. It can once again align itself with the enterprise market by continuing to lead in the mobile device management sector. John Chen has proven to be an adept turnaround artist at Sybase, and is looking poised to finally turning BlackBerry toward a new direction. Investors in the company will likely need to exercise a great deal more patience while BlackBerry continues to timidly tinker with hardware as it transforms into a dominant enterprise software company.
Disclosure: The author has no positions in any stocks mentioned, and no plans to initiate any positions within the next 72 hours. The author wrote this article themselves, and it expresses their own opinions. The author is not receiving compensation for it (other than from Seeking Alpha). The author has no business relationship with any company whose stock is mentioned in this article.