PNC Financial (NYSE:PNC) has been selected for the Stock of the Week Strategy this week by stock traders daily. The discussion below begins with a longer-term fundamental observation and then flows directly into our recommendation for PNC Financial this week.
On a fundamental basis, PNC Financial is experiencing something that many other financial companies are experiencing. Revenues have flat lined, they are even declining somewhat from where they were in the third quarter of 2012, but earnings growth has been realized in the face of these declining revenues. This is an unsustainable relationship, but something else is going on.
When we look at earnings growth, not just earnings results, we can see that quarterly earnings growth has actually turned negative for PNC Financial. This is very important to recognize because quarterly earnings growth could be a precursor to changes in yearly earnings growth when the company reports earnings next time.
Our calculations of quarterly and yearly earnings growth include trailing 12 month data for every quarter, but in the quarterly earnings results we compare the trailing 12 month data for the current quarter to the previous quarter and plot that growth on a chart to define quarterly growth trends. In the yearly chart, we compare the trailing 12 month data this quarter to the trailing 12 month data for the same period of last year to get yearly growth, and plot that on the chart as well.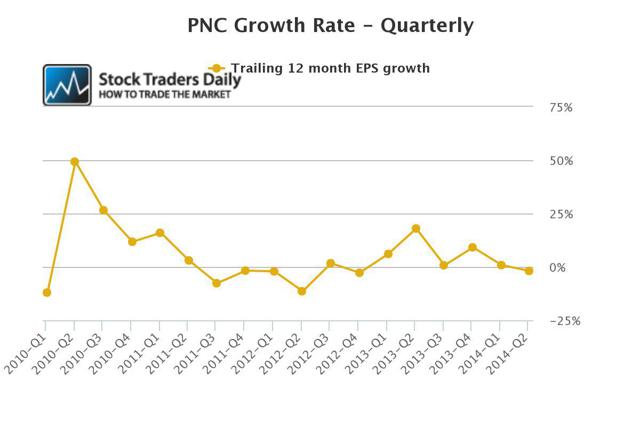 Click to enlarge
According to our observations, yearly growth is not currently negative, but because quarterly growth has turned negative it seems to be a precursor to what might lay ahead in the yearly growth chart the next time earnings results come.
Although the current PE multiple for PNC Financial is slightly below 12 times earnings, so it does not immediately look rich, if yearly earnings growth rates decline like quarterly growth rates already have the peg ratio valuation for PNC Financial even at 12 times earnings will make the company look expensive. Investors should be very cautious.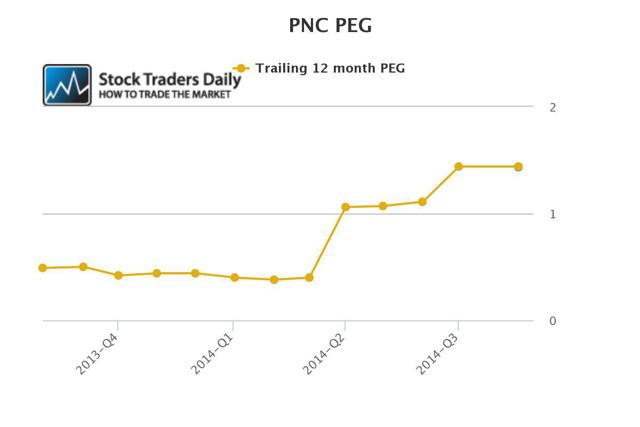 Click to enlarge
Now, our decision to select PNC Financial as the Stock of the Week Strategy this week had everything to do with our expectation for market direction. Our Stock of the Week Strategy is one that selects one stock every week, and we provide a trading plan for that stock intended to be followed during the week.
Purposefully, in this strategy every week ends in cash and that allows us to refresh our approach for the week that follows. For example, last week our Stock of the Week Strategy selection was SanDisk (SNDK), and the call was to buy SanDisk at a specific price. That call work nicely, but we closed that call before the week was over and ended the week in cash. That allowed us to approach our observation for the week ahead (this week) objectively, and in doing so our expectation was that the market would likely begin the week on a positive note, but if it changed and turned down afterwards it could move down violently.
As a result, our Stock of the Week Strategy selection this week, PNC Financial, is a trading plan designed to short PNC Financial if the stock breaks below our longer term support level, as that is defined in our real time trading report for PNC. Thus far the conditions have not been met, and the market would probably need to start to show some weakness for the conditions to be satisfied.
Disclosure: The author has no positions in any stocks mentioned, and no plans to initiate any positions within the next 72 hours.
Business relationship disclosure: By Thomas H. Kee Jr. for Stock Traders Daily and neither receives compensation from the publicly traded companies listed herein for writing this article.