Fairway (NASDAQ:FWM) started in 1938 as a fruit and vegetable stand on Broadway and 74th Street in Manhattan. It expanded into gourmet and specialty categories in the mid-1970s, and into a full service grocery store shortly thereafter. In 2007, Sterling Investment Partners acquired 80% of the company for $150M. Under Sterling's leadership, FWM's store base has expanded from four locations to 15; sales have increased from $200M to $850M over the same period. In April 2013, FWM completed an initial public offering (IPO) of 15.7M shares of common stock at $13/share.
FWM offers a unique combination of product breadth, quality, and value (see chart below). I was able to see this firsthand when I toured their Stamford, Conn., store a few months ago. The store orientation features a specialty shop layout of gourmet cheeses (over 600 artisanal cheeses), a full-service butcher shop, seafood, bakery, fresh coffee roasts, and 150 varieties of olive oil (with free tastings). It combines the best of a local farmers market with traditional and organic supermarkets. As the chart portrays, FWM's prices are typically lower than natural/specialty food stores and competitive with conventional grocers. Perishables account for two-thirds of sales vs. less than one-third for traditional supermarkets. This is a critical differentiator since the perishable category and the execution around it is the most important driver of customer satisfaction.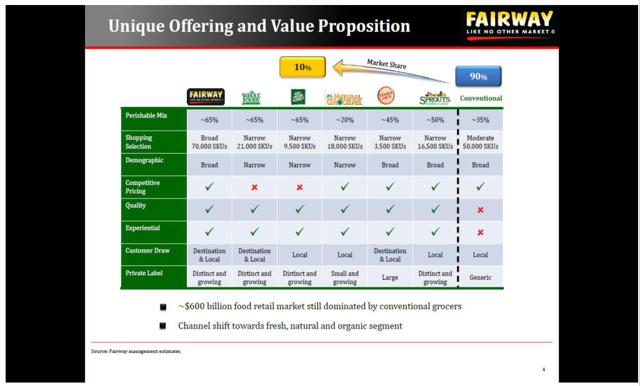 There are many ways to evaluate retail store productivity, one of which is sales per square foot. The three largest national and regional supermarkets with the best reputations are Whole Foods (NASDAQ:WFM), Trader Joe's, and Wegmans. In the last few years, Whole Foods has averaged roughly $850 in sales/sq. ft. In 2010, Fortune did an expansive piece on Trader Joe's, a privately owned company, and estimated their sales/sq. ft. to be $1,750. Wegmans, also privately owned, is estimated to be around $1,000. By contrast, conventional grocers average less than $700.
FWM's five mature (open at least 12 months) urban locations generate roughly $3,000 in sales per square foot. Its seven mature suburban locations generate over $1,200 in sales per square foot. In addition, these stores average an 11.9% contribution margin, which is gross margin less variable costs. These metrics put FWM in an elite category in all of retailing. FWM's store volume and productivity is a distinct competitive advantage as scale creates operating efficiencies which, in turn, provide greater flexibility to keep prices competitive. Furthermore, higher volume stores receive more direct deliveries which lead to higher quality (fresher) merchandise and lower shrink than smaller competitors. Obviously, since two-thirds of sales are perishables, this is an important competitive advantage that it has over the industry.
FWM expects to open an additional one to two stores per year in the near term. Over the long term, it expects to have at least 30 stores in the greater NYC market, 90 in the Northeast, and as many as 300 nationally (see chart below).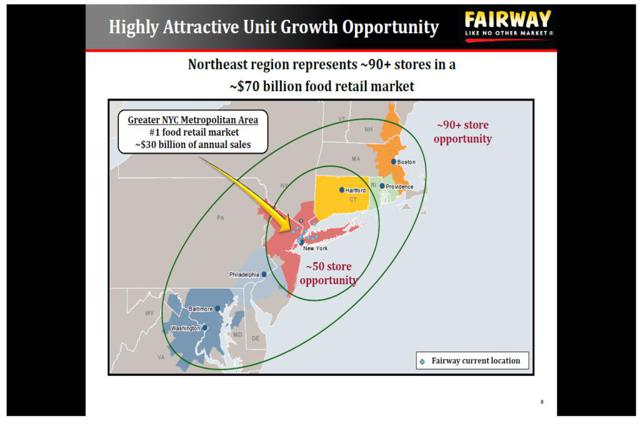 From an investment perspective, what really attracts me to FWM is having multiple value-enhancing levers in our favor. At current prices, investors are generously rewarded for future sales and margin leverage, as well as a large valuation adjustment if management executes on their long range strategic plan.
Since Sterling Partners initial investment in 2007, FWM has spent considerable resources not only on new store growth but also on the support infrastructure (IT, compliance, marketing, a centralized production facility in the Bronx, N.Y., etc.). It has essentially scaled the business for 30 or more stores. At half of total capacity (15 stores today), near-term profitability is being masked by meaningful investments in the future. Current dis-economies of scale should abate as capacity utilization increases and prior investments in infrastructure (largely one-time) are shared over a larger store base.
In addition, I see the following initiatives improving margins over the next few years:
Store Initiatives: FWM is aggressively employing several store initiatives to help reduce shrink, and to improve price optimization and labor productivity.
Private Label: FWM offers some of the highest quality and competitively priced private label merchandise in the industry. This profitable category will grow from 8% of sales to 15% within the next three to five years.
Centralized Production Facility: A new facility opens in the Bronx, N.Y., this summer, which should improve margins through better labor efficiency and product quality and consistency. In addition, store sales have the potential to increase as square footage previously dedicated to storage and warehousing gets converted into selling space.
FWM has many of the same characteristics of other high growth retail investments I've made in the past -- Commerce Bank (now TD Bank), Cabela's (NYSE:CAB), and CarMax (NYSE:KMX) to name a few. It has a long runway of growth built around an exceptional brand and unparalleled customer loyalty. In addition, it's competing in an industry dominated by inefficient competitors with structurally poor customer satisfaction. If FWM continues investing in its core franchise, it has the potential to be worth significantly more than today's price ($5/share) in five to 10 years.
The primary risks investors should consider are competition from traditional and organic grocers, the rate of new store growth and FWM's ability to execute on the aforementioned margin initiatives over the next few years. All of these factors are important to my bullish thesis and as such, may negatively impact long term equity value. In addition, I encourage all readers to review Fairway's 10-K for a complete list of company and industry risks it faces.
Disclosure: The author is long FWM. The author wrote this article themselves, and it expresses their own opinions. The author is not receiving compensation for it. The author has no business relationship with any company whose stock is mentioned in this article.