Summary:
FedEx is a global freight company. It is the world's largest provider of guaranteed express delivery services. FedEx operates in over 220 countries worldwide, and it is currently in the midst of a $1.7-billion profit improvement program, which is expected to be 75% complete by 2015.
After reporting a surprise earnings beat in June, FedEx (NYSE:FDX) announced in July that it was indicted on federal drug trafficking charges. The company had previously announced that if convicted, the charges could be material. This past week, the indictment was revised to include money laundering charges. But I believe there are enough catalysts within the company and industry to potentially offset any penalty FedEx may face.
Federal Charges & Potential Outcomes:
After an almost decade long-investigation, FedEx was indicted on over fifteen federal drug trafficking and money laundering charges in the past month. The indictment claims that the company conspired with several online pharmacies to distribute drugs that were sold in violation of the Controlled Substances Act. Instead of looking to immediately settle the case, like competitor UPS (NYSE:UPS), FedEx has pleaded not guilty and plans to fight all charges. Up until the investigation, FedEx has deferred to authorities when it comes to people shipping illegal materials. Although FedEx claims it has offered to help - by asking for a list of names of illegitimate online pharmacies to deny services to - federal authorities still have not provided them a list, nor do they think that FedEx's compliance or offer to help is enough.
FedEx should have gone the route of UPS. In March 2013, UPS settled its case with investigators regarding the same matter FedEx is now facing. The company forfeited $40 million in suspected profits, and made changes to its compliance policies with respect to internet pharmacy shippers. At the time, FedEx was also under investigation, but called the investigation "absurd and disturbing" and announced that it planned to fight any charges. In hindsight, it probably would have been simpler for FedEx to agree to adjust policies and pay a small fine to end the investigation if it had the opportunity. But now, it has been indicted, and faces $1.6 billion in penalties. According to a July WSJ Article, authorities claim to have e-mail evidence of FedEx executives acknowledging the illegal operations of the online pharmacies and then going out of their way to ensure that the pharmacies could keep doing business with FedEx. If those claims are true, I believe FedEx's case is doomed. Unless FedEx settles, it will face a maximum $1.64 billion fine (twice the $820 million Feds claim it made shipping drugs), plus restitution and forfeiture of profits.
My take is this: Worst case, even if the total cost of this investigation to FedEx hits $3 billion (this is a speculative worst case-number, including the $1.64 billion fine plus unknown restitution and incurred legal costs), that will be a small short-term blow to FedEx. This company is raking in almost $12 billion in revenue per quarter. With roughly 287 million shares outstanding, a $3 billion worst-case scenario cost to FedEx would represent about 2.5 quarters' worth of free cash flow. Keep in mind that there is still a possibility that FedEx will settle the case for less. I will explain next why I think FedEx's growth can offset this legal headwind.
Growth Catalysts:
Profit improvement plan
In October 2012, FedEx announced several programs that were aimed at cutting costs and increasing annual profitability by $1.7 billion for the following three years. A breakdown of the cost savings can be seen here. FedEx is currently about halfway through that plan. In its June 2013 conference call, the company said that the plan is still on track to achieve the plan. The annual savings have already been factored into earnings, but the plan is important to highlight as one of the underlying catalysts for the company's growth.
Buyback plan
As of June, FedEx had just over 5 million shares still authorized for repurchase as part of its previously announced buyback plan. The remaining shares will be repurchased by the end of 2014.
Focused Management
On the June earnings call, management said that they are laser-focused on improving the operating results of all FedEx business segments. They expect these efforts to contribute to continued revenue growth through 2015.
Economic improvement
Management is expecting the global economy to improve, with 2.7% growth for 2014 and 3.1% growth in calendar 2015. They expect the US and China to steadily improve. Global trade is still below historical norms, and is expected to continue to improve throughout 2015.
Valuation:
P/E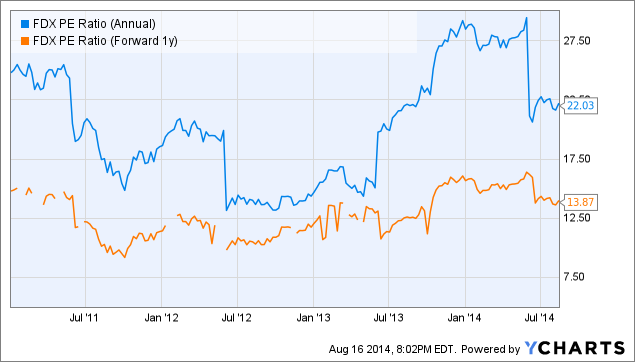 FDX has a P/E (Annual) of 22 and a P/E (F1Y) of 13.87. The Forward P/E is less than UPS' 16.67, even though FedEx is expecting higher EPS growth and almost the same growth in cash flow and revenue per share. With this said, I believe the current forward P/E is a bit low. That's because the Forward P/E is trading in the middle of the same range that it was trading in 5 years ago, when FedEx was experiencing less earnings growth.
Here are the cash flow and revenue growth estimates that are a result of the catalysts I mentioned above: cash flow will increase 17% in 2015 and 14% in 2016. FedEx is also looking at revenue growth of 4.6% in 2015 and 5.5% in 2016.
I believe now could be a good time to start a position in FedEx if you are willing to bet on the approaching holiday season. Otherwise the stock price could get driven up in the fall as investors begin to consider the holiday potential for the company.
Risks:
There are risks to this investment. While I don't believe that the ongoing federal charges are one of them, there are others. Global growth could be less than expected. FedEx has already had to revise its growth numbers slightly downward a few times in the past couple of years. There's also risk of a dull holiday shipping season, and harsh winter weather affecting shopping and shipping.
Conclusion:
For the reasons mentioned above, I believe that the ongoing federal case against FedEx will not have a significant impact on the company's stock. I believe the federal charges have already been priced into the stock, and if FedEx settles the case for less than $1.6 billion, it'll be icing on the cake. There are several fundamental catalysts that will continue to drive the growth of the company beyond any effects the federal case may have. FedEx stock recently closed at roughly $149 per share, and analyst price targets range from $145 to $192, with the mean being $163, or 9% from current levels.
Disclosure: The author has no positions in any stocks mentioned, and no plans to initiate any positions within the next 72 hours. The author wrote this article themselves, and it expresses their own opinions. The author is not receiving compensation for it (other than from Seeking Alpha). The author has no business relationship with any company whose stock is mentioned in this article.