Back in May, I wrote an article detailing the bull case for CorMedix (NYSEMKT:CRMD), arguing that it was drastically undervalued relative to other biotechnology companies that are years from commercialization. The stock price has increased about 54% since then, although the news has not all been good.
Minutes after the May article was posted, the threat of delisting reared it's ugly head again. Most investors assumed the March financing, which raised $7.4M, would finally put this issue to rest. However, the company must mark-to-market their warrants which results in relatively large gains or losses each quarter based on fluctuations in the stock price. The stock nearly doubled between January 1st and March 31st, resulting in a large loss, leaving CorMedix below the NYSE threshold for stockholders' equity. In Q2, the stock price declined, resulting in a gain. Recently the company announced they were granted an extension until May 31st 2015 to regain compliance with NYSE listing standards which gives them plenty of time to work with warrant holders to find a more permanent solution.
A few weeks after the delisting notice, a letter written by board member Dr. Gary Gelbfish became public. According to CorMedix, Dr. Gelbfish resigned at the May 12th board meeting. Unfortunately Dr. Gelbfish saw things differently and gave his version of events in a letter to the board (see June 17th 8-K). Dr. Gelbfish writes, among other things, that "I disagree with the fact that CorMedix's CEO, Randy Milby, never presented the board with a detailed operating plan regarding the company's European launch. Second, I disagree with the operations decisions the company has made under Randy relating to the European launch and feel that the company's sales approach will need to be examined and modified."
Given how the launch of Neutrolin in Germany has been going, with revenue coming in at $12k and $40k for Q1 and Q2, respectively, there certainly is some truth to Dr. Gelbfish's statements. While it's unfortunate that Dr. Gelbfish left the board on bad terms, the CorMedix board gained 3 quality members in the first half of 2014: Cora Tellez, President and CEO of Sterling HSA, Taunia Markvicka, SVP and Chief Commercial Officer at Pacira Pharmaceuticals, and Michael George, CEO of Michael George and Associates, a health care consulting firm. Based on the strength of these new additions, shareholders probably don't need to worry too much about the departure of Dr. Gelbfish.
The first half of 2014 was capped off with more disappointment when the company failed to meet guidance that at least one deal would be announced by the end of the second quarter, despite giving this guidance earlier in the year and affirming in mid-May.
Although some of the events described above left shareholders frustrated, there are a lot of reasons to believe these unpleasantries will soon be distant memories. The company recently announced that they have reached agreement with the FDA on the protocol for the pivotal phase 3 Neutrolin study scheduled to begin Q4 2014/Q1 2015. According to the August 15th Q2 conference call, the company expects to file the IND within 30 days. Finalization of the protocol is extremely important, as it will enable the company to share a clear regulatory pathway for US approval of Neutrolin with potential partners and suitors. When asked by Roth analyst Scott Henry if the company would partner before or after starting the trial, Mr. Milby responded, "Our strategy is to partner before. We have discussions as you know. We've mentioned on our earlier calls. We have ongoing discussions with a number of companies. Now that we have the protocol approved from our earlier discussions, we think that the negotiations with some of these companies will accelerate." Based on these comments it seems likely that CorMedix will announce a US partnership within the next 3 to 6 months.
Also included in the August 14th press release was news that the company has signed a collaboration agreement with Wonik Corporation of South Korea. While such deals will take some time to start generating revenue, they will serve as the foundation for revenue growth outside the US in 2015/2016 and beyond. Mr. Milby has stated, "We expect to be negotiating a reasonable number of collaborative marketing and distribution agreements in the coming months. Although I do not intend to provide the details of these on a country-by-country basis."
Another major catalyst coming before year end is potential designation of Neutrolin by the FDA as a qualified infectious disease product (QIDP) under the GAIN act. This would give Neutrolin an extra 5 years of market exclusivity, bringing the total period of exclusivity to 10.5 years from launch according to Mr. Milby. If we take the most conservative estimate of sales and assume that 5 years after launch Neutrolin will be generating revenue of $35M annually, then QIDP status could protect approximately $175M in future revenue.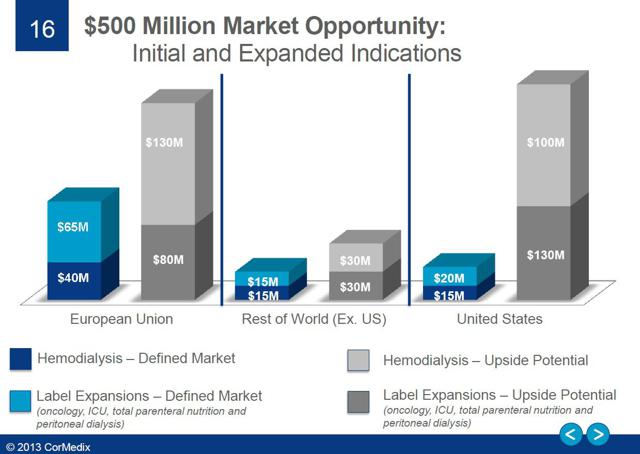 If Neutrolin sales hit the high end of company projections within the first 5 years of marketing, QIDP status could help CorMedix secure over $1 billion in future revenue that would otherwise be subject to competitive forces. In addition, QIDPs automatically receive a priority review. Given that the FDA has encouraged CorMedix to apply for fast track or breakthrough therapy designation (Nov 20th, 2013 call, approximately minute 9), and that taurolidine is active against many of the bugs on the FDA's list of qualifying pathogens, it's reasonable to assume that Neutrolin is a strong candidate for QIDP status.
Mr. Milby also stated on the Q2 results call that the company expects to be granted label expansion in the EU at some point between now and the end of 2014. This will allow CorMedix to market Neutrolin outside the hemodialysis space and accelerate revenue growth in the EU. Based on the Q4 2013 conference call, this could also trigger CorMedix to take action regarding it's intellectual property in the EU. Mr. Milby reiterated on August 15th, 2014 "We have always stated we will defend our intellectual property and our preferences to negotiate versus litigate. So based upon that you can kind of infer that we were under discussions." While the company's strategy is not exactly clear at this point, some kind of agreement with TauroPharm on licensing could lead to a significant jump in revenue. It's also worth noting that while CorMedix faces competition in the EU from both taurolidine-based and trisodium citrate catheter lock products, there is currently no FDA approved antimicrobial catheter lock solution available in the US.
Mr. Milby certainly has plenty of incentive to transform CorMedix into a successful commercial entity. He has already agreed to take 50% of his salary in common stock, yet continues to buy via payroll deduction. In other words, his cash salary has already been chopped in half yet he still takes a portion of the remaining cash and converts it directly to equity, making his salary >50% CorMedix stock. This aligns Mr. Milby with shareholders who want to avoid unnecessary dilution and suggests he is extremely confident about the company's future.
Since May, the evidence that taurolidine containing catheter locks are effective has been further strengthened by studies performed by independent investigators from around the world. This paper demonstrated in a catheter lock model that taurolidine is at least as effective as the antibiotic vancomycin at preventing bacterial colonization. At the 8 hour time point, it's strikingly more effective, a finding that could be enormously important in a clinical setting. The figure below shows log10 CFU/mL change from baseline.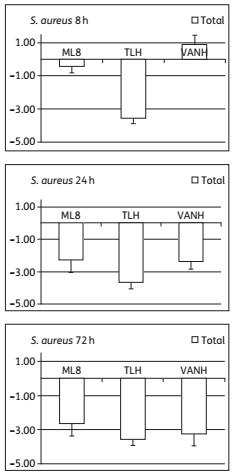 Furthermore, showing efficacy against S. aureus is important since this is one of the bugs on the FDA's list of qualifying pathogens.
Even more noteworthy is this relatively large UK study demonstrating a significant decrease in the bacteremia rate (p=0.004) after introduction of a taurolidine-citrate-heparin lock. It's reasonable to expect a similar outcome from the pivotal Neutrolin study slated to begin in a few months.
Finally, the company has hinted that they may revive their CRMD-004 product, a thixotropic gel containing taurolidine. This is extremely exciting as antibiotic resistance becomes more and more prevalent. Just a few weeks ago this paper was published, describing an outbreak of antibiotic resistant P. aeruginosa in wound care patients in Ohio. A taurolidine gel may effectively treat these types of patients since taurolidine has activity against P. aeruginosa and there are no known instances of taurolidine resistance.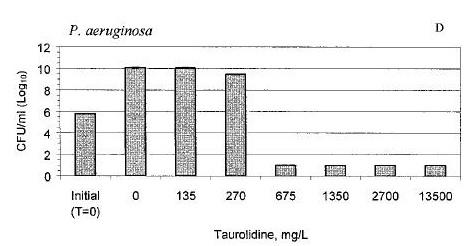 Overall, investors can expect near-term news on IND filing/QIDP, partnering/deals, and label expansion. These are all major milestones for CorMedix and have the potential to support a much loftier market capitalization. A potential deal with TauroPharm or a revival of CRMD-004 are wild cards which could drive valuation even higher. The most significant risk of investing in CorMedix, failure of the pivotal US study, has been mitigated by published studies universally demonstrating that taurolidine is an effective antimicrobial agent in the catheter setting. The risk/reward is quite compelling.
Disclosure: The author is long CRMD. The author wrote this article themselves, and it expresses their own opinions. The author is not receiving compensation for it (other than from Seeking Alpha). The author has no business relationship with any company whose stock is mentioned in this article.
Disclosure: The author is long CRMD.
The author wrote this article themselves, and it expresses their own opinions. The author is not receiving compensation for it (other than from Seeking Alpha). The author has no business relationship with any company whose stock is mentioned in this article.
Additional disclosure: I am an employee of Amgen, but the views and opinions expressed in this article are mine alone and not the views and opinions of Amgen.
Editor's Note: This article covers one or more stocks trading at less than $1 per share and/or with less than a $100 million market cap. Please be aware of the risks associated with these stocks.