Regions Financial Corporation (NYSE:RF) is a financial holding company, operating throughout the South, Midwest and Texas. They provide traditional commercial, retail and mortgage banking services, as well as other financial services through Regions Bank, a commercial bank. As of December 31, 2011, Regions operated 1,726 banking offices. They are based out of Birmingham, AL and were founded in 1971 as First Alabama Bancshares.
In 2008, Regions received $3.5 billion of TARP funds, but paid back these funds by April 2012. According to the Federal Reserve, Regions is the 17th largest U.S. Banks by assets as of Decemeber 31, 2013.
Price Action
Most investors I have spoken with would classify Regions as a regional bank as opposed to Bank of America (NYSE:BAC) which they would classify as a national bank. Given the locations of RF's branches, I would say that the distinction in geography between the two is clear. But when I examined the price action over the last twenty years for RF and BAC, I was startled by the similarity. (Sourced from Yahoo! Finance)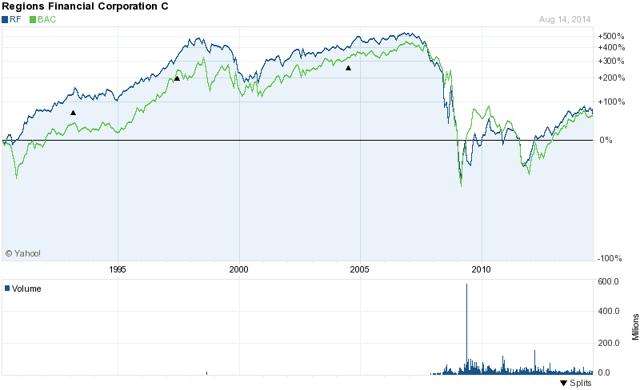 The similarity in the price action made me question what the benefit of owning RF over BAC would be, if they would react to the trends in the same way. One could argue that RF would have a larger upside if the region in which they operate were to outperform the U.S. and global economies. I would consider that point to be moot as BAC (or any other large, national bank) would also have exposure to those markets and get a similar benefit, albeit not as large due to a lack of concentration. Nothing in the past twenty years of price action has provided enough evidence for me to believe that RF can uncouple itself from BAC and outperform based on geography.
I couldn't understand why the price action would be so close for these two banks, when BAC had larger opportunities in high margin areas such as market making, invest banking, and prop trading. Granted BAC took huge losses on their mortgage bonds and general mortgage portfolio (not to mention the legal settlements paid out due to the Countrywide acquisition), but this discrepancy should have lead to RF outperforming BAC during a period of 2008 - 2010, due to their proportional exposure to those losses. But they kept pretty much in lockstep with BAC.
Given the parallels in price action, I decided to dig further into the financial statements for further comparison.
Financial Statement Analysis
I found it quite interesting that RF is struggling with income generation and balance sheet management.
RF has had stagnant net interest income over the last five years. They have been able to buoy their net interest after loan loss provision (LLP) by reducing the LLP. This may be due to improving credit quality in their portfolio, either through attrition or non-renewal, but it demonstrates that the income stream for RF is reliant upon a strong U.S. economy to help stabilize the credit quality of the borrowers/portfolio.
| | | | | | |
| --- | --- | --- | --- | --- | --- |
| Year | 2013 | 2012 | 2011 | 2010 | 2009 |
| Net Interest Income | 3,262 | 3,300 | 3,410 | 3,389 | 3,293 |
| Loan Loss Provision | 138 | 213 | 1,530 | 2,863 | 3,541 |
| Net Int After LLP | 3,124 | 3,087 | 1,880 | 526 | -248 |
While this data by itself does not indicate a problem, it does hint that RF might not be able to produce the results that investors would require. Loan growth and margin expansion would be required to grow net interest income and see the growth flow through to EPS. Therein lies the problem. RF has seen its portfolio decline over the last 5 years and interest margins compress.
| | | | | | |
| --- | --- | --- | --- | --- | --- |
| Year | 2013 | 2012 | 2011 | 2010 | 2009 |
| Int. & Fees on Loans | 3,034 | 3,211 | 3,480 | 3,744 | 4,254 |
| Total Loans | 74,609 | 73,995 | 77,594 | 82,864 | 90,674 |
| Net Int. on Loans | 4.07% | 4.34% | 4.48% | 4.52% | 4.69% |
Part of this portfolio reduction may be due to clearing out bad credits, which would also explain the margin contraction, but RF will need to grow the portfolio, if they wish to grow net interest income. Net interest income after LLP has been able to remain fairly stable due to reduced interest expense and smaller and smaller LLPs. The current size of the LLP in 2013 indicates that stabilizing net interest income through a reduction in LLP is no longer an option. On the flip side of that, the Fed is set to start raising interest rates in 2015, which I believe will put more pressure on the net interest income of RF. While I'm sure that RF has a solid portion of their portfolio in floating rate loans tied to the WSJ Prime rate or LIBOR, stronger credit customers can often negotiate or require fixed rate loans. RF may not be able to refinance and/or originate loans at higher rates fast enough to offset the rising interest expense when the Fed decides to hike.
Competition
I previously wrote an article which details the correlation between regional (or community) banks and the Fed funds rate. RF has not displayed this correlation and thus is unlikely to see a bounce in their net interest margins when the Fed hikes the rate.
RF may be able to increase EPS through higher fees charged on loan originations, but they have become a large enough player that many strong customers will look at BAC or JPMorgan Chase & Co. (JPM) if RF squeezes them upfront. BAC, in particular, may be more aggressive with interest rates and fee reductions in an effort to strengthen their balance sheet. New Citigroup CEO Michael Corbat has already stated "[w]e wanted to take our company, in essence, back to its roots of being a bank."
This presents a problem for RF's loan growth as the larger banks can absorb smaller fees and interest margins through their economies of scale and access to other profit producing arenas. Then they would be able to accelerate rates to catch up with rising expenses when loans start to come to term in 3 or 5 years.
RF could demonstrate strong loan growth by being the first bank to loosen credit criteria. This would allow for margin expansion and loan growth. The major downside risk of this is that the U.S. economy must remain strong. This seems probable, but a recent rise in unemployment, lack of wage growth, and Q1'14 GDP contraction (while weather related) give reason for pause and serious consideration before implementing such a strategy. Also, RF must identify and properly price their less credit worthy loans. They would also have to account for some uptick in loan loss provision expense, as the two are linked.
Conclusion
In my examination of RF for possible investment, I found little reason to choose RF over other banking options. I do believe that banks offer upside as interest rates begin to rise and the economy recovers, but feel that RF is currently located in the veritable "no man's land." They do not operate with a balance sheet small enough to nimbly take advantage of rising Fed funds rates, but are not large enough to offset rising interest expenses with other money making departments.
I am looking to enter the banking sector with an investment as the market has recently pulled back. My personal preference would be to invest in community banks (with Enterprise Financial Services Corporation (EFSC) being my primary target), then large national banks (BAC is my preferred company as I believe they will recover quickly once they are able to sort and settle their mortgage mess) and large regional banks at the bottom of my list. RF, at this time does not provide significant upside over either of the other two options. My viewpoint could and likely would change if RF implemented an aggressive loan growth strategy through looser credit standards and increased interest rates. Whether they jumped to the top of my list or fell from consideration completely would depend on how they executed that strategy.
Disclosure: The author has no positions in any stocks mentioned, but may initiate a long position in EFSC over the next 72 hours. The author wrote this article themselves, and it expresses their own opinions. The author is not receiving compensation for it (other than from Seeking Alpha). The author has no business relationship with any company whose stock is mentioned in this article.