Avista Corp (NYSE:AVA) is a small-cap multi-utility headquartered in Spokane WA. Founded in 1869, AVA is no newcomer to providing excellent electric and natural gas service to its customers in Washington, Oregon and Idaho. AVA has generated a 90% or higher rating for customer service satisfaction since 1999. AVA services 367,000 electric and 326,000 natural gas customers in the territory outlined below: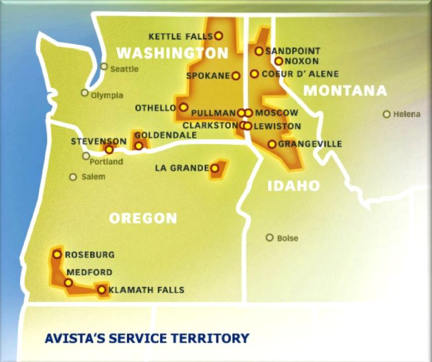 In an all-stock deal, AVA recently completed its acquisition of Alaska Energy and Resources Company AERC. AERC's primary business, Alaska Electric Light and Power Company, is the oldest regulated utility in Juneau, Alaska. AERC is expected to be accretive for the 2nd half of this year by $0.03 a share and expands the utility into a new market.
Driving earnings growth will be an expansion of regulated rate base assets. The company expects to spend between $300 and $350 million in capital expenditures from 2013 to 2016. 59% of rate base assets are located in Washington, 31% in Idaho, 6% in Oregon, and 4% in AK. Free cash flow (operating cash flow minus cap ex) has been positive in three of the past four years, and Morningstar reports a TTM ocf of $311 million. However, when dividends paid are added to the mix, AVA needs to raise an average of about $75 million a year to cover the shortfall. Projected growth in the firm's regulated base assets is described in their investors presentation: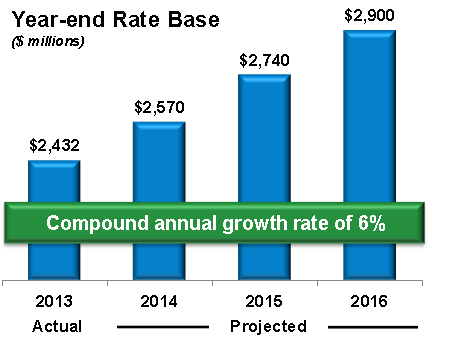 Earned return on equity ROE has been consistent over the years, but is a bit below the national average. According to the Edison Electric Institute, the national average allowed ROE approved during the first quarter 2014 was 10.23% vs 9.8% for AVA. While earned ROE has been steady in the 7.3% to 9.3% range from 2010 to 2014, the sector average is 11.6% for trailing 12 months and is 12.6% for a 5-yr average, making AVA's performance a bit light. Below is a graphic from their presentation.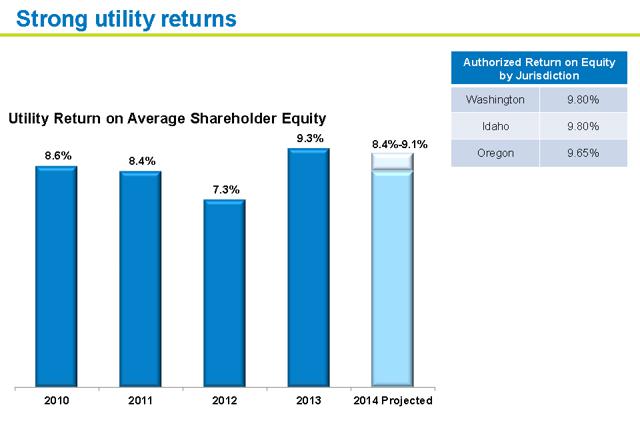 Click to enlarge
Return on Invested Capital ROIC is about in line with its peers at between 4.5% and 6.2%. While fastgraph.com calculates a ROIC TTM at around 5.5%, Morningstar calculates ROIC TTM at 8.5%. The fastgraph.com chart below outlines AVA's 15-yr history of ROIC: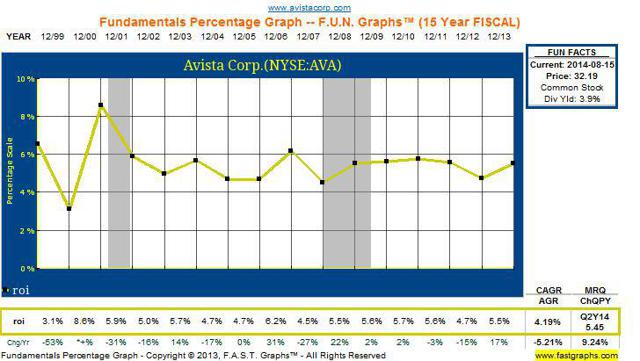 Click to enlarge
One of AVA strengths is its generating fuel mix for the 1,884 MW of company-owned capacity. 56% of capacity is from renewables, mainly hydroelectric, and makes the firm a potential target for larger utilities looking to quickly expand renewable assets. As mandated power generation from renewables becomes a bigger issue over time, firms similar to AVA could be ripe to participate in the consolidation trend that is rampant in the utility sector. Below is a graphic of its fuel mix. The recently added Alaska capacity is split 50% from hydro and 50% from diesel.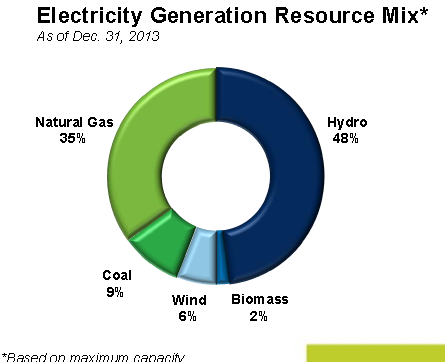 S&P Equity Quality Rating scores the company with an A- for 10-year consistency in earnings and dividend growth. AVA is one of only twenty utility companies that have earned an A- or higher rating. S&P Credit rates the states of AK, ID, OR, and WA as "Strong/Adequate" for their regulatory environment. Within their effective three categories, this rating could be considered neutral.
AVA recently sold its non-regulated business, Evoca, to the French firm GDF Suez (GDFZY) and will be considered discontinued operations. AVA was paid $336 million ($136 million net) and booked a $62 million gain, or about $0.98 a share. The cash proceeds will be used to buy back shares and should offset the share dilution of the Alaska acquisition. The one-time gain has created a bit of a buzz, as this will increase reported earnings by about 50% for the year. However, on an ongoing basis, Evoca was adding less than a dime a share to annual earnings.
Consensus ongoing earnings estimates per share are 2013 $1.85, 2014E $1.97, 2015E $2.05, 2016E $2.13, and 2017E $2.22.
On a fundamental basis, some ratios would indicate AVA could be considered fully valued, while others may demonstrate a bit of undervaluation. Below is a table with selected AVA's ratios and an equivalent share price based on Multi-utility peers valuations, followed by selected performance ratios: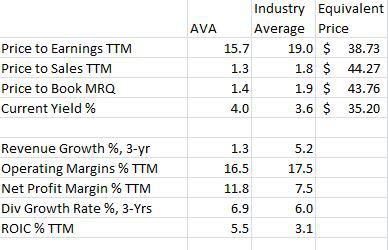 Source: Morningstar.com, MyInvestmentNavigator.com
Fastgraph.com also indicates AVA might be fully valued at current levels. Below is their earnings and price correlation graph: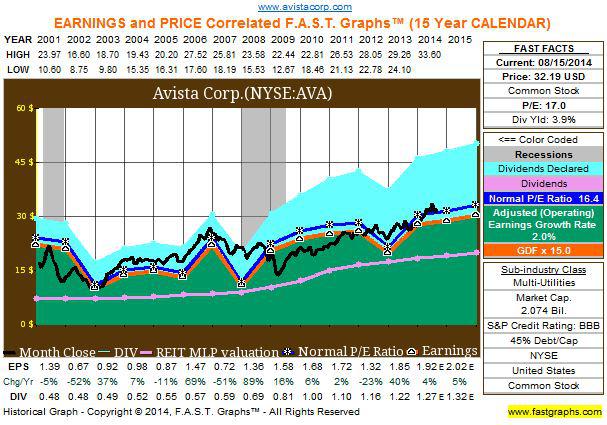 AVA's total return for shareholders has not been a barn burner. While outperforming the S&P 500, total returns have lagged its peers in the multi-utility segment. Below is a total return charts as offered by Morningstar from 2004 to current:

Click to enlarge
Below are total return calculations, also from Morningstar. As shown, AVA has outperformed on a YTD, 1-yr, and 3-yr basis, and has underperformed on a 5-, 10- and 15-yr basis.

On a technical trading basis, the Multi-utility industry is considerably more bullish than the other three components of the Dow Jones Utility Index: Water, Gas Distribution, and Electricity. According to stockcharts.com's point and figure charting, the current AVA technical trend is: Bullish since March 2013, Ascending triple top breakout on March 28, 2013, $38.50 target and 22% upside, Reversal below $30. AVA's trading patterns are technically in better shape than many of its utility peers.
AVA is an interesting small cap utility opportunity. While most fundamental ratios point to the current share price being fully valued, others indicate a higher price may be warranted. Earnings and dividend growth should be in the 6% range going forward and in line with the industry as a whole. However, management's shortfall in ROIC and ROE should not equate to share prices trading at a premium.
The most prominent opportunity may be the case for AVA being an eventual acquisition target due to their renewable resource exposure. While they wait, investor will be paid an adequate current yield with average dividend growth prospects that will be above medium-term inflation expectations.
Author's Note: Please review important disclaimer in author's profile.
Disclosure: The author has no positions in any stocks mentioned, and no plans to initiate any positions within the next 72 hours. The author wrote this article themselves, and it expresses their own opinions. The author is not receiving compensation for it (other than from Seeking Alpha). The author has no business relationship with any company whose stock is mentioned in this article.
Editor's Note: This article discusses one or more securities that do not trade on a major U.S. exchange. Please be aware of the risks associated with these stocks.