Another Rock Solid Quarter
Priceline (NASDAQ:PCLN) announced another great quarter. Priceline, the ruler of the online accommodation reservation business, continues its exciting growth by increasing its penetration in over 200 countries and regions in North America, Europe, the Asia Pacific region, South America and Africa. The explosive top and bottom line growth and aggressive disciplined investment gives it good long-term prospects. Second quarter results show continued excellent performance on all fronts.
Priceline beat the analyst EPS estimate of $12.04 polled by Thomas Reuters and reported EPS of $12.51.The share price moved upward despite the fact that it fell short of analyst revenue estimates and the fact that the current guidance provided by Priceline for the current quarter's earning falls short of analysts' estimate. Although this lower than expected growth is not due to any weakness, it would be the result of Priceline's overseas investment in growth opportunities. Priceline is expected to continue investing heavily in online advertisement in the next quarter and this would contribute to lower than expected earnings.
The company's revenue grew by 26.4% and reached $2.12 billion compared to the analyst estimate of $2.15 billion. With regards to the Asian side of the business, Thailand attracts a great number of tourists each year but this year political unrest in Thailand affected revenues from Asia. The missing Malaysian Airline planes also spread fear among travelers traveling to and fro from South East Asia and China.
According to the guidance provided by Priceline, the current quarter's EPS is expected to remain in the range of $19.60 to $21.10.The average analyst estimate of $21.13 (shown in the following exhibit) is above this range.

Click to enlarge
Priceline Continues Gain on Key Stats

Click to enlarge
Source: Company quarterly results
In second quarter, Priceline continued its splendid growth trend in gross booking. Gross booking includes revenue from all travel services provided to consumers and grew by 34% reaching $13.5 billion. If we look at the breakup of US and international gross booking (given above) we see that international bookings rose at a much higher rate of 36.2% compared to the US booking growth rate of 20.6%. This continued gain on key matrices is the result of Priceline's continuous investment outside of the US and in emerging markets which fuels its long-term growth despite concerns that Priceline is moving towards maturity in the developed markets.

Click to enlarge
Source: Company quarterly results
Airline ticket booking also showed a very healthy growth of 22.3% and worldwide hotel booking surged by 29.2%. Car rental days grew by 14.4% during the quarter.
Eyeing China's Exploding Market
Priceline is deriving healthy growth from emerging markets of the Asia Pacific region; especially China. There are very good growth prospects in this region and Priceline is increasing its investment in the region. Priceline's $500 investment in Ctrip.com, the largest Chinese travel website, is a good investment that is expected to increase Priceline's penetration in the rapidly growing region. An important part of the agreement is that Priceline has the right to increase its stake in Ctrip.com to 10% over the next year. This creates the option to increase the stake in Ctrip.com if Priceline finds significant upside. Priceline is seeking a strategic foothold in China as other online travel businesses are also eyeing the juicy travel market of the emerging region.
Priceline is in a good position to monetize the growth opportunities by way of aggressive acquisitions. Last month Priceline closed the deal to takeover OpenTable which would give Priceline increased penetration into the online restaurant booking market. It also bought a digital market platform for hotels two months back.
Creating Value for Investors Along with its Customers
The consensus analyst estimate reveals that Priceline is still underappreciated by the market at its current price of around $1310. Looking at the poll of 25 brokers covering Priceline, there is an upside of 12.5%on the mean target price and an upside of 14.5% on the median target price. If realized the highest target price presents an upside of 22% on its current price. The lowest target price expects a downside of -8%.

Relative Valuation Indicates Undervaluation
Even if it is trading at 25 times its forward earnings, Priceline is expected to undergo healthy growth in the coming years. Although marvelous growth and penetration in the last decade brought Priceline to near-mature phase, its aggressive investment in the emerging markets is expected to give it a sustainable long-term growth in the coming years. The PEG ratio reveals that Priceline is undervalued compared to the industry, sector, and S&P 500 at its current price level.

Click to enlarge
Conclusion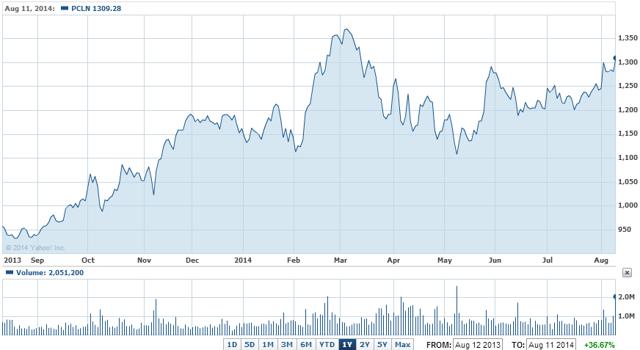 Click to enlarge
Priceline's stock significantly increased by 36.67% in the last year. There has been strong sustained growth in the top and bottom lines and rock solid fundamentals in the past decade backing this outstanding growth. Priceline's second quarter results show that its fabulous growth trend is continuing. The earnings beat the analyst estimate but revenue fell short of the consensus. Priceline's guidance for the third quarter falls short of analysts' estimate but this is due to the fact that Priceline is investing heavily in attractive overseas markets to capture the growth. The valuation shows that Priceline is undervalued and is a good investment at its current price level.
Disclosure: The author has no positions in any stocks mentioned, and no plans to initiate any positions within the next 72 hours. The author wrote this article themselves, and it expresses their own opinions. The author is not receiving compensation for it (other than from Seeking Alpha). The author has no business relationship with any company whose stock is mentioned in this article.