The name Warren Buffett is often accompanied by a combination of awe and respect among professional and amateur investors alike . The phenomenal longevity and success of Buffett's company Berkshire Hathaway (NYSE:BRK.B) has spawned endless article fodder for journalists and also created many emulators.
Lawrence A. Cunningham's latest book, Berkshire Beyond Buffett: The Enduring Value of Values (Columbia Business School Publishing), is a close examination of Buffet's "hidden method" of success. Using numerous historical examples and anecdotes from a cross section of Berkshire acquisitions, Cunningham breaks down Buffett's strategy, citing personal and professional value assessments as the keys to this legend's choices.
Berkshire Hathaway is essentially a gigantic private equity holding company and asset management firm, with a gargantuan mixed bag portfolio of publicly traded shares and private company ownership. The companies include ownership or holdings of recognizable names, such as: GEICO, General Re, Dairy Queen, Lubrizol, Fruit of the Loom, See's Candies, Burlington Northern Santa Fe Railroad, Business Wire, Acme Brick, Benjamin Moore Paint, Star Furniture, Flight Safety, Justin Brands, Heinz, Coca Cola, and Goldman Sachs. These are just a few of the hundreds in the Berkshire Hathaway portfolio.
The range of industries is fairly diverse, although insurance could be considered an area of concentration.
Such a hodgepodge mixed basket would, on the surface, appear to be accumulated at random; however, Buffett has never sold a company that was acquired by Berkshire, which leads one to conclude that he has either been incalculably lucky for over a half century, or there is a "hidden method" to the madness.
Embodying "The Greatest Generation"
Warren Buffett embodies many of the values of what NBC's Tom Brokaw dubbed, "The Greatest Generation." Buffett's Depression era roots, work ethic, and championing of American entrepreneurship are critical to an analysis of his methodologies. Solid business principles, such as profitability, market share, growth prospects, and controlled overhead costs, are common sense staples of any buyer's business assessment considerations. Buffett avoids businesses he does not understand; hence, the relatively miniscule number of tech companies owned by Berkshire. Harvard Business School often lists some of Buffett's values and investment attributes in its MBA program cases.
Themes Among Acquisitions
Cunningham insightfully shows certain common themes among many of the companies Berkshire acquired. The primary recurring theme is that of family owned businesses that hope to outlive family succession and thrive beyond the life of its founding entrepreneurs. Many of these companies, like Justin's Boots or Star Furniture, had humble beginnings as family owned start ups. By applying an American can-do work ethic with savvy cost controls and foresight, these entrepreneurs took risks and thrived to become local, regional, and sometimes, national success stories.
However, like most family owned companies, their net worth was plowed back into the companies to make them grow. In order to create liquidity without dilution of management principles or control, Buffett incorporated a laissez faire policy towards Berkshire acquisitions, which resonated with these entrepreneurs.
Unlike Michael Douglas' Gordon Gekko in the movie, Wall Street, Buffett has no interest in acquiring companies for their breakup value. For Berkshire, a candidate for acquisition is only viable if it continues doing what it does best and grows larger through it.
Non-Negotiable Offers
Buffett's reputation for fair mindedness has sometimes put him under SEC scrutiny for paying more than what the market's perception of value might be at the time. In the case of one early acquisition that was publicly traded, the Berkshire tender was sufficiently higher than the next bid to warrant suspected, but unsubstantiated concerns over possible price manipulation. This level of integrity and sense of neighborly trust exhibited by Buffett in his bids (he does not negotiate) is more akin to a relative's offering of a helping hand than the normal fear inducing Wall Street shark.
As a result, Berkshire's reputation as a white knight now precedes it. Deals from entrepreneurial sellers who don't wish to see what they've built disassembled often accept Buffett's offer with the comfortable expectation of a fair shake, managerial freedom, and corporate entity longevity.
Trust, Customer Loyalty, and Reputation
The values on which Cunningham focuses on are intangibles, such as trust, customer loyalty, and reputation. Buffett holds these traits as sacrosanct, and both Berkshire personnel and subsidiaries are expected to tow the line.
As Berkshire grew larger, it was inevitable that politics could enter into the fray. Charitable donations to Planned Parenthood, for example, had to be curtailed when a subsidiary' s business, with substantial clientele in Christian circles, began to falter over the link to Planned Parenthood via Berkshire as the parent.
Issue of Succession, Detailed
Cunningham includes an interesting analysis over the issue of succession within Berkshire and the possible re-structuring scenarios that may occur once Buffett is no longer in the driver's seat. With his own foundations and estate plans, Buffett has developed a close relationship with Microsoft founder Bill Gates, who is presently the second largest individual Berkshire shareholder and bloc of votes after Buffett.
A number of possible candidates have emerged, but identifying a single person who encompasses all of Buffett's combined talents, acumen and ethical core is proving difficult. Internally, the case involving Buffett's heir apparent, David Sokol, and the appearance of possible stock front running on the Lubrizol acquisition, ultimately led to the latter's resignation. Even though Sokol followed the letter of the law and was not accused of any wrongdoing, the perception of a possible breach of Berkshire ethics led Buffett to subsequently distance himself from Sokol and accept his resignation.
Berkshire Beyond Buffett: The Enduring Value of Values is a fascinating read and is both a biography on Buffett as well as on Berkshire, which in itself is almost a microcosm of the last half-century of American industry. By unraveling the background stories on Berkshire's methodologies and successful corporate purchases, Cunningham elucidates the common threads between the various companies, managers, and founders, and where their codes of ethics and managerial styles intersected with Buffett's.
For Berkshire Hathaway Investors, Current and Potential: A Lasting Bet
On August 1, Berkshire Hathaway released results for its second quarter, revealing a 41% leap in profit. YTD Berkshire's total shareholders' equity has increased $12.1 billion. BRK-A book value increased by 5.6%.
Such strong results are a microcosm of BRK-A and BRK-B shares' overall growth the past decades (see below).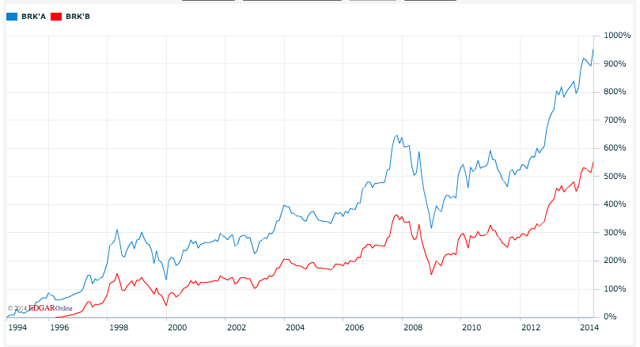 (Nasdaq.com)
While Berkshire does not pay a dividend, according to Buffett's clear philosophy, investors should cheer continued growth and hop on for the ride-right through Buffett's retirement and into the next era.
We invite readers wishing to join the discussion on Berkshire Hathaway to click the +FOLLOW button above the title of this article -- and those looking for the latest developments to click +Get real-time alerts.
Disclosure: The author has no positions in any stocks mentioned, and no plans to initiate any positions within the next 72 hours. The author wrote this article themselves, and it expresses their own opinions. The author is not receiving compensation for it (other than from Seeking Alpha). The author has no business relationship with any company whose stock is mentioned in this article.