DirecTV (DTV) should be considered for potential purchase based on its leading position in the U.S. and Latin American pay television markets, 30+% EPS growth in the next two years, aggressive stock buyback and strong free cash flow generation. DTV's stock is currently trading at a discount to its fair value estimate based on discounted cash flow analysis and at a discount to its peers despite its better sales and EPS growth outlook. DTV's discounted cash flow price target is $52, which equates to a 17x forward P/E multiple and a 7.5x forward EV/EBITDA multiple.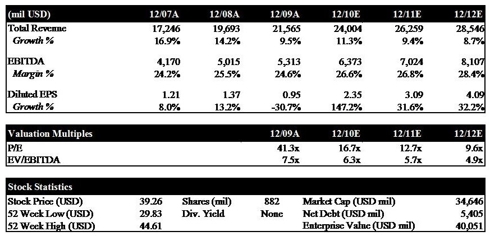 Investment Rationale
Growing U.S. Pay TV business

DirecTV's market share is around 16% of all U.S. households today
Subscriber growth should be in the 1.5% to 2.5% range over the next several years, benefiting from its strong sports programming and its leadership in pay TV product innovation
Average revenue per user (ARPU) growth should be in the 4% to 5% range over the next few years, benefiting from its larger selection of video on demand movies and package upgrades, including Whole Home DVR (which allows families to watch downloaded movies from anywhere in the house)
Differentiated U.S. sports programming

DTV has established itself as the pay TV leader in sports programming
It renewed its agreement with the NFL to offer NFL Sunday Ticket to its subscribers through 2014

The Sunday Ticket package allows subscribers to watch all Sunday NFL games nationwide
About 10% of its U.S. customers subscribe to this package

DTV also offers extensive coverage of NCAA March Madness college basketball, European soccer, grand slam tennis and golf tournaments (including the U.S. Open and Masters)
Leader in U.S. pay TV product innovation

DTV has lead the industry in offering new video services, including the broadest line-up of HD channels, 1080P quality (same as Blu-ray) pay per view movies and Whole Home DVR
The company is also expected to lead the industry in offering 3D channels and services that allow its customers to watch recorded television on tablet computers and smartphones
Latin American growth opportunities

DTV LA should continue to generate strong subscriber growth due to increasing penetration rates in the Latin American pay TV markets

The penetration rate is now 16%, 34% and 67% in Brazil, Mexico and Argentina respectively

DirecTV LA is also well positioned to gain share based on its cost advantages (lower set top box costs due to its purchasing power with DTV US), exclusive Spanish soccer programming and technology leadership (able to introduce advanced video services quicker than competitors due to its relationship with DTV US)

DTV's share in Brazil, Mexico and Argentina was 25% (#2), 29% (#1) and 6% (#3) respectively in 2009

DTV LA is expected to generate 17% of the company's EBITDA in 2010
Management believes that the LA business will double its subscriber base and EBITDA over the next five years
Strong free cash flow generation

DirecTV generated $2.4 billion in free cash flow in 2009
Management plans to buy back shares over the next several years (as it levers up its balance sheet to 2.5x debt / EBITDA level), which will contribute to 30+% EPS growth in 2011 and 2012
Concerns and Risks
Intense competition

DirecTV competes with cable service providers, satellite competitors and telecom companies for subscribers in the U.S.

AT&T U-Verse and Verizon FiOS plan to expand their video presence in more geographic markets in the U.S., which will increase competition in the pay TV market
Currently, only about 30% of U.S. homes are able to receive telecom fiber television service
Industry experts estimate that telecom fiber television service will be available to 40% of U.S. homes by 2015
Higher U.S. programming costs

DTV's annual payment to the NFL will increase 43% from $700 million to $1 billion when its new NFL contract begins in 2011
DirecTV's programming agreements with CBS, Fox News and Discovery are also expected to reset higher at the end of 2011, 2012 and 2012 respectively
Programming cost increases have exceeded the rate of video revenue growth for several years and might become harder to pass through to customers given more competition and more budget conscious consumers
Change in television viewing habits poses threat

The biggest longer-term threat to satellite and cable providers is that consumers watch more television over the Internet through providers, such as Netflix (NASDAQ:NFLX) and Hulu, and that subscribers drop their traditional cable or satellite television service

High end customers are unlikely to give up the better viewing experience available on their large screen LCD and plasma televisions to save money, but lower end subscribers might drop cable and satellite subscriptions as television content on the Internet becomes more ubiquitous
The fees television content creators receive from the current pay-television model provides a critical source of revenue and limits these firms' eagerness to expand Internet distribution too rapidly
Comparable Valuation Analysis
DirecTV is trading at a discount to its peers based on 2011 EV/EBITDA and P/E multiples, despite its stronger sales and EPS growth outlook
click on charts to enlarge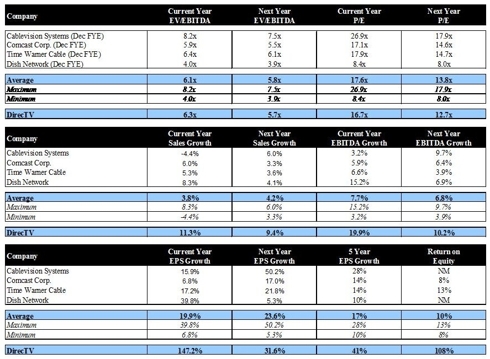 Source: Bloomberg 12/17/10
Discounted Cash Flow Analysis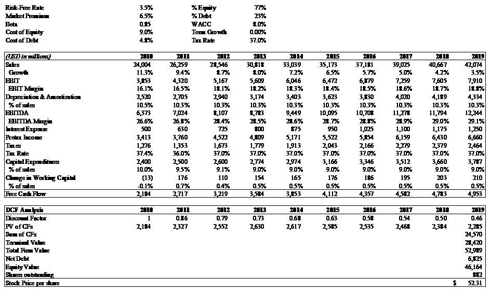 Price Target
DTV's stock price target is $52 based on discounted cash flow analysis. This price equates to a 17x forward P/E multiple and a 7.5x forward EV/EBITDA multiple.
Company Description
DirecTV is the largest satellite provider of multichannel video services in the U.S. with over 19 million customers. The company provided video service to markets covering about 95% of U.S. television households at the end of 2009. DTV US currently uses 11 satellites and has 1 under construction.
DTV is focused on delivering great customer service. DirecTV expanded its lead over Dish Network (NASDAQ:DISH) and cable providers in customer service in the most recent American Customer Satisfaction Index (ASCI) survey and has built up a lot of brand equity.
DirecTV has also focused on increasing the quality of its subscriber base in recent years. Customers with weak credit scores have to pay an upfront deposit of $200-$300 to sign up for DTV service, which discourages some from subscribing. This focus on high end customers allowed the company to be less impacted than the cable providers by the recession in 2008. DTV's current churn rate is only 1.5% and its customers tend to be the biggest spenders on television services, as indicated by average monthly revenue per user (ARPU) approaching $90.
DTV wins new customers through direct sales (uses effective customer screening and target marketing campaigns), consumer electronic stores such as Best Buy (NYSE:BBY), independent dealers and telecom partners. DTV has relationships with each of the three largest phone companies in the U.S. (AT&T (NYSE:T), Verizon (NYSE:VZ) and Qwest (NYSE:Q)).
DirecTV on Demand, its video on demand service, offered 6,000 movie titles at the end of 2009. DirecTV Cinema, one of its newest services, significantly increased the number of new release movies available for its customers to purchase. Only about one million DirecTV customers in the U.S. have their set top boxes connected via broadband currently. DTV expects that 40% of its subscribers will be Internet-connected by the end of 2013. This will allow DTV to increase its revenue from pay per view movies as subscribers download video on demand movies to their digital video recorders.
DTV also owns satellite operations in Latin America: 93% of Sky Brazil (2.4 mil subs), 41% of Sky Mexico (3 mil subs) and 100% of PanAmericana (3.3 mil subs), which covers most of the remaining regions in LA. The company provides services in PanAmericana and Brazil from leased transponders on two satellites. Sky Mexico provides its services from leased transponders on a separate satellite.
DTV added three regional sports networks based in Seattle, Washington, Denver, Colorado and Pittsburgh, Pennsylvania, and a 65% stake in the Game Show Network under its agreement with Liberty Media (LMDIA) in 2010.
2010 Estimated Geographic EBITDA Mix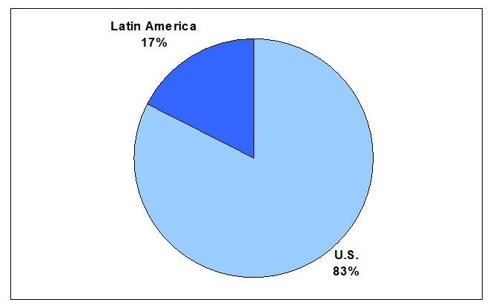 Source: DTV December 2010 presentation
U.S. Competition
DTV's largest U.S. competitors include Comcast (the largest pay TV distributor), Dish Network (other major satellite player), Time Warner Cable (TWC), Cablevision (NYSE:CVC), AT&T and Verizon. Cable companies have aggressively promoted "triple play" bundle of cable television service, broadband Internet access and telephone service to attract and retain subscribers. Dish Network has been aggressive offering discounts in the past.
AT&T and Verizon have upgraded a significant portion of their infrastructure by replacing their older copper wire telephone lines with high-speed fiber optic lines. These fiber lines provide the telecom companies with much greater capacity allowing them to offer new and enhanced services, such as Internet access at much greater speeds and digital-quality video. Verizon FiOS has been a major challenger to DTV in the markets it serves since DTV's customers tend to be attracted to the best video service. Its telecom competitors have become more rational on pricing since they launched their service several years ago and are more focused today on investment recovery.
2009 U.S. Pay TV Segment Market Share Mix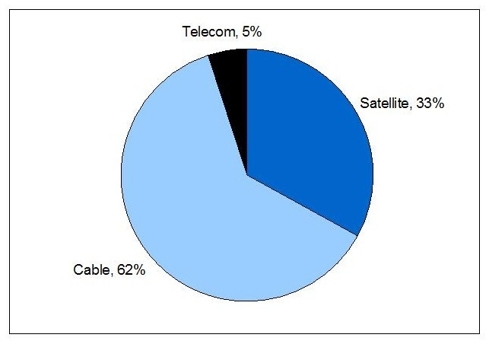 Source: JPM
Latin American Competition
Cable companies in Latin America typically offer analog services for lower monthly fees and with lower upfront installation and connection fees than DTV does. Furthermore, they are also upgrading their networks to provide broadband Internet and phone service and are rolling out "triple play" packages in select markets. DTV's satellite competitors typically focus on offering lower-cost, limited services packages tied to their telephone and broadband offerings.
In Brazil, its major competitors are NET Servicos (49% share in 2009), Telefonica (offered satellite TV starting in 2006) and Embratel / Telmex (offered satellite TV starting in 2009). In Mexico, DTV's major competitors include Televisa (20% share), Megacable (18% share) and Dish Mexico (satellite JV between Echostar and MVS). In Argentina, its major competitors are Cablevision (42% share), Super Canal (7% share) and Telecentro (4% share).
2009 LA Pay TV Market Share Mix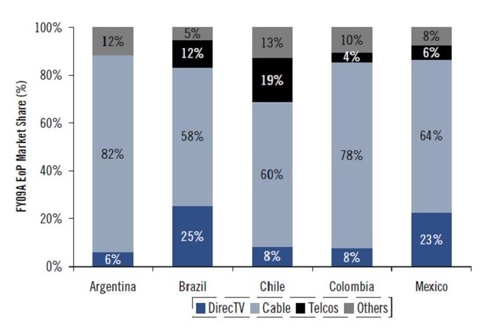 Sources: Citigroup, CIRA Analysis
DTV introduced new video services such as HD and DVR (digital video recorder) faster than competitors in Latin America. DTV launched HD in PanAmericana in late 2008, in Sky Brazil in first half of 2009 and in Sky Mexico in the first half of 2010. DTV LA has been expanding the deployment and marketing of pre-paid services to make the product affordable to more of the population. Management currently estimates that the payback period for pre-pay is only 9 months, as roughly 50% of the subscriber acquisition cost (SAC) is paid up-front by the customer.
Disclosure: I am long DTV. Recommended to Bolter and Company, a NY-based investment management firm, on December 21, 2010