Executive Summary
Verizon Communications (NYSE:VZ) is a diversified telecom company with a network that covers a population of about 298 million and provides service to nearly 98.2 million. The company is headquartered in New York and continues to be a leader in delivering broadband and other wireline and wireless communication to the mass market as well as business and government clients. The company has a reputation as being a strong stock to purchase for long-term investors and given the recent market volatility I wanted to research stocks to potentially add to my portfolio. Volatility provides opportunities in the market and Verizon may be a viable option for some portfolios.
Verizon Wireless
Verizon's Wireless business is one of the company's strongest assets. Since the year 2000 the company has invested over $80 billion in order to increase the coverage and the capacity of its network. The company also focuses on providing innovative and new technologies before its competitors to keep its clients productivity levels on target and convenience levels at all-time highs. In order to keep clients happy, Verizon Wireless also has invested heavily in services and self service tools to continue its reputation of strong customer service. The wireless division also has more than 1,900 retail locations and various kiosks across the country in addition to its strong online and call center presence to continue its reputation for great customer service.
Other Business Divisions
In addition to its wireless business, Verizon also provides Internet, phone and business services. Verizon's FiOS Internet, home phone and television service packages help meet both residential and business demands. These residential and business services are in direct competition of cable companies, which a large amount of consumers are becoming impatient with. In research I've done in my area, a large amount of people and businesses are switching to Verizon phone, Internet and television packages. Superior customer service and price competition seem to be the primary two reasons for people to switch.
Why to Buy
Besides its reputation as a stable stock, one of the primary reasons I wanted to take a look at Verizon was its history of consistent long-term outperformance. Looking at the long-term chart below you can see that Verizon has outperformed both its competitors in its industry as well as the S&P 500. Over a ten-year period this outperformance would have led to thousands of dollars in additional capital gains for every $10,000 invested in Verizon stock.

It is important to note however that over a shorter term time period, Verizon has actually underperformed the market since 2009. This may scare away some short-term minded investors, but a long-term value investor can see the long-term potential in the stock.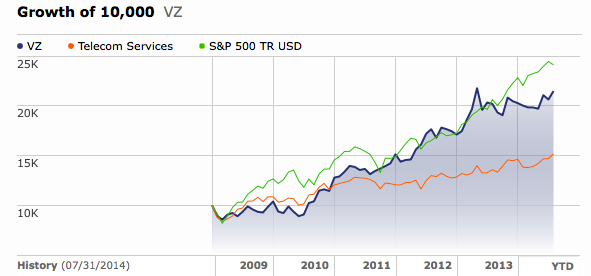 Both Charts Courtesy of Morningstar.
From a valuation standpoint, Verizon is relatively attractive as well. Verizon currently trades at a price to earnings multiple of 10.6 versus an industry average of 16.5 and an S&P average of 18.2. When this multiple is compared to Verizon's growth rate, the current PEG ratio for the company is 1.1. This signifies that the company is currently trading at a multiple near its growth rate, indicating it is fairly valued.
Saving the best for last, Verizon's dividend is another great reason to purchase the stock. The dividend yield is currently around 4.3%, which is far beyond the S&P average of 2.3% and even beyond its industry average of 3.5%. The dividend provides current cash flow and reinvest opportunities, which are particularly important in market volatility times like we are experiencing currently. Any stock that "pays you to wait" for its capital appreciation is always worth researching in my opinion.
Potential Risks:
As with any individual company stock Verizon comes with risks. Despite all the positive things that have been highlighted about Verizon thus far, it is also important to highlight potential downsides.
One of the biggest disadvantages of investing in Verizon is that it operates in a highly competitive industry. The rapid development of new technologies and services has eliminated opportunities for distinctions between companies in the market and has also allowed for new entries into the space. The ability of Verizon to continue to compete will rely on its network quality, capacity and coverage, as well as its pricing, customer service, and development of new opportunities in its product and services models. Changes in consumer preferences or Verizon's reputation could potentially tarnish its current competitive edge.
As demand for wireless services continue to grow both domestically and abroad, wireless service providers are at extreme levels of competition to offer services and plans that meet the demands of consumers. Consumers are currently demanding unlimited voice minutes and text messages as well as a large amount of data usage on a monthly basis. Many wireless service providers are lowering prices and offering prepaid options that include unlimited voice, text and data plans for prices below competition. These prepaid plans do not offer phone subsidies, which brings up the total cost of the plan considerably, however. It is a possible risk going forward that carriers continue to cut prices and reduce the boundary between prepaid and postpaid plans. In recent news I have seen commercials for certain carriers offering to pay someone's early termination fee in order to switch wireless providers, which is something the wireless industry has never seen before. Verizon hopes to compete and supersede by offering its clients services and equipment that are regarded as the best value for the price, as well as a network and service plan that meets their needs to a high level of satisfaction.
In the wireline segment competition has hurt the company. Many customers are dropping home landline phones altogether, but for many of those who are not a large amount of potential consumers are switching to low cost home phone services that take advantage of VoIP or voice over internet protocol. Verizon anticipates this trend to continue going forward due to changes in technology over the years.
Being able to adapt to changes in the industry and technological changes will be key for Verizon going forward. The company has done a great job thus far, but continuing to implement its plans and strategic management will be necessary going forward. Verizon will have to continue to adapt and enhance its current offerings to satisfy consumer demands. Not being able to do so could result in loss of customers and loss of ability of attract new customers.
The last potential downside for Verizon stock that I'll mention has to do with the media. Periodically Verizon will be in the news for various topics, including a recent story about Verizon slowing data on its wireless customers. The story discusses how "unlimited" plans are not always what they may seem to the consumer. This has resulted in a backlash from the Federal Communications Commission (FCC) which has sent Verizon a letter questioning its plan to slow down 4G connection speeds for certain customers. Although a story like this is unlikely to cause clients to leave Verizon, periodically press like this does occur for the company.
Recent Trends:
From personal observation, Verizon seems to be the best option for those looking to invest in this industry. Peter Lynch always discussed investing in what you know and what you personally observe, and Verizon can easily fall under this rule in my case. Personal observation has showed that Verizon stores are constantly busy with people looking to learn about both wireless plans and Verizon FiOS. Many people in my area seem to be leaving Time Warner Cable (TWC) in favor of switching to Verizon home services for internet and TV. This trend seems to be the case in many areas of the country, as a lot of people seem to be fed up with cable companies. It is also important to note that in many smaller cities, Verizon may be the only cell phone carrier that offers decent coverage in that area, which is another competitive advantage for the company. Verizon has strong brand loyalty because of its vast cellular network coverage.
Conclusion:
In conclusion, Verizon stock does have quite a bit going for it right now. The potential downsides are certainly present, but a high dividend yield, fair valuation, and positive consumer trends all side in favor of the company. For those seeking a dividend yield in the telecommunications sector in the current market volatility, the market may provide some great entry points by the end of the year.
Disclaimer: This article is given for informational purposes only and is not to be construed as investment advice. Contact your investment professional and do your own due diligence before investing.
Disclosure: The author has no positions in any stocks mentioned, and no plans to initiate any positions within the next 72 hours. The author wrote this article themselves, and it expresses their own opinions. The author is not receiving compensation for it (other than from Seeking Alpha). The author has no business relationship with any company whose stock is mentioned in this article.