Note: All the information, facts, figures, charts and pictures in this article were taken from investor relations website and relevant SEC filings of Daktronics.
On Friday, Daktronics (NASDAQ:DAKT) acquired a European company Data Display for an undisclosed sum. This acquisition will definitely help with easing investor's worries about the company's growth rate moving forward. This article will offer an overview of the two companies and discuss the implications of the acquisition.
Overview of Daktronics
Currently valued at $519 million, Daktronics is the market leader in large screen video displays, electronic scoreboards, LED text and graphics displays, and related control systems, services and products. The company's products and services appear in many locations and live events across the country and some international markets. Currently, Daktronics operates five business segments: Live Events, Commercial, Schools and Theaters, Transportation and International. The company's international segment operates in Canada, United Kingdom, Germany, France, United Arab Emirates, Australia, China, Hong Kong, Japan, Spain, Singapore, Brazil, Australia, Belgium and Macau. The acquisition of Data Display will contribute mainly to this segment of Daktronics.
Over time, as technology and demands of customers became increasingly complex, so did the company's products and services. In the early years, Daktronics used to produce, operate and service scoreboards and matrix displays which consisted mostly of text that had limited interaction and was not dynamic in nature. These days, the product looks significantly different as it involves video displays, highly-interactive animations, and control systems that have more sophistication.
Daktronics became an industry leader by adopting the LED technology and integrating it within its products as early as 1980s. The company saw that the demands of customers were starting to change and the technology was rapidly evolving to address the future needs. The company's main business always focused on the visual displays and it started to offer different services such as marketing and maintenance to its customers for growth.
In the global LED display market, Daktronics claims 30% market share. The company with the second largest market share is Barco with 9% and 150 Chinese Tier II companies have a combined market share of 13%. Furthermore, even if we combine the top 4 companies that come after Daktronics, their combined market share still falls behind that of Daktronics. As a consequence, the company starts off with a strong market share even before adding Data Display to the mix.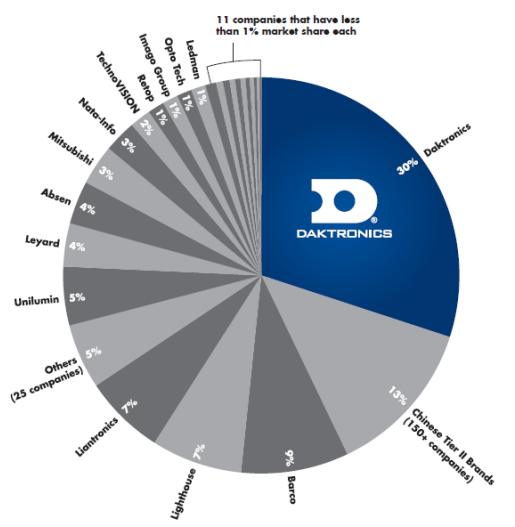 After recovering from the recession in 2009, Daktronics restarted its growth and sales grew considerably between 2009 (mostly fiscal year 2010 for the company) and 2013 (mostly fiscal year 2014 for the company). During this time, profits grew as a result of revenue growth and the company became comfortably profitable. This year, the company's revenues are expected to pass pre-recession peak, and this marks an impressive milestone for the company.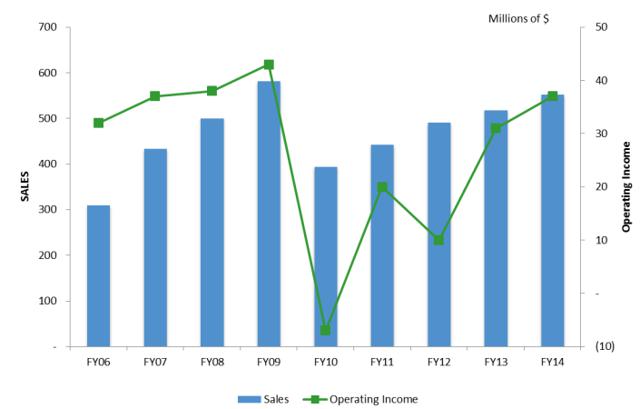 In the last fiscal year ending in April, Daktronics grew its orders by 8.5%, net sales by 6.5% and operating income by 19.5% as the company's operating margin rose from 5.9% to 6.6%. Compared to the previous year, the net-profit margin was the same, but this figure was mostly influenced by taxes, particularly some tax charges that were based on the company's non-operating assets.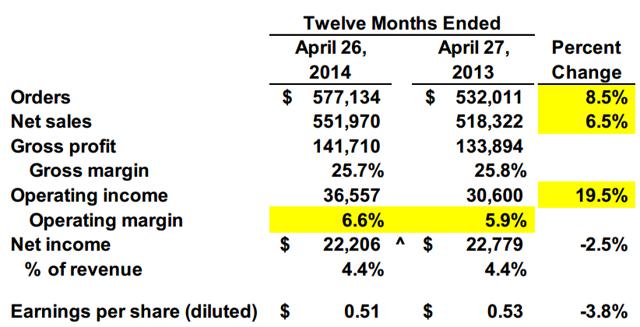 The company's live events segment is seeing some exciting opportunities. Many sports teams are not happy with their attendance figures and they event managers are investing in new technologies to attract younger people to stadiums and arenas. For example, we are seeing a new trend appearing where many sports stadiums and arenas offer free wi-fi internet connection to allow their guests to be able to get online while watching sports events or concerts. The second trend that is getting a lot of focus from event managers involves installing giant screens to ensure that viewers can watch sports events from multiple angles and enjoy features like instant-replays during sports events. Furthermore, these giant screens are also likely to increase revenues for these stadiums and arenas.
Daktronics saw its live events revenues rise by 39% in the last fiscal year, helped with the trend mentioned in above. The NFL team Jacksonville Jaguars was purchased by Shahid Khan in 2011. The team had an attendance problem since its poor field performances failed to attract a lot of fans to the stadium. Cutting ticket prices did not help much either. Finally, the team decided to spend $63 million on renovating the stadium, and some of the cost was to be covered by the city of Jacksonville. Daktronics installed two giant electronic scoreboards over each end-zone of the stadium. These displays are 362 feet to 60 feet in size, which makes them some of the largest in the world. Now the fans of the team are getting a better sports experience, and many more college and professional teams are planning to upgrade their existing scoreboards with larger and more interactive ones.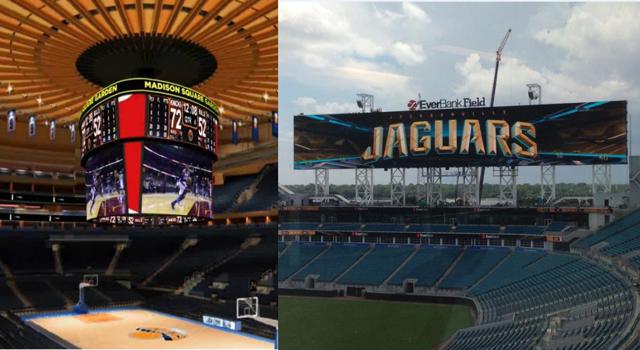 Currently, many professional and college teams across the US are upgrading their stadiums or building new stadiums as a result of low-interest environment and low cost of acquiring cash. On average, display systems in stadiums have an average high-performance life of 8-12 years. This ensures that any given year, 10% of the existing stadiums will need new screens in addition to newly built stadiums and arenas. Furthermore, those stadiums and arenas with fully-functioning screens will also need to pay ongoing fees for maintenance and servicing. This allows for the company to collect recurring revenues for decades to come. Since the company has many famous stadiums and arenas in its reference list, it should not have much trouble with acquiring contracts from places where it hasn't already done so.
Lately, many schools, athletic centers, parks and theaters across the country decided to upgrade their display systems. Luckily, this trend received a lot of support from local and national businesses who wanted to sponsor the change by putting their logos in the new systems. As a result of this, Daktronics is seeing recurring revenues in this area.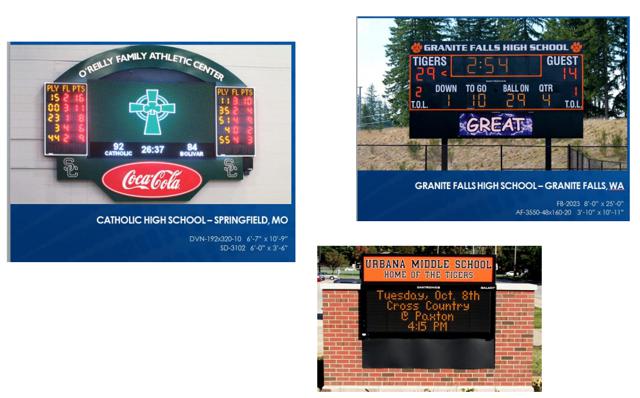 Another business segment for the company involves commercial business opportunities. This business unit builds and maintains road-side display systems for shopping malls and department stores. These days, an increasing number of people do bulk of their shopping online and many brick & mortar stores are desperate to gain some foot traffic. High-definition and interactive content seems to gain attention of people. Furthermore, it is easier to change content on an electronic system (just as easy as switching channels on a TV) than on a traditional advertisement board where one would have to climb up and replace content by hand. This can be cumbersome and dangerous for employees and make things difficult. Replacement cycle for these systems is typically 7-10 years and the company also collects regular maintenance and service fees from this business segment. There is also a growing market for this business segment as more businesses are accepting the idea of electronic displays outside of their locations.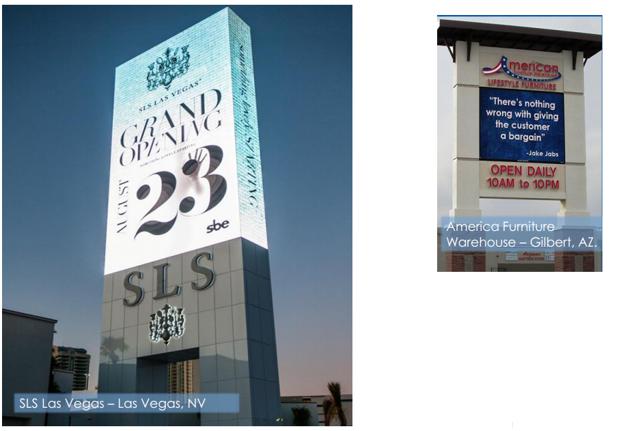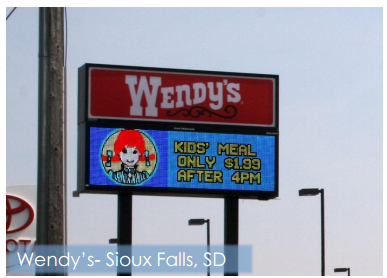 Currently, Daktronics has its own transportation business unit and most of Data Display will probably join this segment along with the international segment. Intelligent Transportation Systems (ITS) are gaining a lot of attention from many local governments and highway administrators. Some toll-ways are adopting new systems where the toll prices fluctuate depending on the traffic's current situation. If the traffic flow falls below a certain threshold, the toll price starts increasing gradually until a decent speed of flow is achieved. Of course, in a situation like this, it will be important to communicate the toll changes to drivers so those that don't want to face a higher toll price will leave the toll-road and take an alternative road. Many highway administrators around the country are now working on getting a display system that alerts drivers of anything that requires attention. This is one area where the products and services of Data Display will be a great addition to Daktronics' portfolio.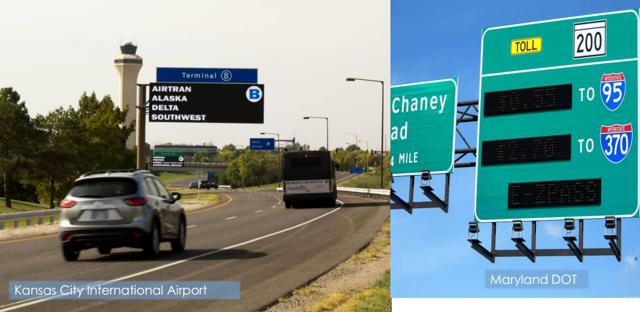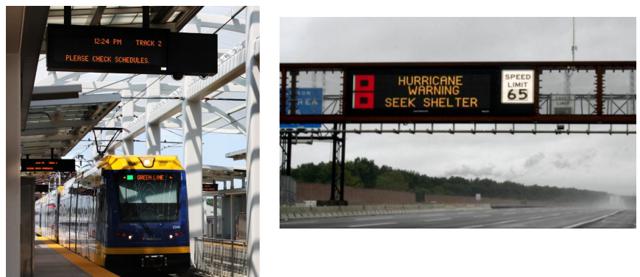 How the acquisition of Data Display fits in the story
Data Display is based in Ireland and most of the company's business operations and customers are based in different parts of Europe. The company's products and services are similar to Daktronics along with some complementary products and services offered by the company. Data Display's strongest market is the transportation market, which includes highways, transportation hubs, airports and public transportation systems. The company has 30 years of experience in displaying real-time passenger information in mass transit networks including but not limited to public buses and trains.
Data Display specializes in two things: visual display systems and data management. The strong focus of data management separates Data Display from competitors. The company's systems can collect and track continuously flowing data from different sources and share the results on display. If a train is going to be delayed by 3 minutes, such information can be tracked and displayed immediately for passengers to see at a train station.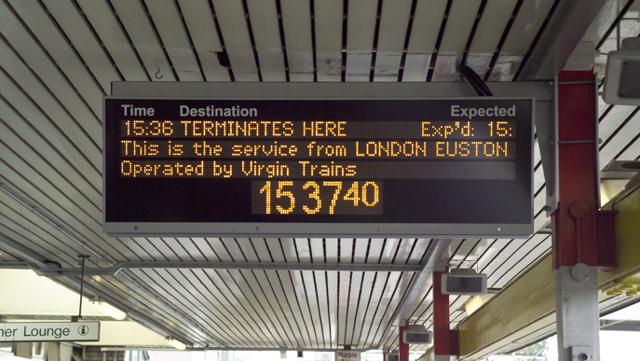 Sometimes the data to be displayed is more complex in nature. In some train stations, there are several passing routes and passengers would like to know status of each train on each route at once. Data Display's product allows passengers to be able to see the "big picture" and be prepared for any last minute changes that might be occurring in multiple routes.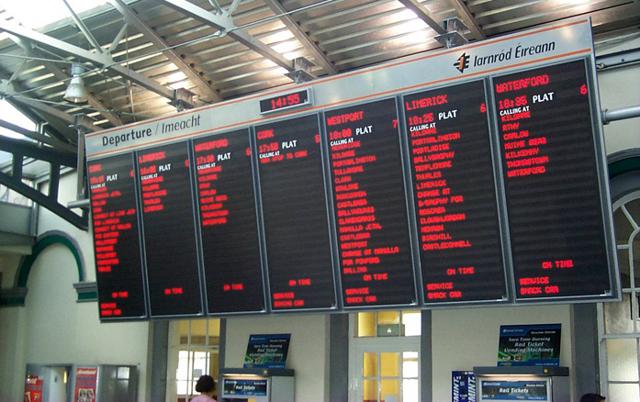 In the recent years, local bus systems around the world also started to use electronic display systems to inform their passengers about bus schedules, routes and any last minute changes that might be occurring. This allowed Data Display to gain significant market share in many European countries. The display systems come in different shapes, sizes and colors, and they can be customized significantly based on client preferences. Also, clients can pick what they want information to emphasize on the board, since different public transportation systems may have different preferences. So far, this has been received very well by passengers and an increasing number of European cities are signing up for this feature.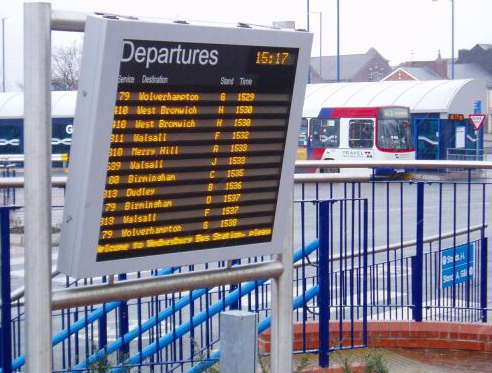 The company also builds and markets road displays that can show multiple things. These displays can show emergency warnings, announcements, road information and they can also display advertisements when there is no traffic-related information on them. Many European cities like these because they can turn into different traffic signs with one push of a button, and they can generate additional revenues for the city when not in use.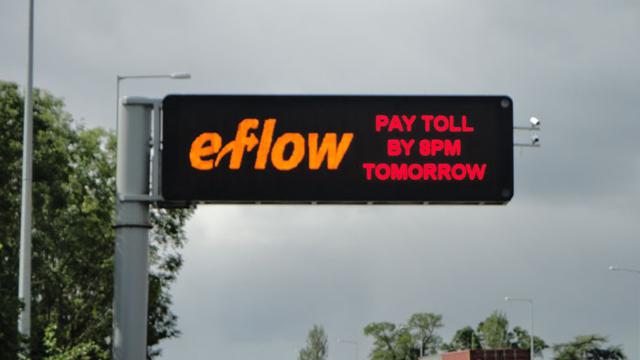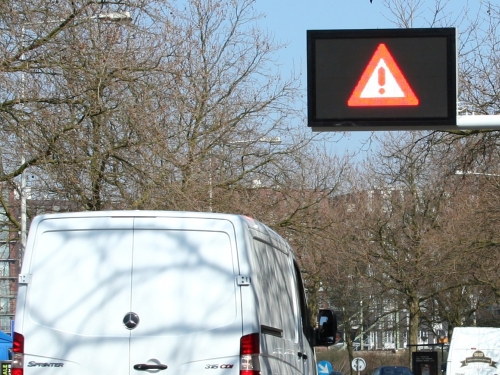 Data Display also has systems geared towards parking operators. There are many different options here. For example, one sign has an electronic component where available number of empty spots in each section can be displayed and this number can be updated instantaneously with a push of a button. This allows parking lot attendees and visitors to keep a better track of the parking availability and plan better.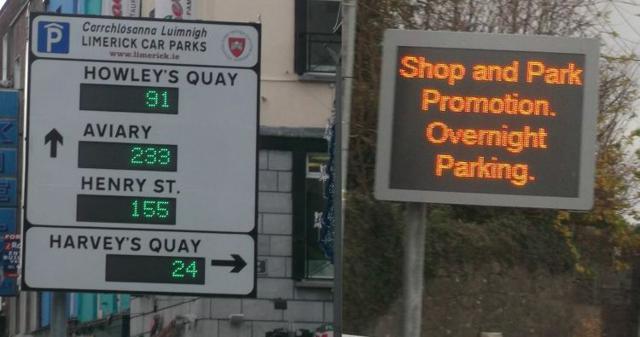 One of the most important markets for Data Display is airports. Airports have very large and complex operations, and they attract millions of visitors who appreciate not having any interruptions in their plans. There is so much data that flows in an airport that screens that display the data can get pretty big. It is very important to collect, compile, organize and display the data in such a way that passengers can read it easily and find the relevant information quickly. If a passenger spends too much time looking for relevant information in a giant screen full of numbers and letters, he or she may miss their flight. Data Display shows a lot of strength in this area and the company is a contractor of several major airports in Europe. The company is also very innovative in how it organizes and displays data in a way that will be easy to locate, read and understand.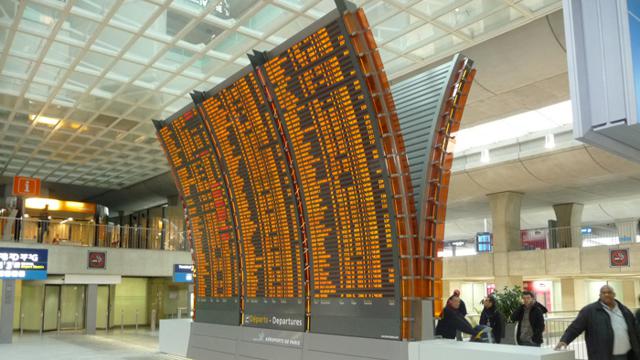 There are many other areas where Data Display's products can be found and the company also has a lot of customers outside of the transportation industry even though its strongest market is the transit market. From movie theaters to hospitals, many different clients throughout Europe utilize the innovative technology of Data Display.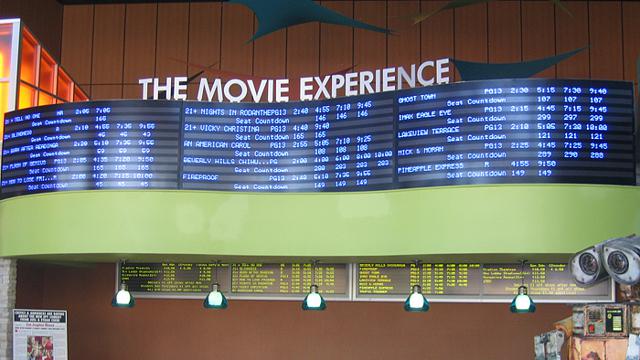 Final verdict on the value of the acquisition
The monetary value of the acquisition was not announced but it is easy to determine that the acquisition is a big win for Daktronics. First of all, Daktronics is gaining market share in Europe almost immediately. Second, the two companies have a product portfolio that is similar enough but also complementary in many ways. Daktronics has a lot of transportation-related products and Data Display's related products will strengthen its portfolio greatly.
The two companies will have a lot of synergy since the type of work they do is very similar in nature. The combination of engineers and designers from the two companies will improve quality of all existing products and improve any product that is currently in the pipeline. The combination of sales people from the two companies will improve sales operations since these people know how to sell the exact type of product and services.
Daktronics currently sells for about 1 time its revenue and 20 times its earnings. The company has a lot of recurring revenues and long-term contracts, which allows it to pay regular dividends. Currently the company's dividend yield is 3.40%, which is pretty attractive. In addition to the stability of recurring revenues, it also posts revenue and income growth, which allows the company to become a decent investment. Daktronics is a small cap with a market value of $500 million, and 49% of the company is owned by institutions and another 17% of the shares are held by insiders. Such high rate of insider and institution ownership speaks volumes for a small cap company.
Disclosure: The author has no positions in any stocks mentioned, and no plans to initiate any positions within the next 72 hours. The author wrote this article themselves, and it expresses their own opinions. The author is not receiving compensation for it (other than from Seeking Alpha). The author has no business relationship with any company whose stock is mentioned in this article.