As a retiree, I am risk adverse but still want to receive an adequate return on my investments. I usually search for funds that provide the most reward for a given level of risk and I measure risk by using the fund's volatility. Please note that I am not advocating that everyone equate risk with volatility but this is the definition that works for me. Thus, I was intrigued by the launch of several new Exchange Traded Funds (ETFs) that promised lower volatility. PowerShares started the trend back in May, 2011 by offering a low volatility fund based on subset of stocks from the S&P 500. There are now at least 16 ETFs that attempt to provide low volatility versions of popular funds but most of these ETFs have small asset bases and are not liquid.
This article looks at the more popular ETFs in this category and compares their risk-versus-reward profiles. I assumed that low volatility was achieved at the expense of lower returns but I wanted to empirically verify that this was true. My second objective was to assess if the ETFs delivered "the goods" (did they generate returns that were commensurate with the reduced risks).
The following low volatility ETFs were selected because they have an asset base of at least $200 million and an average daily volume of at least 30,000 shares. These ETFs were launched between May, 2011 and January, 2012 so I used January, 2012 as my starting point for the analysis.
PowerShares S&P 500 Lower Volatility (NYSEARCA:SPLV). This fund tracks the S&P 500 Lower Volatility Index, which contains the 100 stocks from the S&P 500 that exhibited the lowest volatility over the past year. The stocks are weighted in the index by the inverse of volatility (the higher the volatility, the smaller the weight). The index is rebalanced quarterly and about 46% of the assets are currently invested in utilities and consumer staples stocks. The fund has an expense ratio of 0.25% and the fund yields 2.5%.
iShares MSCI USA Minimum Volatility (NYSEARCA:USMV). This ETF uses the Barra Optimization and Risk Model to construct a portfolio of about 153 stocks that have been forecasted to have low volatility. The Barra Model takes into account stock variance, correlations, and other risk characteristics and is rebalanced twice a year. This fund has an expense ratio of 0.15% and yields 2.3%.
iShares Emerging Markets Minimum Volatility (NYSEARCA:EEMV). This ETF tracks the MSCI Emerging Markets Minimum Volatility Index that selects 200 stocks from the parent Emerging Market Index. The minimum volatility stocks represent about 40% of the assets in the parent index. The top five countries are China, Taiwan, South Korea, Malaysia, and South Africa. The fund is rebalanced twice a year, has an expense ratio of 0.25%, and yields 2.5%.
PowerShares S&P Emerging Markets Low Volatility (NYSEARCA:EELV). This ETF holds a portfolio of 200 of the lowest volatility stocks from the S&P BMI Emerging Plus LargeMidCap Index. Weights are based on the inverse of volatility and the fund is rebalanced quarterly. This fund has an expense ratio of 0.29% and yield 1.9%. The fund is not very liquid (only 37,000 shares trade each day on average) so limit orders should be used if you buy or sell this ETF.
iShares MSCI All Country World Minimum Volatility (NYSEARCA:ACWV). This ETF provides exposure to global equities that have exhibited lower volatility. This fund has a portfolio of 300 stocks selected from the parent MSCI All Country World Index (that contains 2,400 stocks). The components of the portfolio come primarily from utilities, telecoms, health care and consumer staples. It should be noted that about 50% of the portfolio is from U.S. based companies. In addition, 12% of the holdings are from firms domiciled in Japan and 10% are from European companies. The ETF has an expense ratio of 0.34% and yields 2.5%.
PowerShares S&P International Developed Low Volatility (NYSEARCA:IDLV). This ETF tracks the S&P BMI International Developed Low Volatility Index, which selects the 200 lowest volatility stocks from developed market countries (but does not include the U.S. or South Korea). The largest portion (25%) of the portfolio is from Canadian companies followed by 14% domiciled in the United Kingdom and 10% each from Australia and Singapore. The fund has an expense ratio of 0.25% and yields 3%. The fund is not very liquid (only 40,000 shares trade each day on average) so limit orders should be used if you buy or sell this ETF.
iShares MSCI EAFE Minimum Volatility (NYSEARCA:EFAV). This ETF provides exposure to low volatility stocks from Europe, Australia, and Far East (EAFE). Overall the portfolio includes 191 stocks from 22 developed countries but excludes the U.S. and Canada. The top five countries are Japan, United Kingdom, Switzerland, Hong Kong, and Australia. The fund has an expense ratio 0.2% and yields 3.3%.
To gain insight as to how the performance of these low volatility offerings compared to their full volatility parents, I included the following ETFs in the analysis.
SPDR S&P 500 (NYSEARCA:SPY). This ETF tracks the S&P 500 index, has an expense ratio of 0.9%, and yield 1.9%. I will use SPY as my benchmark for comparison with SPLV and USMV.
iShares MSCI Emerging Markets (NYSEARCA:EEM). This ETF holds 800 securities and provides exposure to 22 emerging markets. The expense ratio is 0.67% and the yield is 1.6%. I will use this ETF as my benchmark for the comparison with EEMV and EELV.
Vanguard Total World Stock (NYSEARCA:VT). This ETF covers global equities with about 50% of the portfolio in U.S. stocks. It also includes a small allocation (10%) to emerging markets. The fund holds over 2,300 equities from around the world and is one of the most diversified funds available. It has an expense ratio of 0.18% and yields 2.3%. I will use this fund as my benchmark for comparison with ACWV and IDLV.
iShares MSCI EAFE (NYSEARCA:EFA). This ETF holds 903 stocks from the EAFE countries. It has an expense ratio of 0.34% and yields 3.3%. I will use this fund as my benchmark for comparisons with EFAV.
To compare the performances of the low volatility ETFs with their full volatility counterparts, I plotted the annualized rate of return in excess of the risk free rate (called Excess Mu in the charts) versus the volatility of each of the ETFs from January 2012 until today. The Smartfolio 3 program was used to generate this plot that is shown in Figure 1.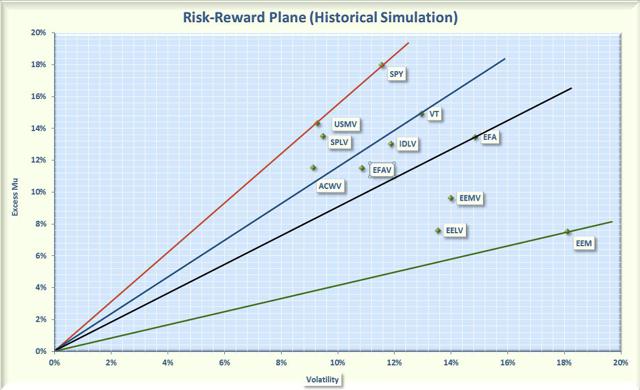 Figure 1. Risk versus reward since January 2012.
The plot illustrates that the ETFs have booked a wide range of returns and volatilities. To better assess the relative performance of these funds, I calculated the Sharpe Ratio. The Sharpe Ratio is a metric, developed by Nobel laureate William Sharpe that measures risk-adjusted performance. It is calculated as the ratio of the excess return over the volatility. This reward-to-risk ratio (assuming that risk is measured by volatility) is a good way to compare peers to assess if higher returns are due to superior investment performance or from taking additional risk. In Figure 1, I plotted a red line that represents the Sharpe Ratio associated with SPY. If an asset is above the line, it has a higher Sharpe Ratio than SPY. Conversely, if an asset is below the line, the reward-to-risk is worse than SPY. Similarly, the blue line represents the Sharpe Ratio of VT, the black line the Sharpe Ratio of EFA, and the green line the Sharpe ratio of EEM. If a low volatility fund is above the line associated with its benchmark, then you can conclude that the fund delivered better risk-adjusted returns than the parent fund. These lines will be used to assess if the low volatility funds provided returns commensurate with their level of risk.
Some interesting observations are evident from the figure.
For U.S stock market represented by SPY, the two low volatility ETFs lived up to their promise and delivered about 20% less volatility. As you might expect, this reduction in volatility was accompanied by a reduction in absolute return. However, the risk adjusted return for both USMV and SPLV was about the same as SPY so these funds did "deliver the goods". The risk-adjusted performance of these two low volatility ETFs were similar to each other with USMV outperforming by a small margin.
The two worldwide low volatility ETFs (ACWV and IDLV) also delivered on their promise of lower volatility. Again, this was accompanied by reduced absolute returns but the risk-adjusted returns were very similar to VT. ACWV booked the lowest volatility of any fund analyzed. ACWV also had risk adjusted a little better than either IDLV or VT.
The volatility of EFAV was significantly lower than EFA. The absolute return of EFAV was lower than EFA but the risk-adjusted performance was better. Again, this low volatility ETF achieved its objective.
Emerging markets are known for their volatility and EEM had significantly higher volatility than any of the other funds analyzed. However, EEMV and EELV were able to tame this volatility to some extent. Both EEMV and EELV had significantly lower volatility than EEM but their volatility was also relatively high. It is interesting to note that EEMV and EELV also had greater absolute return than EEM, a truly impressive performance for these low volatility emerging market funds.
Overall, the figure illustrates the general hierarchy of risk and reward. In terms of risk-adjusted return, the U.S stock market was the best, followed by the world stock market, and then the EFA countries. During this period, emerging markets lagged the other funds in both absolute and risk-adjusted return.
You might expect that low volatility ETFs would be highly correlated with their parent funds so that owning more than one fund would not offer significant diversification. To determine if this was true, I calculated the pair-wise correlations associated with the funds and the results are presented in Figure 2. As illustrated by the figure, most of the low volatility ETFs are highly correlated (86% to 94%) with their parent funds with the exception of the worldwide funds. The funds ACWV and IDLV are only moderately (75% to 83%) correlated with VT. It should also be noted that most of the "full volatility" parent funds are highly correlated with each other. The only exception is EEM which is only moderately correlated with the other funds. In addition, the low volatility funds are only moderately correlated with other low volatility funds in different asset classes. To summarize, you will receive diversification benefits by adding different types of low volatility funds to your equity portfolio. However, you do not receive substantial benefits if you buy both a low volatility fund and its parent fund.

Figure 2 Correlation matrix since January 2012
I next looked at the past 12 months to see if the relative performance was similar to the longer period. The results are shown in Figure 3. Generally the overall trends persisted but over the past 12 months, the risk-versus-reward profiles were more bunched together. Of note, SPLV dropped in relative performance when compared to either USMV or SPY. The lower volatility EFA ETFs performed much better than EFA (on both an absolute and risk-adjusted basis). The emerging market low volatility funds lagged their parent fund on a risk-adjusted basis.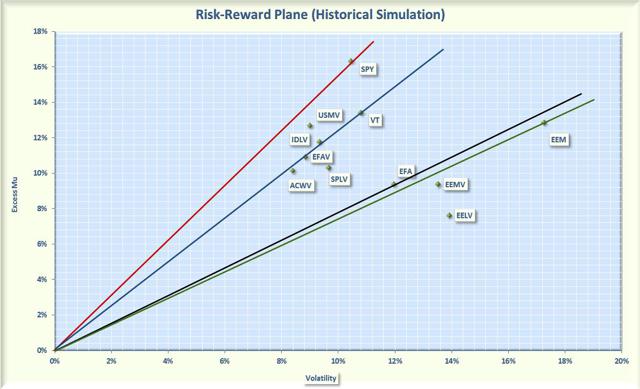 Figure 3. Risk versus reward past 12 months.
Bottom Line
For the most part, low volatility ETFs did deliver "the goods" by providing risk-adjusted returns in line with their higher volatility benchmark "parent" funds. Generally, but not always, this was achieved with lower absolute return. These funds do not have a long history so care should be exercised in extrapolating these results into the future. However, if you are risk averse and want to invest in different equity asset classes, the low volatility ETFs deserve serious consideration.
Disclosure: The author has no positions in any stocks mentioned, but may initiate a long position in USMV, ACWV over the next 72 hours. The author wrote this article themselves, and it expresses their own opinions. The author is not receiving compensation for it. The author has no business relationship with any company whose stock is mentioned in this article.