Technical analysis website StockTiming.com offered the following in its free Tuesday update yesterday (emphases theirs):
Very few things happen that can be a "game changer" in a macro sense.

However, there is a potential "game changer" that is at the cusp of signaling one of the most important changes in 15 years ...

It is the current challenge to the 15 year down trend on 30 year Bond yields. Fifteen years is a pretty long time, but that could come to an end if today's 30 Year Bond Yield chart breaks out to the upside ...

It would mean the end of the down trend, higher mortgage rates, and a sign that inflation is on the way.

Such an event would be a "game changer" because it would cause duress in many economic sectors, along with the necessary re-evaluation of future economic forecasts. This could result in a large scale rotation of stock sectors and rising commodity prices in 2011.
It offered the following chart as evidence:
[Click all to enlarge.]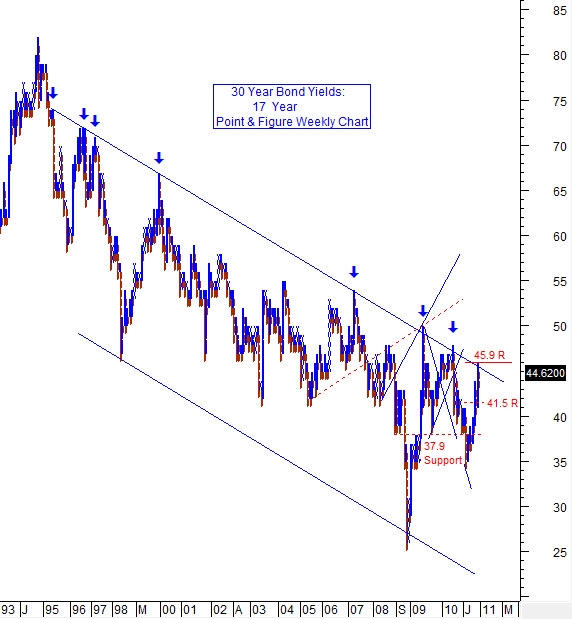 Source: StockTiming.com
The risks of inflation and rising mortgage rates are always worth thinking about. But we're clearly on record as believing that the deficit-, debt-, and inflation-phobes have it all wrong on long term rates. We also have argued that the recent back-up in treasury yields presented a nice opportunity for income-oriented investors and prudent asset allocators. And if yesterday's Treasury market action is any indication, our thesis appears to be the more credible one at the moment: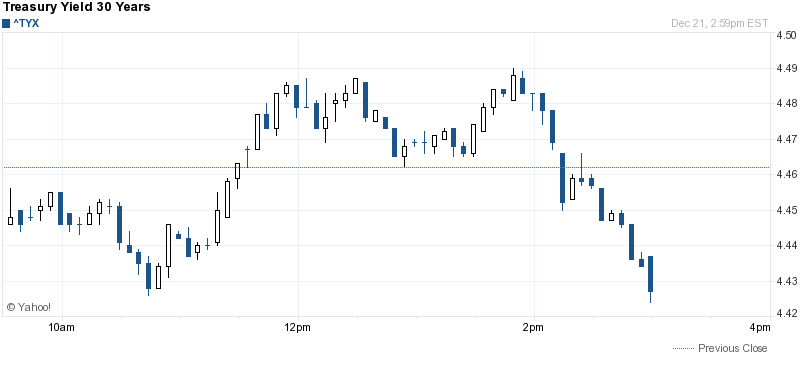 Admittedly, one day is nothing to hang your hat on. But recent market action seems to indicate that the long bond yield is looking for a temporary (as always) equilibrium in the low to mid-4's: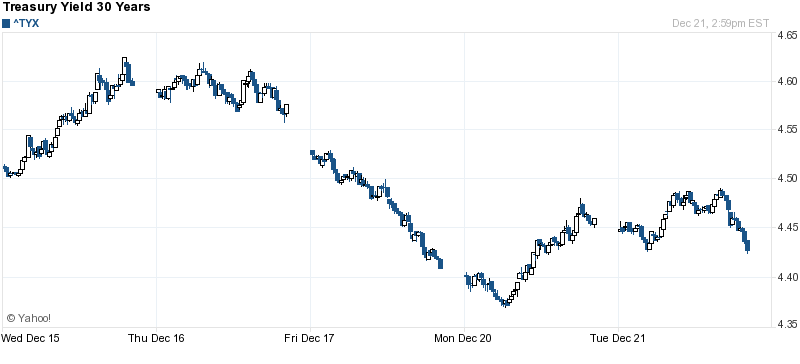 And while the trend since the end of summer has clearly been up ...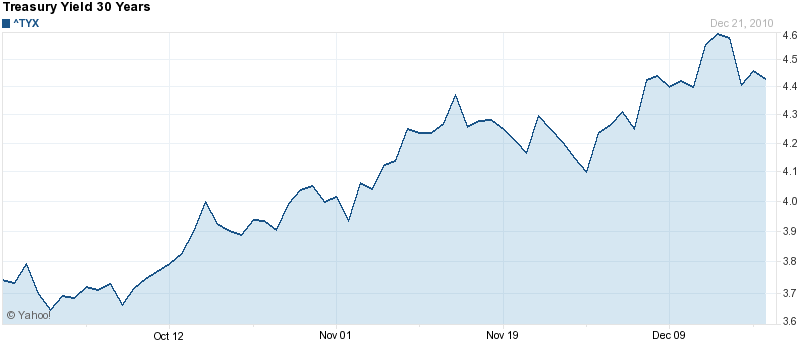 ... it's important to keep it in context. Looking at a five-year chart, and taking into account the flights to safety that occurred during the financial crisis (large circle) and the echo crisis in Europe (small circle), there still hasn't been a notable trend break in 30-year Treasury yields: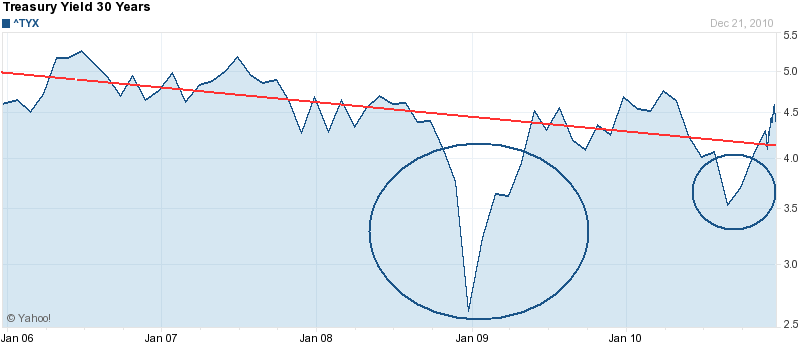 Source: Yahoo!, Symmetry Capital Management LLC
As we've pointed out previously, on top of the slow and grinding recovery that inevitably follows a balance sheet recession, the world is entering what could be a long period of "right shoulder level" rates of economic growth and financial asset returns. As a result, we're unlikely to see (except in a few regions or countries) the boisterous numbers we've been used to since the baby boomers and their predecessors appeared, starting way back in the mid-19th century (primarily a function of technological innovations like plumbing and internal combustion, and medicine later on).
So those double-digit long-term Treasury rates of the late 1970s and early 1980s were indeed a "once in a lifetime" opportunity. And while lower nominal yields might take some getting used to, consider that at a constant reinvestment yield of 4.5% (and a zero tax rate), an investment will double in value in only about 16 years. That's not an unreasonable return in a "right shoulder level" world.
Of course, if the deficit hawks get their way and Congress starts raising taxes out of an irrational fear of the debt and deficit boogeymen, reinvestment at 4.5% could take over 25 years to double.
Disclosure: I have no positions in any stocks mentioned, and no plans to initiate any positions within the next 72 hours.

Additional disclosure: Some clients of our firm own TLT and/or U.S. Treasury bonds.