Fonar (NASDAQ:FONR) is a stock that I have wrote about several times over the past two years. I was very bullish on the stock at around $5 a share, and then I told you to sell when it went up five-fold to $25 a share.
To be honest, even at $25 I did not think that the stock was very expensive, just fairly valued. However I still called for the stock to be sold, primarily because many investors made a lot of money very fast, and I figured there would be a lot of selling pressure.
To my surprise however, the stock corrected a lot more than I imagined. The stock recently fell as low as $10 a share, but not because of any news. The truth of the matter is, that, unless earnings come out to get people excited, nothing really happens with Fonar.
So why has the stock risen by 40% in the past several days? The reason is probably this.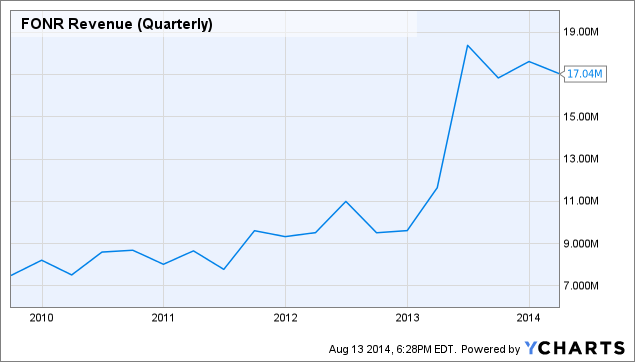 FONR Revenue (Quarterly) data by YCharts
FONR EPS Diluted (Quarterly) data by YCharts
Over the past three quarters, Fonar has registered $0.26, $0.71 and $0.37 per share in after tax profits. Now that's a lot of money for such a low-priced stock.
The company is going to report earnings in the next two weeks or so. So it might be that some investors are taking a speculative position on the stock, only to sell when the company's quarterly results come out. Or, it might just be that investors are buying again, now that the stock plunged from the $25 level.
In my mind it makes no difference. This is a cheap stock anyway one looks at it. In fact Fonar is among the cheapest stocks in the medical devices sector as listed by Yahoo.com.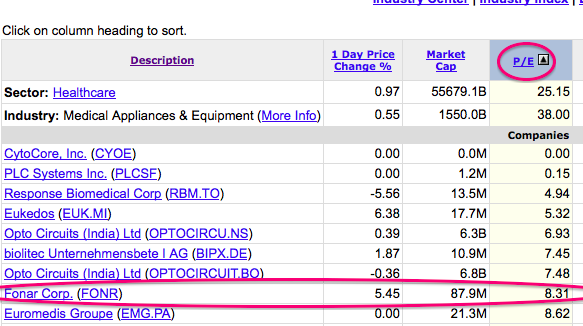 As the table from above shows, Fonar is the 9th cheapest stock in the medical devices space. Please note that the medical devices space has an average P/E of 38, compared to about 8 for Fonar (data as per yahoo.com sector analysis).
Bottom line
Be it for speculative purposes, or because you believe in the stock, Fonar is a very cheap proposition. Even if you intend to buy Fonar for the short term, it's worth speculating upon.
If however you believe in the stock for the longer term - and if earnings are better than what the market expects - then it is probable for Fonar to double over the next several months, based on its current valuation.
Disclosure: The author has no positions in any stocks mentioned, and no plans to initiate any positions within the next 72 hours. The author wrote this article themselves, and it expresses their own opinions. The author is not receiving compensation for it (other than from Seeking Alpha). The author has no business relationship with any company whose stock is mentioned in this article.
Editor's Note: This article covers one or more stocks trading at less than $1 per share and/or with less than a $100 million market cap. Please be aware of the risks associated with these stocks.