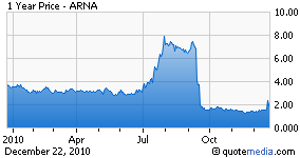 Arena Pharmaceuticals (ARNA) today announced completion of its NDA end-of-review meeting with the FDA following receipt of Arena's complete response letter (CRL) in late October. I've listened to the conference call and would like to make some comments. I'd also like to provide an update on my own price targets for the lorcaserin franchise.
Conference Call Summary
The meat of the conference call centered around three major requirements set forth by the FDA, all directly relating to cancer in rats. They are:
Re-adjudication of mammary masses in rats
Demonstration of mechanism of adenocarcinoma formation in rats, along with showing that this mechanism is irrelevant to humans
Identify mode of action of brain astrocytomas
Arena provided its approach to addressing each of the above requirements.
Re-adjudication looks fairly straightforward. Basically some of the tumors were assigned as benign after initially being assigned as malignant, and vice versa. They have assembled a panel of five independent pathologists to review the mammary masses in a blinded fashion. This appears to be complete or nearly complete and is by no means rate limiting.
The demonstration of mechanism for rat adenocarcinomas appears relatively straightforward as well. It appears to me that Arena must only show a exposure/response relationship between dosing of lorcaserin and increases of prolactin levels in rat models. The FDA has previously accepted increased prolactin levels as a cause for increased mammary tumors in rats, and should do so here as well. I think there's a high chance that Arena will successfully make this argument to the FDA within the next 12 months.

Finally, Arena must indentify the mode of action of brain astrocytoma formation. They plan to do this by first identifying a relationship between concentrations of the drug in the brain of rats and prevalence of brain astrocytomas. Then, Arena would determine what brain concentrations are normally found in human patients. Finally (and hopefully) they can make the argument that the human brain concentrations are nowhere near the concentration needed to cause astrocytomas according to the rat model. This would require the obvious non-clinical animal models and a small clinical requirement of ten patients over about a week's time. Given the dose levels needed to cause astrocytoma formation given in the briefing documents, I give this, again, a high probability of success.
Also, there was some comment on Arena's effort to change the Controlled Substances Act scheduling requirement of lorcaserin. Currently, the FDA has stated it would like to see lorcaserin as a schedule 4 drug, but has suggested further pre-clinical studies could cause them to reconsider. Arena has stated they will pursue the pre-clinical studies necessary to do this. I don't believe a schedule 4 designation is all that bad to begin with and as such I don't see a reclassification as likely to affect the underlying value of the lorcaserin franchise.
Other Key Points
Arena expects resubmission by the end of 2011. This puts an FDA decision most likely near the end of 2Q2012.
Arena has a relatively strong cash position (~$170MM) and should be able to fund the requisite studies without further dilution.
Changes to Valuation
Using this data, I've been able to update my models pertaining to Arena's value. I am placing the net present value of Arena at approximately $1.90. This valuation is based on the following assumptions:
Commercial launch mid-to-late 2012
90% chance of successful completion of required studies
Peak sales of $200mm by 2017
20% net profit margin
17x Price to earnings multiple (pharma average)
Weighted average cost of capital (WACC) of 15%
No value assigned to the rest of Arena's pipeline (nothing progressed beyond phase 1)
I believe confirmation of this valuation was shown by the sell-off following the conference call. I don't see any good reason to currently invest in Arena at this point but there may be significant opportunities in mid-to-late 2011 as we approach the date of submission of the CRL response.

Disclosure: No position