We now know specifically why Advanced Battery Technologies (OTCPK:ABAT) wanted to raise $30 million, which sent the stock reeling in the short term. The company said it would use the funds for acquisitions and expansion and that's exactly what they've announced today. Advanced Battery Technologies has entered into an Acquisition Agreement with Shenzhen Zhongqiang New Energy Science & Technology, which manufactures lithium batteries for mobile phones, MP3 and video game consoles. The $20 million acquisition is expected to close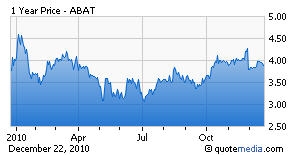 quickly in about a week. It is also announcing the intent to purchase 56K sq meters of space in Dongguan City for another $26 million, which the company believes will have the capacity to produce 500K mobile phone battery cells and 70k medium/large batteries on a daily basis. Once the new facility is ready for production (estimated at 6 months), it could add up to $100 million in annual sales, which would essentially double the yearly revenue from current levels.

Shares of ABAT are about flat today and remain technically damaged following news of the capital raise. While the stock may need to spend several weeks-- and possibly a few months-- repairing this damage, I still believe ABAT is one of the top China lithium battery plays and could provide a better entry point down the road.
Disclosure: No position